Infuse your harvest celebration with a cornucopia of untraditional recipes
Known as Thanksgiving but with your friends, "Friendsgiving" was officially added to the Merriam-Webster dictionary in January 2020. Sometimes it's celebrated in lieu of Thanksgiving or in addition to. While the Thanksgiving season may evoke memories of familial traditions, you can always make new traditions with those close to you who aren't related by blood. Consider serving some delicious (infused!) food at your Friendsgiving feast. If you need inspiration, check out these recipes from canna-chef Stacey Dougan, co-founder of product line ayébrand.com, who will happily cater your Friendsgiving feast or even cook a 100% plant-based Thanksgiving for you if making an elaborate holiday meal seems like a reach for your kitchen skills. Chef Dougan can be contacted at 702.810.5641, simplypurelv.com, or simplypurelv@gmail.com.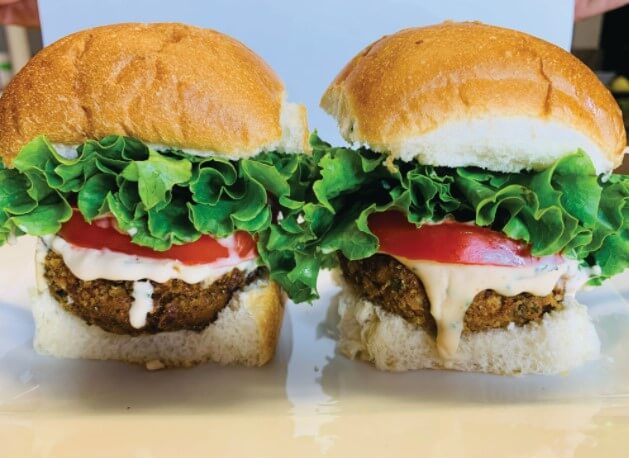 Heart of Palm "Crabcake" Sliders with Dill Remoulade
ingredients: (yields 6-8 crabcake sliders)
4 oz. hearts of palm, drained
14 oz. garbanzo beans, drained and save the liquid (aka aquafaba)
4 cloves garlic, minced
1/4 cup dried nori sheets
1/2 Tbsp. Dulse seaweed
1/2 tsp. creole seasoning
2 tsp. Old Bay
2 tsp. nutritional yeast
2 Tbsp. fresh dill, chopped
1/4 cup fresh basil, chopped
1/4 cup aquafaba (liquid from
garbanzo beans)
1 Tbsp. liquid aminos
2 Tbsp. celery, minced
2 Tbsp. onion, minced
2 Tbsp. red bell pepper, minced
1/2 Tbsp. mustard
1/4 cup gluten free flour
1/4 tsp. sea salt
1/8 tsp. black pepper
6 slider buns
For breading:
2 cups panko
1 tsp. onion powder
1 tsp. garlic powder
1 tsp. Old Bay
2 tsp. nutritional yeast
Oil of your choice for frying
For Dill Remoulade:
1/4 cup Vegenaise or vegan mayo of your choice
2 tsp. infused olive oil, Ayé brand
1 Tbsp. lemon juice
2 tsp. fresh dill, chopped
1 tsp. dijon or yellow mustard
1/2 tsp. sriracha (optional)
Instructions:
Chop hearts of palm in small pieces and set aside in a bowl.
Mash garbanzo beans until slightly chunky and mix in bowl with hearts of palm. Add remaining ingredients for crabcakes and mix well.
In a separate bowl, mix ingredients for the breading: panko, onion and garlic powder, nutritional yeast and Old Bay.
Measure crabcakes with a 1/3 cup measuring cup and shape crabcakes into patties. Place each patty in panko breading mix and transfer to a plate or sheet pan. Put patties in fridge for at least an hour or in the freezer for 30 minutes so crabcakes can set.
Mix all ingredients in a bowl for the dill remoulade and set aside.
Remove crabcakes from fridge and heat oil in a frying pan over medium high heat. Fry the cakes for 3-4 minutes on each side or until slightly browned. Remove to a paper towel lined plate to drain. Serve immediately with slider buns and dill remoulade.
Vegan Mashed Potatoes
Ingredients
(servings: 6-8)
6-8 medium potatoes
1/2 cup soy-free Vegenaise
1 Tbsp. nutritional yeast
1/2 tsp. ground black pepper
1 tsp. granulated onion
1 tsp. granulated garlic
sea salt
Instructions:
Peel potatoes and cut into medium chunks. Put peeled potatoes in a large stock pot and cover with water by 1 inch. Add 2 teaspoons salt and bring potatoes to a boil. Cook uncovered for 20 minutes or until potatoes are soft. Do not overcook.
Strain potatoes with a colander but keep 2 cups of the potato water. Put potatoes back in the pot and add vegenaise, potato water, nutritional yeast, black pepper, granulated onion and garlic.
Mash well with a potato masher or hand mixer. Add additional salt to taste. Mix well. Serve warm. (*This mashed potato recipe is soy free and gluten free.)
Wild Mushroom Gravy
Ingredients
(servings: 6-8)
1 shallot, diced
16 ounces cremini mushrooms, sliced
1 Tbsp. olive oil
2 tsp. infused olive oil, Ayé brand
½ Tbsp. tamari
2 garlic cloves, minced
1½ Tbsp. fresh thyme leaves
½ Tbsp. chopped rosemary
¼ cup all-purpose flour
3 cups vegetable broth
sea salt and freshly ground black pepper
Instructions:
Heat regular and infused Ayé brand olive oil in a large skillet over medium heat. Add shallot and cook until soft, about 4 minutes.
Add mushrooms and cook until soft, about 8 to 10 minutes. Stir in tamari, garlic, thyme, and rosemary. Sprinkle flour over mushrooms and stir for 1 minute.
Add broth and simmer until thickened, whisking often, about 20 minutes. Season with salt and pepper to taste.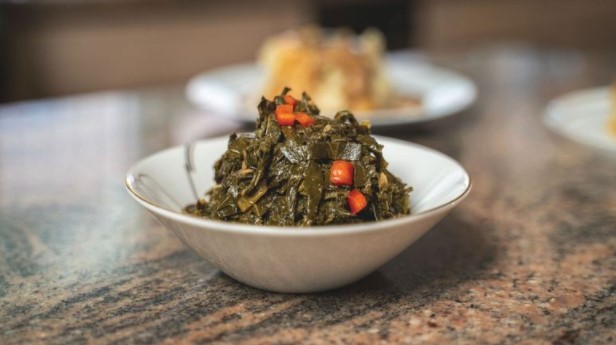 Southern Collard Greens
Ingredients (serves 8-10)
3 large bunches collard greens, washed and chopped
3 cups water
1 cup onion, chopped
1/4 cup minced garlic
4 bay leaves
1 Tbsp. liquid smoke
3 Tbsp. apple cider vinegar
2 Tbsp. onion powder
2 Tbsp. garlic powder
1/4 cup plus 2 Tbsp. Braggs's liquid aminos
2 Tbsp. nutritional yeast
1 Tbsp. infused Ayé brand coconut oil
Instructions:
In a large stock pot, add all the ingredients except collard greens and infused coconut oil. Bring ingredients to a simmer and add collard greens. Allow to cook on low heat, covered for 25 minutes or until tender. Add Ayé brand coconut oil and stir well. Cook for another 5 minutes. Serve warm.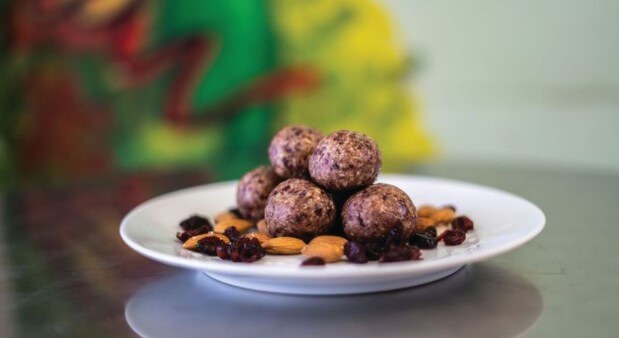 Almond Cranberry Truffles
Ingredients
(yields approx: 15-20 truffles)
1 cup almonds
1/2 cup Ayé brand infused dried cranberries
1/8 tsp. salt
1/4 tsp. cinnamon
2 Tbsp. agave nectar
Instructions:
Blend almonds to a fine consistency in food processor until almonds resemble texture of cornmeal. Add salt, cinnamon and infused Ayé dried cranberries. Blend until cranberries are blended well with almonds, approximately 30 seconds.
While food processor is still on, slowly pour agave into nut/cranberry mixture. Blend until mixture starts to clump together and you can roll mixture into balls.
Using a tablespoon for measuring, scoop one tablespoon of the mixture and roll into a truffle ball. Repeat until all the truffles are rolled. Store in an airtight container in the fridge for up to 7 days.