Deborah L. Costella
Feb 07 2019 . 13 min read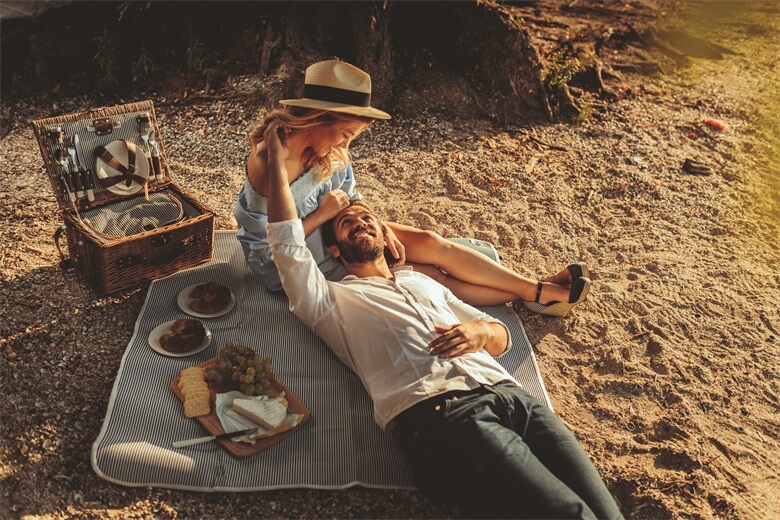 She stood mesmerized as he moved his hand closer, taking several seconds before clutching hers in a handshake. She watched as a smile crept its way across his face. His Indian Ocean-blue eyes reading her, penetrating to her very core. Elena could see his lips moving and somewhat hear her girlfriend speaking; apparently, they were mid-introduction. There were words indicating he was pleased to meet her. His name was Matthew. In spite of the fact he stood close enough to touch, his voice was faint and faraway. He spoke in a low register with the cadence of an adagio. Her surroundings slowed to a near halt, everything moving as if poured from a bottle of blackstrap molasses.
Elena and her friend, Valerie, had just exited dance class. Elena exuded a warm glow in her dark green leotard and darker green, footless tights. Matthew had just finished teaching in the classroom next door. He wore a gi, secured with a black obi tied around his middle. Tall, about 6'3"; a big burly man with a full beard and mustache yet his appearance didn't intimidate.
As the ethereal atmosphere dissipated and the timing of the world regained its equilibrium, Elena was finally able to utter, "Pleasure to meet you."
Matthew blinked his eyes and tilted his head in response. "Do I hear an accent?"
"Slight," Elena mumbled.
"She's a mix of Puerto Rican and Italian, but speaks mostly Spanglish," answered Valerie. Elena was still tongue-tied. When she didn't add anything to her friend's comment, Valerie elaborated, "Her accent is more prevalent when she's hanging out with family, drinking or is nervous. Obviously, we haven't been drinking and none of her relatives are here, so I guess she's..."
Elena quickly regained her composure and interrupted by asking Matthew if he spoke Spanish. Not a word of it, he told her, but he did speak a few words and phrases in Vietnamese. Just then the screech of a whistle came from the Olympic-sized pool behind them.
"Guess I need to get out of this suit and into my other one," he offered. His eyes remained fixed on Elena, as Matthew asked the girls if they wanted to stay and watch his water polo practice. Then, perhaps go out for a bite. Both girls declined Matthew's offer, but the die had been cast for Elena and Matthew.
Their first meal together was at a small local restaurant called Too-Taste-Tee. Certainly, the name didn't insinuate any particular cuisine but as Matthew held the door open, Elena inhaled the aromatic scent of sweet onions and fresh garlic sautéing in olive oil. Cilantro and salsa along with smoky guajillo, all familiar foods, wrapped her in a blanket of comfort. They placed their order, grabbed their sodas and a table number. The dining room was practically empty of other patrons allowing them to choose a corner table providing a wide view of the traffic laden street outside.
Elena took her seat at the gray Formica table accented by well worn upholstered chairs of cherry red. Contemplating what to say while avoiding the sharp, protruding edges of red plastic on her seat, Elena looked up to see the man who had just taken their order arrive with two heaping plates. Her eyes widened at the sight of her a la carte cheese enchilada. It had more crema, guacamole and red sauce slathered over the top than any she had ever seen. Matthew's massive burrito was the size of a chunky toddler's leg and was also heavily topped with enticing accoutrements.
After taking a good-sized bite, Matthew chewed thoughtfully then got things started by telling Elena how much he liked the green dance outfit she wore the other day. Green was his favorite color. Elena smiled and thanked him. Silence. Clearly, to better know this young woman, who caused stirrings inside him like a chef in a Michelin star restaurant, Matthew was going to have to take the lead.
As he posed his questions, it seemed odd to Elena, Matthew knew the answers before even asking. He couldn't possibly know she had graduated high school a year early -- she was still only 17 years old as a college freshman. Yet, he seemed to know this as he inquired about where she went to high school, but not the year she graduated. Asking if she planned continuing onto a four-year college, he nodded knowingly when she told him she had just been accepted to a liberal arts school in San Francisco.
Matthew could see through the seriousness, with which she answered his questions, how she keenly observed his reactions. Ensuring she supplied the correct responses. Before he was halfway through his burrito, Matthew understood, though still young, Elena had grown up too quickly. There were gaps in her understanding of how the big world worked; Elena was in fact, a woman-child.
She did engage in enough conversation to find out Matthew was a Navy Seal, recently returned home from Vietnam, now attending college on the GI Bill. Matthew had turned 25 earlier that spring. The age difference didn't matter to either. This first date was short, almost perfunctory in nature and though Matthew was a perfect gentleman, their mutual attraction was evident. Their second date was the very next afternoon.
This time Matthew invited Elena to drive up to his property for a short hike before going to the movies. He lived in the rolling hills behind their school on an acre of land. Elena sped her chocolate brown Austin American under grey skies, autumn leaves of red and gold dancing in her wake. She felt pretty, as droplets of rain spittered and spattered on the windshield. Neil Sedaka's "Laughter in the Rain" came through the radio making for a romantic drive, though she was alone.
Approaching the property, Elena spied Matthew playing frisbee with a golden retriever. As her car tires crunched their way across the gravel driveway, Matthew walked over, the dog following close behind. Elena was hesitant to exit the car; her fear of dogs rising to the surface. Sensing this, Matthew leaned in, giving Elena a reassuring kiss on the forehead, telling her the dog's name was Honey and that she was very old and very gentle.
After timidly petting Honey at Matthew's urging, they headed toward his studio. Inside, Elena noted that it was one room occupied by a mattress on the floor, covered with a faded blue tapestry. A weathered beanbag chair slouched beneath a floor-lamp without a shade. There was a closet with a beaded curtain serving as the door, a miniscule bathroom and an alcove that held a cabinet, small fridge, and hotplate. Brightly painted slats of wood, supported by cinderblocks, served as an open-air pantry.
Elena's nervousness about the dog padding behind them began to wane as they made their way behind the main house. A small path had been etched out from years of hiking boots, sneakers and Birkenstocks patting the soil firmly into place. They approached a small creek where Matthew helped Elena over slippery river rocks peeking up through babbling water. Safely across, skipping over splintered tree trunks and twigs, they continued upwards. The rain that had fallen during the drive left a refreshing, woodsy scent, making for a complete sensory experience for both hikers.
With her head down, watching her footing, Elena suddenly stepped smack into Matthew's backside. Looking up to apologize, she spied the tallest, most robust marijuana plants she had ever seen, their musky scent overtaking the damp soil and pine trees.
"What do you think?" Matthew asked.
"These are yours?" Elena gasped.
"Mine and the professor's." Matthew told Elena the professor he rented the studio from purchased the supplies while he was the cultivator. Matthew liked to refer to himself as a farmer. Most of the plants he'd grown from seed, some from clones, others were fledglings or struggling plants friends turned over hoping he could revive them.
The forest of marijuana trees clearly offered more weed than any two people would ever need for themselves. Asking again what she thought of the sight before her, Elena wasn't sure how to answer. She occasionally smoked cannabis while in high school but no longer partook as the munchies associated with smoking was problematic for a dancer. However, two of the girls in her troupe swore cannabis helped relieve pain associated with injuries and aching muscles from long hours of rehearsal, not to mention how well they slept when taking a few hits before bed.
Matthew instructed Elena to wait while he grabbed something. Walking a few yards into the thick of the trees he reappeared with a picnic basket and gingham tablecloth. Setting the basket down, he doubled the cloth onto the dampened ground, then patted the spot next to him indicating he wanted her to sit.
Once situated on the cushioned ground, Matthew opened the picnic basket and began pulling out a variety of tapas and a bottle of wine. Nestled together they munched their way through the treasure trove of well-prepared Spanish treats amid a comfortable silence.
Elena, still stunned by the number and size of the plants, was no longer able to contain her curiosity. She asked if all the cannabis was for personal use or if he sold it. After popping a bacon-wrapped date into his mouth, Matthew shook his head. He told Elena the reason he grew so much weed was not to make money, but to help his fellow GIs who returned home from Vietnam injured, in pain or suffering from PTSD. Elena stated she never considered marijuana as a cure for any of the maladies he referred to.
"Oh, it's not a cure, more of an organic remedy for the symptoms associated with those diagnoses," Matthew said, going on to explain how the professor's wife used the plants in food, creating edibles for those who didn't care to smoke weed but were still in need of its benefits. In fact, it was she who had prepared the tapas picnic they were enjoying.
Matthew shared how cannabis came to help many of his Vietnam comrades. Initially, troops were smoking weed to help ease their anxiety and insomnia. But the U.S. Government quickly put a ban on marijuana declaring its use a punishable offense. The U.S. Government then went about destroying the many marijuana fields that grew throughout Vietnam. By making marijuana more difficult to obtain, soldiers sought other readily available and, unfortunately, dangerous and more harmful drugs such as heroin, mescaline, and LSD.
When their tours were complete, hundreds of troops returned home as amputees and/or with mental instabilities, they were also full-blown drug addicts. The commonly prescribed antidote, Methadone was as addicting as "the monkey on their backs," heroin. This ever-increasing crisis inspired Matthew to use his knowledge and experience to help get his comrades off heroin with the far less detrimental marijuana.
This Florence-Budingale approach to helping his fellow Vietnam War troops touched Elena deeply. She told Matthew she wanted to help. "How?" he asked. "Well, I can cook," she replied. And cook she did.
The next day, their third date, Elena joined Matthew and the professor's wife, in her commercial-like kitchen and together the two women created a bounty of infused treats both savory and sweet. Matthew packaged and delivered every single one of the incredibly effective medicinal treats to his fellow Vets that day.
Matthew and Elena are on consecutive date number 27 and the most requested item on today's medicinal menu? Elena's infused interpretation of their tapas picnic.
COSMIC MUFFIN'S TAPAS PICNIC PLATTER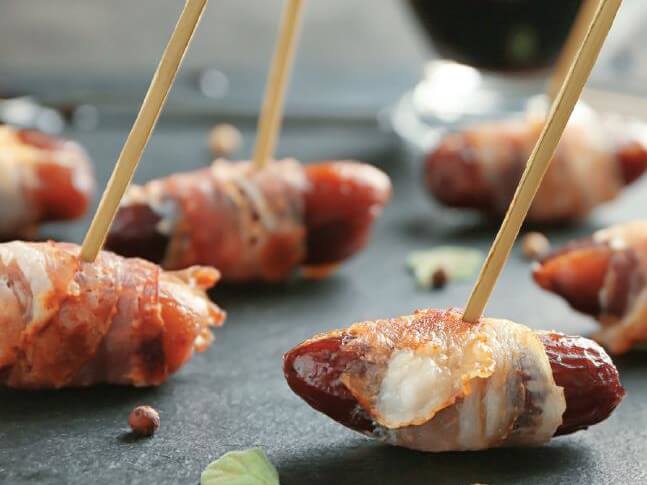 Bacon Wrapped Dates
Ingredients
4 thin sliced strips of uncooked bacon
16 dates
4-6 ounces infused Mascarpone cheese
16 slivered almonds
16 toothpicks, soaked in water
zest of 1 orange
Directions
Heat oven to 375°. In small mixing bowl, combine Mascarpone cheese and orange zest; set aside.
Cut slits into each date, removing pit but keeping date intact.
Carefully spoon a small amount of Mascarpone cheese/orange mixture into opening of each date. Insert one slivered almond into each date by pushing it into cheese.
Wrap (once or twice) one piece of uncooked bacon around each date securing with toothpick.
Arrange dates on parchment or silpat lined jellyroll pan and bake for 10 minutes. Using tongs, gently flip each date onto its other side and cook another 6-8 minutes or until browned. You may turn dates a second time if desired, adding more time if needed to cook bacon through.
Remove dates from oven; place on paper-towel lined plate for 5 minutes. Serve.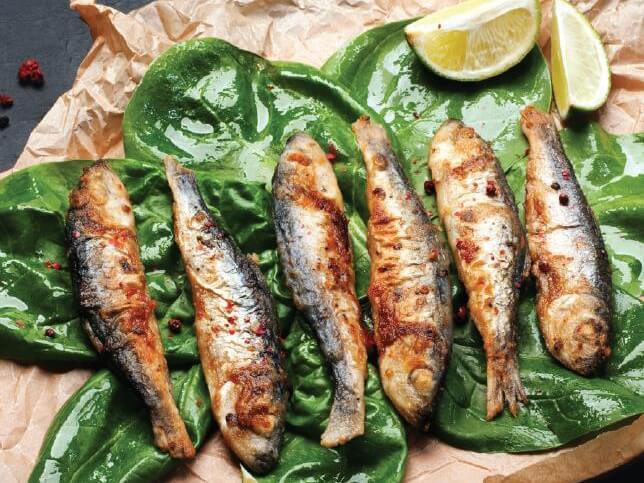 Fried Sardines with Veggie Aioli
Ingredients
2 Tbsp. Italian parsley, chopped
4 Tbsp. fresh squeezed lemon juice
2 cloves garlic, minced
4 Tbsp. infused olive oil + some for frying
12 fresh sardines, butterflied
½ cup flour, seasoned with salt and pepperfresh lemon wedges
Veggie Aioli
1 large tomato, skinned, seeded and chopped
1 small green bell pepper, seeded and minced
1 shallot, minced
4 Tbsp. infused olive oil
salt and pepper to taste
Directions
In small mixing bowl combine parsley, lemon juice, garlic, infused olive oil, salt and pepper. Gently brush mixture over both sides of each sardine and marinate for 20 minutes. Meanwhile prepare Aioli by stirring together, in a small bowl: tomato, bell pepper, shallot, olive oil and season to taste with salt and pepper.
Once sardines have marinated, sprinkle flour over both sides of each, shaking off excess. Heat infused olive oil in skillet until shimmery. Add sardines turning to brown both sides.
Serve with fresh lemon wedges and Aioli on side.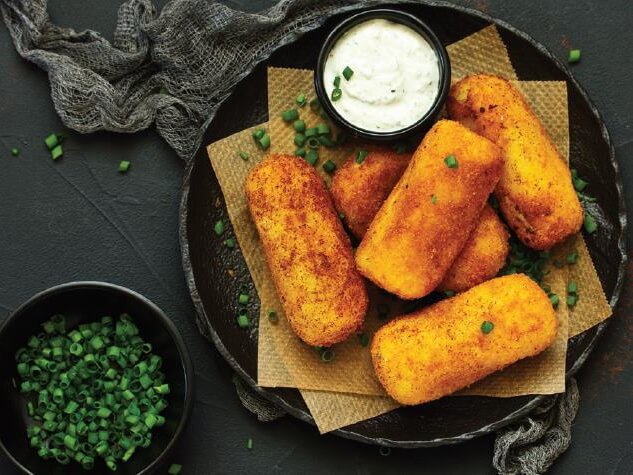 Paella Croquettes
Ingredients
1 cup short-grain rice
1 bay leaf
2½ cups infused chicken broth
1 tsp. turmeric seasoned flour Panko crumbs
1 small Spanish onion, minced
2 cloves garlic, minced
2 Tbsp. infused olive oil
4 oz Spanish chorizo, minced
1 egg + 1 tsp milk, beaten Italian parsley, choppedfor garnish
Directions
Start by cooking rice according to package directions; using 2 cups of infused broth and bay leaf. While still warm add turmeric, onion and garlic to cooked rice. Set to side.
Once rice has cooled enough to handle; remove bay leaf and stir in minced chorizo. Form mixture into evenly sized balls. If too wet, add some flour; too dry, add some water.
Roll rice balls into seasoned flour – egg wash – panko crumbs.
Set on parchment lined sheet pan and place in fridge, loosely covered for 30 minutes or overnight.
To cook, heat oil in medium saucepot and fry croquettes until golden and crispy. Garnish with parsley.