Amanda Connor
Aug 29 2018 . 5 min read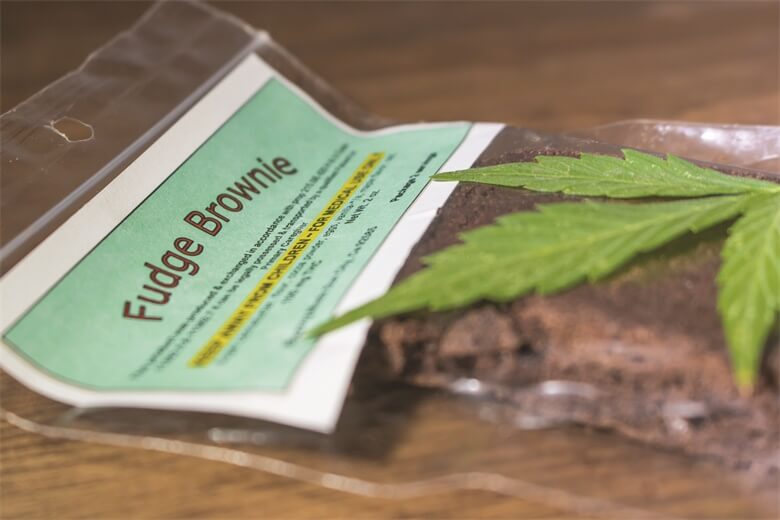 by Amanda Connor, Esq. and Morgan Hansen
U.S. Supreme Court Justice Louis Brandeis once said, "It is one of the happy incidents of the federal system that a single courageous State may, if its citizens choose, serve as a laboratory; and try novel social and economic experiments without risk to the rest of the country."
This is to say, states have the flexibility to implement laws and try things that the federal government is currently unwilling to achieve. In the realm of marijuana regulation, these manifest in different laws across different states. Citizens have voted to legalize medical and recreational use of marijuana, but in different forms. One of the areas that sees different regulation is the use of marijuana in food where different states take different approaches.
The basis of Nevada law regulating marijuana in food is found in Nevada Revised Statutes 453A.360 and 453D.310. Both portions of the statutes break the regulation into sections, including: labeling, packaging, serving size, marketing and other.
NRS 453D.310 lays out the requirements and restrictions placed on recreational edible marijuana products. Some of the restrictions include:
1) labeling clearly and unambiguously that "this is a marijuana product";
2) not presenting the product in packaging that contains an image of a cartoon character, mascot, action figure, balloon or toy;
3) selling on the basis of the concentration of THC in the products and not by weight;
4) not packaging and labeling in a manner which is modeled after a brand of products primarily consumed by or marketed to children;
5) measuring in servings of a maximum of 10 milligrams per serving; and
6) not labeling or marketing as candy.
Also, under NRS 453D.310, a marijuana product sold as a food product must not contain more than 100 mg of THC in a single package. Furthermore, under NRS 453D.310 marijuana product manufacturing facilities are not allowed to produce marijuana products that:
1) appear to be a lollipop or ice cream;
2) bears a likeness or contains characteristics of a real or fictional person, animal or fruit;
3) is modeled after a brand of products primarily consumed by or marketed to children;
4) or is made by applying concentrated marijuana to a commercially available candy or snack food item other than dried fruit, nuts or granola.
The common thread among these restrictions on marijuana products is the states' concern for children as well as clear and unambiguous labeling. In comparison with regulations in other states, Nevada's approach is roughly par for the course.
Other states that have legalized the recreational use of marijuana and marijuana products mirror the restrictions that Nevada has implemented. For example, in California the Business and Professions Code states that edible cannabis products shall: not be designed to be appealing to children or easily confused with commercially sold candy or foods that do not contain cannabis; and be produced and sold with a standardized concentration of cannabinoids not to exceed 10 milligrams of tetrahydrocannabinol (THC) per serving.
In addition to California's protection of children, Colorado passed a law that imposed "a prohibition on the production and sale of edible retail marijuana products that are in the distinct shape of a human, animal, or fruit. Geometric shapes and products that are simply fruit flavored are not considered fruit…" Colorado, likewise, passed laws regulating the amount of THC per serving of edible marijuana products. The Colorado Revised Statutes state that labels of marijuana products must, at a minimum, show the amount of THC per serving and the number of servings per package. Colorado further limits the amount of total THC per individually sealed products to 100 mg of THC with each serving equaling 10 mg of THC.
When looking at how different states approach labeling edible marijuana products, the main concern and similarity is the clearly defined serving size as well as the prevention of any child mistakenly consuming these products. By not allowing edible marijuana products to resemble products marketed directly towards children, the hope is that these food products will look less appealing than if they were to resemble candies, fruit, or other child-friendly products.
As is the nature of statutes, the implementing regulation is constantly changing. Under recent changes to the implementation of NRS 453D, the Nevada Department of Taxation has made a couple significant alterations to the labeling and design of edible marijuana products. One of the major changes is the requirement that "each single serving in a multiple-serving edible marijuana product must be physically demarked in a way that enables a reasonable person to intuitively determine how much of the edible marijuana product constitutes a single serving."
Additionally, Nevada's Dept. of Taxation is implementing regulations that require marijuana products to be packaged in servings of 10 milligrams of THC with a total of 100 milligrams of THC per package. Furthermore, beginning after January 1, 2019, where it is practicable, "each single-serving edible marijuana product and each individual serving containing not more than 10 milligrams of THC of a multiple-serving edible marijuana product must be stamped or molded with a symbol developed by the Department to indicate that the product contains marijuana."
These regulations are not much different than those in Colorado or California. In California, edible cannabis products must be "delineated or scored into standardized serving sizes if the cannabis product contains more than one serving and is an edible cannabis product in solid form" as well as "marked with a universal symbol, as determined by the State Department of Public Health through regulation." Again, the main goal is to prevent accidental consumption by children and accidental overconsumption. While Nevada regulations may seem to be restrictive, they are not much different than other states that have voted to legalize marijuana.
Ultimately, the goal of every state government that regulates recreational marijuana is to make it as safe as possible and hope that the federal government does not step in and put an end to the noble experiment each state has embarked on.