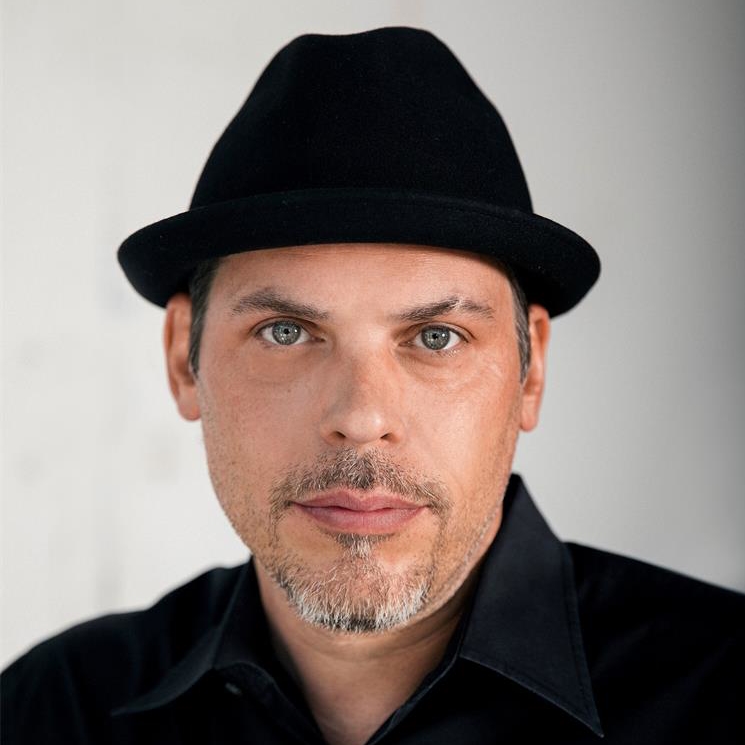 Justin Alexander
Oct 07 2020 . 13 min read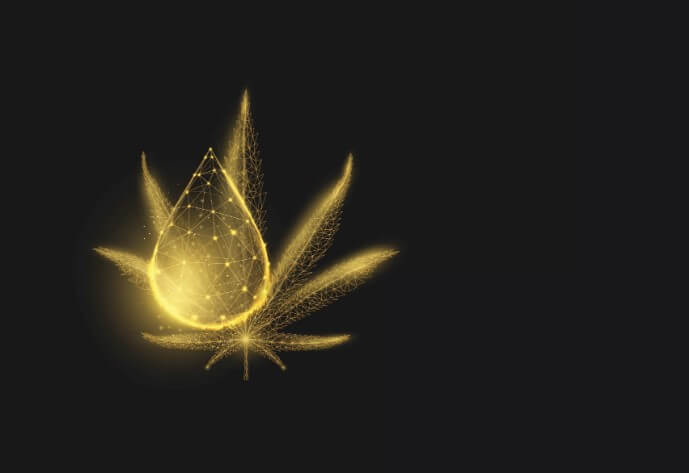 Made from the cannabis plant, concentrate products have been processed to keep only the most desirable plant compounds (primarily cannabinoids and terpenes), while removing excess plant material and other impurities. "Concentrates are just simply that—a concentration of every beautiful compound and chemical that the cannabis and hemp plant provide," explains Robbie Wright, director of production at Panna Extracts.
Because concentrates typically have very high levels of THC and other cannabinoids, making them much more potent than consuming flower, they are not recommended for the novice cannabis user. But that high yield of both cannabinoids and terpenes is exactly why they are beneficial as compared to flower. Another advantage of concentrates is high bioavailability, meaning the effects that you feel and experience, as well as the rate of absorption into your body, happen almost immediately.
In terms of consumption, premium concentrates are best tried with a dab rig or a concentrate-specific vape pen. Newer devices offer electronic temperature control options that bring out the full flavor profile without the need for a torch. "I love to consume cannabis in all ways and forms, but I know too much about the science to not be a huge advocate of ingesting it whenever possible," says Wright, who encourages cannabis users to "get the magic to your endocannabinoid system. It's simple science. Your body will thank you."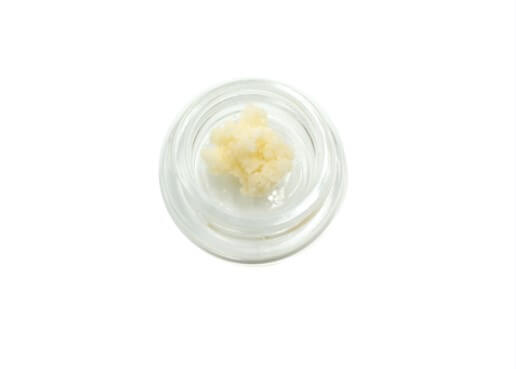 Strawnana Sugar, Cookie Glue HCE and JFK Batter from Roar Extracts
Justin Bloom, director of production for Roar Extracts, describes the typical concentrate user as someone who is trying to get the most bang for their buck. "The majority of consumers would say they smoke about an eighth to a quarter of flower a week, this would translate into maybe 1g, if not 2g, of concentrate a week on average," Blooms says. "The typical saying 'a dab'll do ya' is absolutely correct. With purity levels of 75%+ total THC, a little goes a long way. Some people have seen major benefits from using concentrates for their medicinal ailments because the onset is almost immediate. The thought of 'do I need to smoke another joint to feel this?' never should happen when you take a dab of high-quality concentrates."
Roar prides itself on extracting the essential oils of the cannabis plant, the terps and cannabinoids. "We utilize the electrostatic absorption/adsorption rates of different filtration media in order to pull the undesirables out of the essential oil extracts," Bloom says, noting Roar products are made for dabbers. "This is for those who have been consuming flower for so long now they need the pure cannabinoids and terpenes in order to truly enjoy their experience." But everyone can learn. For the novice, Bloom recommends putting a little bit of concentrate on top of a flower bowl or into a joint with flower.
Of the Roar portfolio, Bloom highlights a few of his favorites: Strawnana is granulated THCa sugar homogenized with a strong terpene mix. Cookie Glue is diamonds, or HCE, and is a pure THCa. JFK is a potent homogenized fluffy cake batter-like consistency that is easy to sculpt and play with. "The Strawnana Sugar has high levels of β-caryophyllene, β-myrcene and δ-limonene and it gives an uplifting and energetic euphoria," says Bloom. "Being a HCE fraction, or high cannabinoid extract, Cookie Glue HCE is almost pure THCa, testing at 99.6% THCa."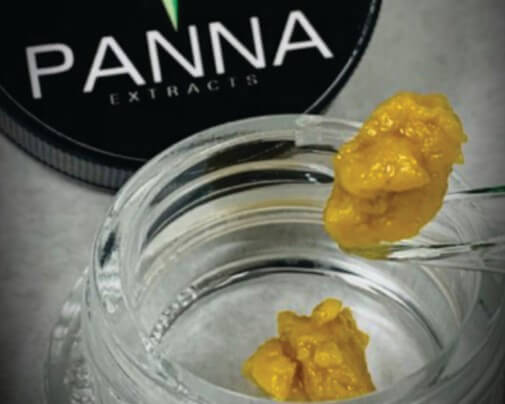 Panna Jungle Juice Live Resin Badder
Capitalizing on the immense popularity of Jungle Juice—it's the ultimate well-balanced hybrid strain for those seeking relief from a topsy-turvy Covid world—Panna is a stellar entry into the resin badder category. A cross between Animal Cookies and Tangie, it is juicy, sweet and sour yet has an earthy pungency.
Jungle Juice badder is positioned toward those who are highly experienced. "I would say the typical user would be a cannabis connoisseur," says Richard Estrella, assistant general manager at The Apothecarium. "New users may find a concentrate like this to be too much for them."
Estrella recommends using an oil rig for Jungle Juice Live Resin Badder. Although because of its malleable texture it can be used in most any type of vaping device from a rig to a dab pen. In the production process, it is extracted via butane hash oil (BHO) from the Jungle Juice strain. BHO is a common solvent used to extract and yield a broad spectrum of both cannabinoids and terps in a variety of consistencies depending on how it cures.
"Because you don't combust extracts, vaping and dabbing utilize the heating of cannabis without burning, which means less carcinogens," Estrella says. "The heat releases the terpenes and cannabinoids into a vapor rather than smoke since combustion does not occur. Most consumers choose to vaporize or ingest concentrates and edibles for a smoke-free dose."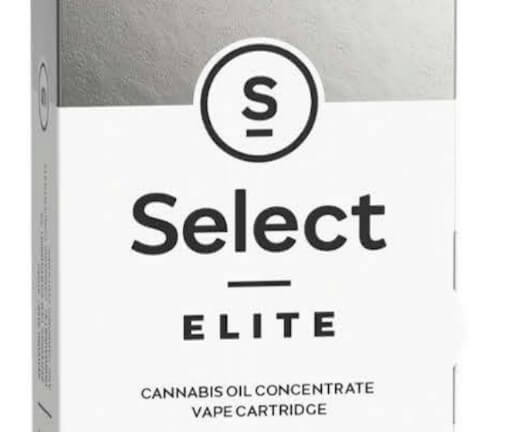 Select Elite Sour Melon Vape Pen
High potency now comes in a vape pen format thanks to Select Elite. One bonus is it's healthy too. Select co-founder Cameron Forni says that 90 percent of the cartridge market was built on products with components that could be detrimental to human health, so he set out on a mission to create a product that was better. "We're known for having the most stringent and progressive oil testing in the industry–in fact, we were the first company to begin proactively testing for a full panel of 66 analytes at the PPB (parts per billion) level," Forni says.
Select's development of a better, healthier option "started with better hardware, then better oil," Forni explains. "Through proprietary and highly refined distillation techniques, Select Elites deliver an activated, broad-spectrum oil experience with quality and consistency you can count on."
Elites are not only discreet and convenient, but they are also available in a variety of strain-specific flavors and effects. Sour Melon has a high concentration of activated THC. "We suggest a novice user waits about 20 minutes between draws to best understand their personal dosage needs and preferences," advises Forni, who notes Select Elite is about making cannabis approachable and that there is no typical user of their products.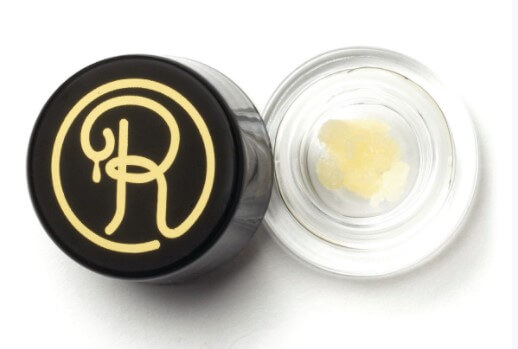 Remedy's SkyResin Sugar
SkyResin takes you there—to the sky—in the most pleasant way. This product is for those who like their high very strong and who enjoy the concentrate experience. "Our patients often seek these types of remedies for relaxing or relief, alleviating such conditions like anxiety, stress, and insomnia," says Justin Van Dyck, Remedy brand manager of SkyResins Sugar. "The advantage of SkyResins is you get all the advantages of a live resin—without it being a live resin—and Remedy's hand-trimmed flower for a unique taste."
A true innovator in its category, SkyResins are made using cured material but look, taste, test, and smoke like live resins. "SkyResins originate from an avant-garde, proprietary extraction process, making the experience of concentrates better and more accessible to everyone," Van Dyck says. "We extract unnecessary molecules from the product itself—pigmentations, chlorophyll, waxes, and lipids—which tamper with the true flavor. It has a distinct hue and a candy like essence. Think all the sweet notes with this gem of multiple strains mixed into one."
Because of the potency, Van Dyck adds that this product is not recommended to novice users, but instead is recommended for those who are looking for a condensed experience with the highest integrity at production.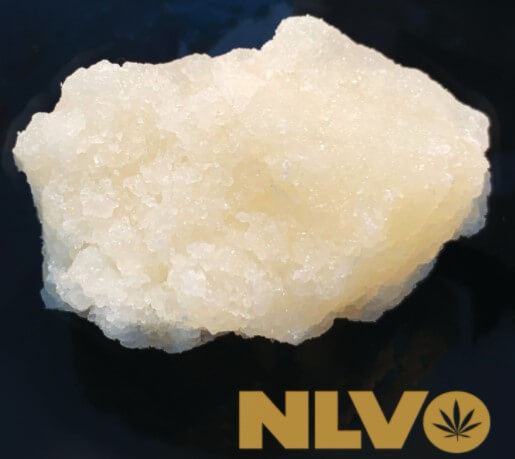 NLVO Gold Wedding Cake Live Meringue
The name says it all. Wedding Cake Meringue is a light and airy smoke with a sweet potent aftertaste—inspired by the rich cloud-like texture of meringue, a sugar and egg-white mixture that tops desserts.
So how did Flower One create such a decadent product that changes the game on concentrates? "The desserts and the concentrate are both the result of a similar process: precisely whipping simple ingredients to perfection," says Corey Crosser, extraction manager, Flower One Holdings, Inc. "The meringue consistency looks like its edible counterparts: firm in appearance but with a light and soft texture that becomes a fluffy sugar when broken down further."
During the production process, the concentrate is made up of only the desired cannabinoids, terpenes, and flavonoids, preserving the active ingredients as well as the essence and flavor of the flower. Fats, waxes, and other plant materials are removed. "With live concentrates, the plants are frozen immediately upon harvest and do not undergo any drying or curing," Crosser says. "This produces the freshest flavor profile available in concentrates and captures the full aroma of the flower at harvest-time."
Wedding Cake is an indica-dominant strain best used for relaxing at the end of a hectic day or enjoying calm moments of reflection. "The Meringue's aroma carries a distinctive hint of cake frosting unique to the strain that is surprisingly pleasant," Crosser says, noting it has a robust terpene profile that can enhance the experience well beyond its THC levels.
Bounti by Abide
The creative minds behind Bounti created it because it is the product they want to vape. "The brand represents countless hours searching for, testing, and refining the best cannabis has to offer," says Abide Director of Sales Wade Braggs. "We purposely choose not to grow or process our own flower to bring our customers the best strains, growers, processors, and hardware. Only after many years of commercially producing cannabis vape products do we now feel our signature brand is ready to make its debut."
Bounti's spectrum of strains range from old-school genetics to exciting new hybrids with effects of a given strain varying from uplifting euphoric feelings, creative motivation, appetite stimulation, to pain relief, focused mindfulness, and restful sleep. Bounti's carts often contain around 90% THC and approximately 125 doses. Using quality cartridges includes benefits of convenience, discretion and consistency—and because cannabis is vaporized instead of burned, there is no smoke to inhale.
Braggs offers advice for those who are looking to get into concentrates or for those who want to deepen their portfolio. "For novice users I would recommend starting slowly. Someone who is used to smoking flower but has never used a cartridge may instinctively take several draws as if they were smoking flower. The smoothness of our cartridges could also tempt newbies to take large draws," he says. "I recommend starting with a small draw or two and waiting a few minutes before continuing. Everyone's body chemistry is different, so it's important to find the right dosage for you, personally."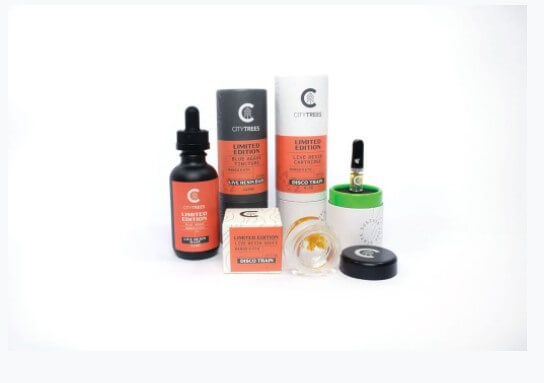 City Tree's Disco Train live resin sauce
High in terpinolene, myrcene and ocimene, Disco Train live resin sauce is on a completely new track for City Trees. This limited-edition release is a blend of Mango OG and Ghost Train Haze and there are only 500 units made of each product. So don't forget to catch the train before it leaves the station.
"Disco Train was created to highlight the diversity of the flavors and effects cannabis extracts can achieve when the proper processes, people and quality control measures are all in sync," says Dominick Monaco, City Trees director of laboratory operations. "It is for those patients and/or customers that like to vaporize highly concentrated THCa with a flavorful concoction of tropical terpenes and flavonoids that excites the palate."
If you are new to concentrates, the suggested serving size is .05g—about half the size of a frozen pea for a visual reference—and a temperature range of 400 to 475° Fahrenheit.
"The typical live resin sauce user will be someone looking for the most authentic representation of the strain as if it were fresh off the stalk. Its use is very diverse, however, it will most likely be used for vaporizing/dabbing and sought because of the unique profile we've been able to create mixing two very different lineages of cannabis into one extract," he says.
The advantages of live resin sauce are numerous. For example, it takes less quantity compared to flower to get medicated and the undesired particulates and plant matter have been filtered out. "It is a cleaner and more healthy form of ingestion. Vaporizing it in a metered and dosed fashion can alleviate the peaks and troughs medical users may face when taking edibles," Monaco says.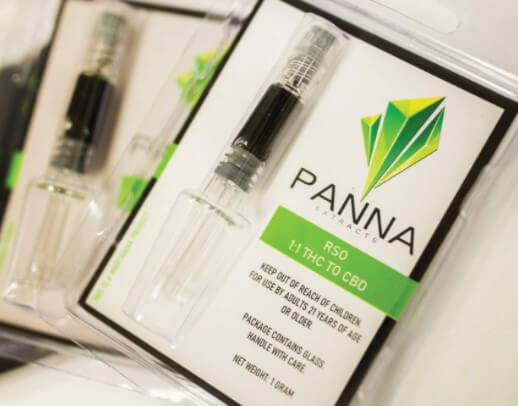 Panna's High THC, High CBD and 1:1 Rick Simpson Oil (RSO)
In the exploration of concentrates, one of the most famous and most highly lauded is Rick Simpson Oil. It is a concentrated cannabis oil known for its high THC content, named after its creator, Rick Simpson, a Canadian cannabis activist who created and used the oil after his cancer diagnosis in 2003. "RSO is a full-plant extract that is typically made from indica strains of cannabis that are prized for their analgesic, anxiolytic, and sedative properties. There are several different ways to enjoy the benefits of Rick Simpson Oil," says Robbie Wright, director of production at Panna Extracts, who notes you can apply it directly to your skin, take it sublingually or eat it.
Applying the oil topically to your skin can work to manage the symptoms of certain skin conditions. Mixing RSO with a bit of coconut or olive oil will make it much easier to spread on the skin. If you do not mind the taste, RSO can be taken sublingually—under the tongue—for quick psychoactive effects. The medicinal content of the oil is absorbed through membranes in the mouth and carried into the bloodstream to produce therapeutic effects. RSO can also be eaten to produce effects more like edibles. Swallowing RSO will result in longer-lasting, though potentially less potent, effects as the oil is slowly digested.
As many ways as there are to take RSO, there is a health benefit to match. Patients with skin disorders, severe and inoperable melanomas (skin cancer), sufferers of glaucoma, all types of cancer patients, as well as diabetics, experience relief, healing, and a better quality of life from RSO. However, there are some things to be wary of. "It is important to note that the smoking, vaporizing, or dabbing of Rick Simpson oil is not advised. A beginner dose of RSO should be no more than half the size of a grain of rice, up to three times a day," he says. "As your body builds up a tolerance to THC with continuous usage, you may want to consider slowly increasing the dosage if you believe you need to. When discontinuing use, it may be a good idea to slowly wean off the oil, rather than stopping cold turkey. Suddenly stopping use may lead to a slight THC withdrawal, resulting in sleep problems, anxiety, and irritability."
Panna makes three types of RSO to cater to all type of comfort levels in consuming cannabinoids. The brand's High THC RSO is the truest form of RSO as a full plant/full spectrum RSO. Panna's High CBD RSO typically has around 750mg/g of CBD with the remainder of it a mix of terpenes, THC and other compounds that are best ingested than smoked. Panna's 1:1 Ratio RSO is an even split of THC and CBD along with all the other compounds reintroduced.