Deborah L. Costella
Jun 20 2019 . 2 min read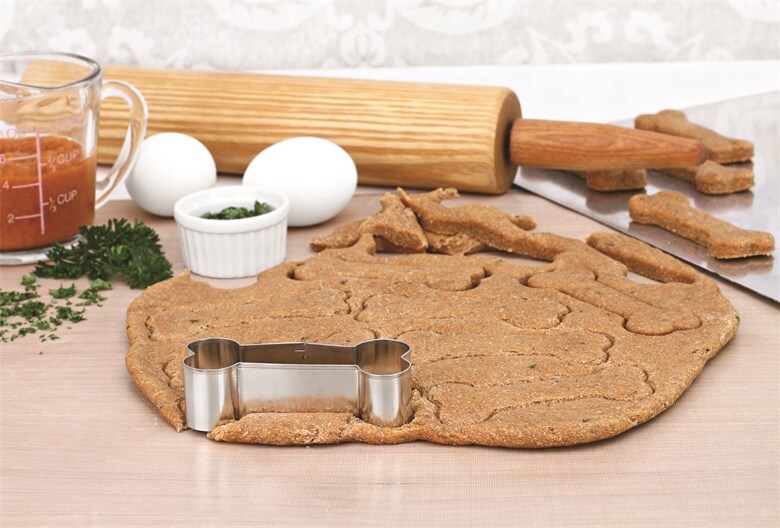 Ingredients
(makes about 4 dozen bones)
2 cups whole wheat or brown rice flour
1 cup wheat germ
2 cups soy flour
1 cup cornmeal
1 cup non-fat dry milk powder
1 cup nutritional yeast
1 egg
¼ cup grapeseed or olive oil
1 Tbsp. molasses
2-3 Tbsp. CBD oil
1 cup warm vegetable, chicken or beef broth–low sodium
¾ cup warm tomato juice or water
Process
Heat oven to 320° degrees. In a large mixing bowl combine flour, wheat germ, soy flour, cornmeal, milk powder, and nutritional yeast until well blended. In a medium bowl combine egg, oil, molasses, CBD oil, broth and tomato juice or water. Stir wet ingredients into large bowl of dry ingredients until well combined.
Mixture will be thick and stiff. Cover with plastic wrap and allow dough to rest for about 30 minutes in refrigerator. Remove from fridge and divide dough into three parts. Keeping unused pieces covered with plastic, roll out sections of dough on a lightly floured surface to about ¼-inch thickness. Do the same for the other remaining pieces of dough. Using a bone shaped cookie cutter or doughnut cutter, cut out shapes, and place on parchment lined sheet pan.
Bake in preheated oven for about 15-25 minutes until bones are cooked through and crisp. Allow to cool completely then store in air-tight container.
Please remember when cooking with medicinal cannabis you are cooking with a medicine and the medicine amount and portions of the food ingested should always be taken into consideration. Always start out with small portions or doses and wait 30 minutes to an hour before eating any additional portions of food that has been medicated.