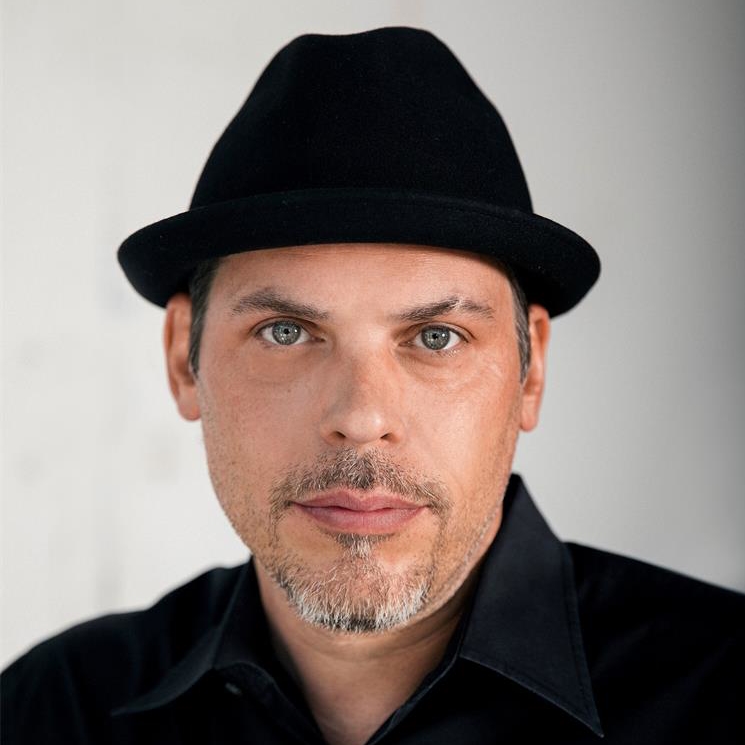 Justin Alexander
Jun 05 2018 . 13 min read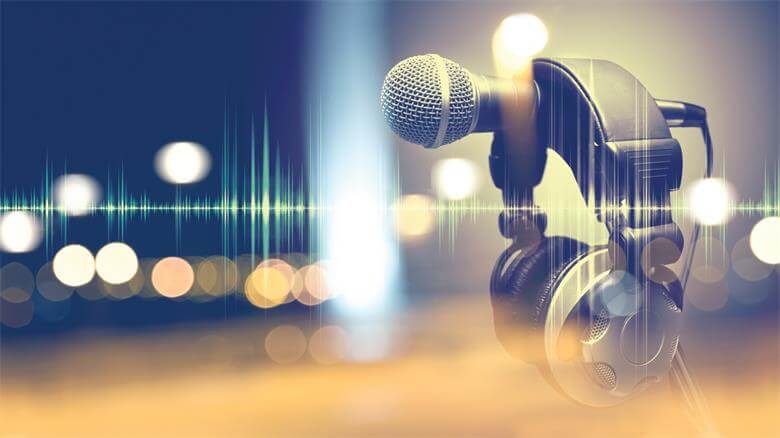 Music is one of the best parts of life—it creates memories, accentuates moments, and burrows deep into our souls to create emotions, both sad and joyful. Hence, the plethora of music festivals that begin in the spring and continue through to the end of summer.
There are two schools of thought surrounding the way you should go about choosing cannabis for a music festival. Depending on what kind of festival experience you want to have, you can either go with an indica and fall deep into the nuances of the sound or try a sativa that will keep your energy up and your body moving to the beat.
Either way, cannabis and music have always had a synergistic relationship. Many believe that using cannabis with music elevates the experience, opening the mind and its perceptions to all that lies under the surface. "Music can help alter moods and increase senses," says TJ Hoven, general manager of The Grove. "Add marijuana to the mix and those feelings and senses are heightened."
Senses are heightened to the point that music even sounds different. "Since cannabis can make the user feel as though time is slowing down, it may allow us to hear a song or album differently. We may hear something we've never heard before by taking the time to slowly relax, wind down, and take in what the artist is trying to convey," explains Laura Schmidt of The+Source.
It's also been said that cannabis signifies a boost in musical IQ—with the mind focusing on new things about old songs. "Complicated time signatures begin to make more sense and subtleties you had never noticed before start to surface, creating a new but uniquely familiar experience," says Brandon Damman of Euphoria Wellness.
Whether it's a matter of synergy, heightened senses or musical IQ, there's a slew of cultivators in the Nevada marketplace who have an array of strains that will make your festival going experience quite a melodious one.
FlavRX Fire OG and Evergreen Organix sunscreen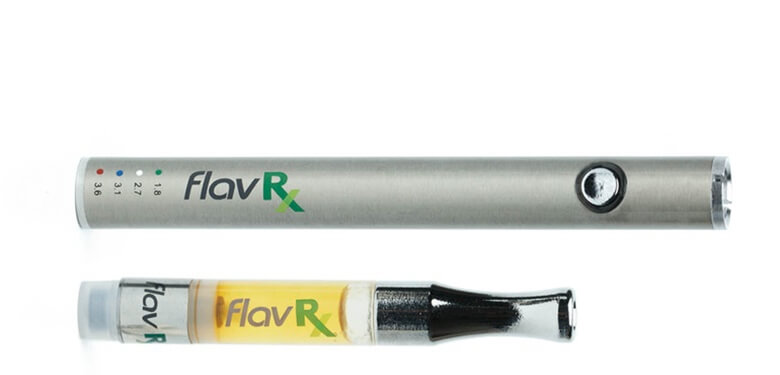 There's always a soundtrack to every season and the perfect strains to pair it to as you drift the days away in a cannabis haze. When you want to go for a thumping loud, get-up and get pumped summertime vibe, try FlavRX Fire OG at 60.53% THC. A sativa-dominant hybrid bred from a SFV OG phenotype, the taste hits the palate like a ten on the volume-control knob with flavor notes of skunk, pine and lemon that results from a terpene mix of b-pinene (4.84 mg) and b-caryophyllene (6.90 mg). It will have you listening over and over again—for hours in fact—to your favorite rock jam as the buzz is cerebral and euphoric. Expect a hearty appetite with this vape as well, so when the munchies call set your picnic to music, too.
Also, a necessity to combat the brutal desert sun when outdoors at a music festival is a bottle of Evergreen Organix cannabis-infused sunscreen. While it won't get you high, it does help with pain and inflammation. Dosed at almost 100 mg THC per bottle, lather up and enjoy the paraben-free, anti-aging and pain relief benefits of this topical cannabis product. With an SPF of 30 it provides ample coverage for all-day musical mayhem and blocking UVA/UVB rays.
8 Fold 702 Blend Vape Pen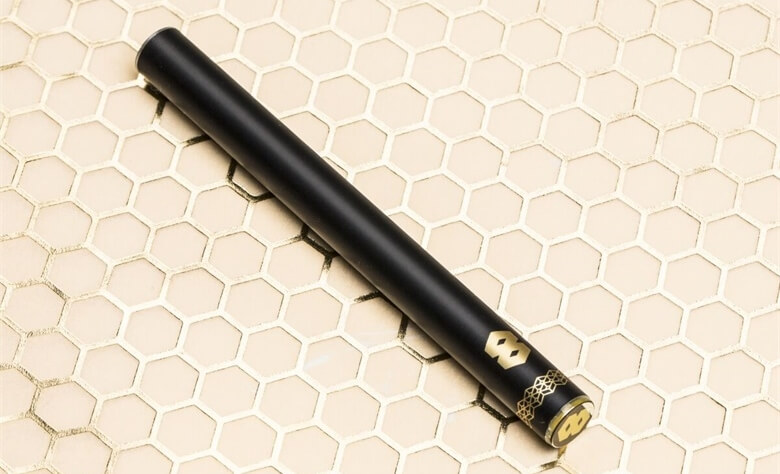 "Cannabis and music go together like peanut butter and jelly—they complement one another by amplifying the different sounds that compose a piece," says Laura Schmidt of The+Source in Las Vegas. "I find that the bass hits a little harder when I'm high. I love when I'm experiencing a heavy cerebral high that makes the fluttering of chimes or shimmering of guitars really pop. We may hear something we've never heard before by taking the time to slowly relax, wind down, and take in what the artist is trying to convey."
Somewhere between the mental expansion qualities of electronic dance music and the calm, cool, collected twang of country, the 702 Blend is a true hybrid comprised of four different strains—Jelly Bean, 24kt Gold, Bruce Banner and Glass Slipper. This blend provides a balanced experience due to the unique terpene mix of b-caryophyllene (4.15 mg), linalool (1.76 mg), and alpha-humulene (1.24 mg). A combination of 81% THC, 2.07% CBN, and 1.35% CBG results in a diversity of taste and effects, much like
musical genres.
State Flower Cannabis's ShapeShifter
"About seven years ago I had the good fortune to visit Malawi and trace my family's history through Southern Africa. The people I met and the places I saw were nothing short of incredible. I smoked freely, and the uplifting euphoric effects had me partying all night to the sounds of Caribbean and African music with the villagers around the lake where the famed Malawi landrace is grown," says Daniel Wacks, co-founder and CEO of State Flower Cannabis. "I recognize the same, very unique, clear-headed high in Shapeshifter. It certainly has a bit of a haze and purple indica effect as well, making it more of a full spectrum experience than the Malawi landrace on its own. A strong floral perfume nose gets louder and louder after an extended curing process required to optimize these dense buds."
A four-way cross of Old Man's Purp x Malawi x NL Haze x Memory Loss grown by State Flower, bred and hunted by Cult Classic Seeds and bestowed upon the cannabis community by Purple City Genetics, Shapeshifter, at 17.65% THC, is a sativa best enjoyed in the morning with a cup of coffee. On a musically infused day, begin with Shapeshifter, and bring it along as you bounce between your favorite playlists.
Kabunky Kwick Stick Fruit Salad Vape Pen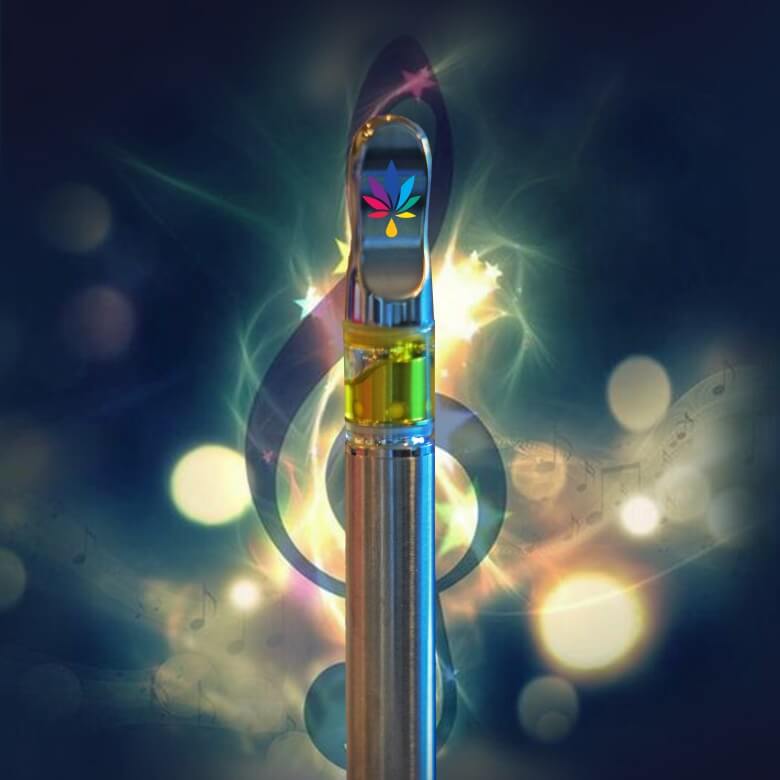 Kabunky's Fruit Salad vape offers users a quick, disposable deliciousness that delivers a fruity, flavorful punch packed with an array of tasty terpenes including myrcene (8.1 mg), limonene (16.8 mg), linalool (9.2 mg), caryophyllene (33.2 mg), and pinene (7.8 mg). Fruit Salad is an indica-dominant strain that mixes Agent Orange x Banana Kush x Strawberry, so you know the whole jam band is invited to a fruit-forward party in your mouth as you groove to the latest hot tunes. You can expect an uplifting, happy high with a mix of cannabinoids that include 218 mg THC, 2.3 mg CBD, and 23.3 mg CBN and may have you delivering hugs to your fellow music devotees. Share the Kabunky—because everyone loves a groovy fruit salad on a hot summer day!
Virtue's Gelato flower
At the end of a day spent racing between sets, dancing nonstop, and expending way more serotonin than usual, the average festivalgoer may be a little fatigued. Enter Virtue's Gelato flower. A well-known strain, Gelato "has a strong effect compared to other less potent varieties. I find this variety better to relax than be active," says Virtue's Heather Marnell Wallace. Gelato is also very high in THCA, an anti-inflammatory compound that helps ease pain and minimize nausea. "This strain recently tested at over 38% THCA, almost breaking a local lab's machinery," shares Wallace. You're gonna need that THCA—a non-psychoactive cannabinoid found in raw and live cannabis—after a long summer day.
It doesn't just pack a medicinal punch, Gelato also has massive THC levels. "It's a very potent, high-terpene strain that consistently tests over 28% THC with around four percent terps," says Wallace, who adds, "Gelato alters your perception and, in many cases, allows you to focus on the melody and not be distracted by white noise."
Matrix NV Disposable Vape Pens
When lining up the essentials for a full weekend of peak musical enjoyment, Matrix NV has a few items that will make the trip more melodic. To keep the day going, Matrix NV's Sour Apple Bubba hybrid pen (at 75.98% THC) tastes like a fruit-forward candy that exudes the refreshing qualities of a popsicle on a hot summer day with a terpene makeup of b-myrcene (14.01 mg), ocimene (2.93 mg), and pinene (1.73 mg).
Whereas Matrix's PAX Era Evolution OG Hybrid is an indica-dominant strain that will definitely drive you straight to chill-out mode for some relaxing couch time by the fan. With 72.48% THC, Evolution OG has a terpene blend of limonene (18.01 mg), b-caryophyllene (2.46 mg), and b-myrcene (8.17 mg).
Finally, Matrix's 300mg disposable Do-Si-Dos vape pen delivers a rich cookie essence, maximizing smiles as you add miles to your musical mind expansion with a cannabinoid makeup of 74.45% THC, .01% CBD, and .02% CBN and a terpene mix of limonene (7.6 mg), linalool (4.7 mg), and b-caryophyllene (4.9 mg).
City Trees' Energy Vape Pen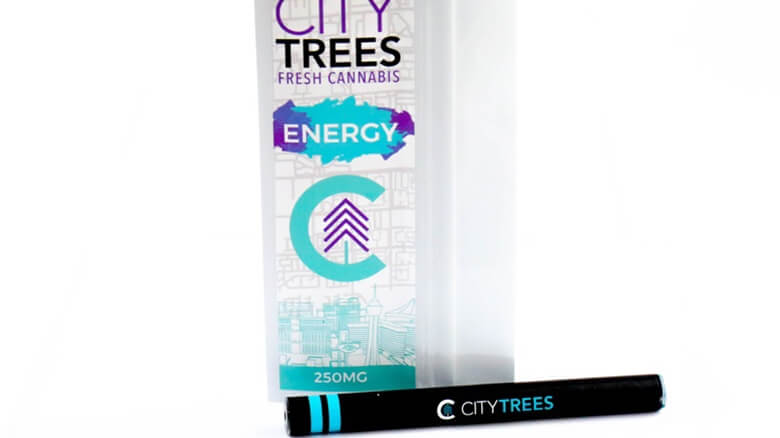 Just as its name promises, City Trees' Energy Vape Pen will give you a burst of energy. Essential to any game plan for attacking a music festival full throttle, this discreet, powerful vape pen packs a punch quickly and effectively. "A festivalgoer may feel like they never want the music to stop," says City Trees' Kawehi Galuteria. "The Energy vape will let you dance the night away, and keep you going when you need a pick-me-up."
This sativa strain has "a delicate ratio between alpha and beta pinene and limonene. These terpenes are often found in sativa strains, but we've balanced them out to allow for an uplifting and focused feeling without the negative or distressed reactions," adds Galuteria. That means you can keep rocking your socks off without the intense buzz and depressing caffeine come-down of your regular old cup of joe. So, give City Trees a puff instead, your nerves will thank you.
Although your ears will definitely need some plugs. "When it comes to cannabis and music together, you're able to tune into the frequencies you might have missed, and it can even deepen the love you already have for music," says Galuteria.
Summa Cannabis' Grease Monkey and Mother's Milk flower at Euphoria Wellness
When it comes the kind of experience you want to have at a music festival, you can either go with an indica and fall deep into the nuances of the sound or you can try a sativa which will keep you going and moving to the beat. Strains that match both these vibes are Summa's super heavy indica Grease Monkey and its bouncy sativa Mother's Milk.
Mother's Milk, a cross of Appalachian and Nepali OG, offers a long-lasting mind and body high—if used before going to sleep, it could last into the next morning. "Mother's Milk can diversify your festival experience and allow the user to benefit from the best of both worlds," explains Brandon Damman of Euphoria Wellness of the strain that tests at 23.94% THC, 1.39% D9THC, and 25.71% THCA. "A sativa-dominant hybrid tends to be my choice when preparing for a jam/listening session. This strain is unique in the way that the indica leaning effects bring down my anxiety level enough to allow me more enjoyment of the uplifting characteristics, which are what positively stimulates my perception of music."
A cross between Cookies and Cream and Gorilla Glue 4, Grease Monkey offers a completely different experience from Mother's Milk, with a heady beginning and a relaxing body finish that tests at 27.986% THC, 2.862% D9THC, and 28.64% THCA.
Cannabiotix Orange Cookies flower
"Cannabis allows us the unique opportunity to not only listen to music in a fresh, unconventional way, but to also help water the creative garden that is already present in ourselves," says Megan Landers from Cannabiotix.
The link between music and cannabis is not just in water but also can be found in basic biology. "Cannabis and music have a long history of intertwined enjoyment, but that's all thanks to the endocannabinoid system already present in our bodies," notes Landers. "An electroencephalogram (EEG) test, which evaluates electrical activity in your brain, shows that cannabis affects the areas that process what you see and hear."
Cannabiotix's Orange Cookies smokes as delightful as it sounds and can be summed up as mouthwatering with a long-lasting mellow high. Tangy citrus notes are the best part of this beautiful flower which sports a terpene makeup of limonene (5.1 mg), myrcene (1.6 mg), linalool (.8 mg), pinene (.8 mg), and caryophyllene (2.3 mg).
"This is a unique strain due to how it balances both sides of the spectrum," says Landers. "You are able to receive all the benefits of an uplifting and energetic strain, while also receiving great joint and muscle relief from those pains after dancing all day and night in those shoes that seemed like a good idea at the time. Day or night, you can't go wrong with this beautifully balanced hybrid."
Sativas from Remedy: King Tut OG and Island Sweet Skunk flower & Clemtrails Live Resin Vape Cartridge
"Few things in life are as great as good music, killer herb and awesome company," says Randy Villarba, marketing and wholesale manager for Remedy/TerpX. "Cannabis has always been a common thread with music, from musicians to their fans." And Remedy has many strains that make good companions for the music fest attendee.
For quick easy dosing, Clemtrails Live Resin Vape Cartridge is a cross of Clementine and Durban Poison, both popular sativas. "The name is a play on the "chemtrails" that most tinfoil hat theorists say we are being poisoned by," Villarba says of oil that is 79.50% THC, 1.2% CBD, and .557% CBN. "Many a discussion of whether or not chemtrails are real have been had while hitting a Clemtrails live resin pen."
On the flower side of Remedy's sativa selections, there's King Tut OG and Island Sweet Skunk, both offering superb pain relief benefits that will keep you engaged in the concert-going experience. "These are perfect choices if you are looking for that euphoric high while headed out to enjoy some live music," says Villarba.
The Grove's Citrus Sap flower
"Music and cannabis have long gone hand-in-hand, helping create a calm, fun, positive environment that complements mind, body and soul," says TJ Hoven, general manager of The Grove. "Recall and understanding rhythms are all heightened with marijuana. Marijuana can also cause the brain to lose the ability to separate relevant and irrelevant stimuli, which gives the user the ability to arrange things by sound, seeing colors and notes, instead of geometric patterns while smoking and listening. Relaxing of the mind will also play a huge role allowing the user to be in the moment and absorb the beauty and escape of music."
One of the best ways to absorb the music is with Citrus Sap, a cross between hybrid Gorilla Glue #4 and Tangie, a sativa. Like the name suggests, the flavor is a pungent citrus with 22.2% THCA and the effects are everything you want to go along with music: happiness, relaxation, uplifted spirit creativity and euphoria.
"Citrus Sap is known to promote laughter and socialization, which alleviate stress and depression," Hoven says, noting its blend of terpenes [b-caryophyllene (5.09 mg), limonene (4.76 mg), and a-humulene (1.75 mg)] promotes relaxation but also increases energy. "It is known to help with inflammation and pain and allows for the user to relax, which are all beautiful attributes for a consumer to dive into music, and their moments."