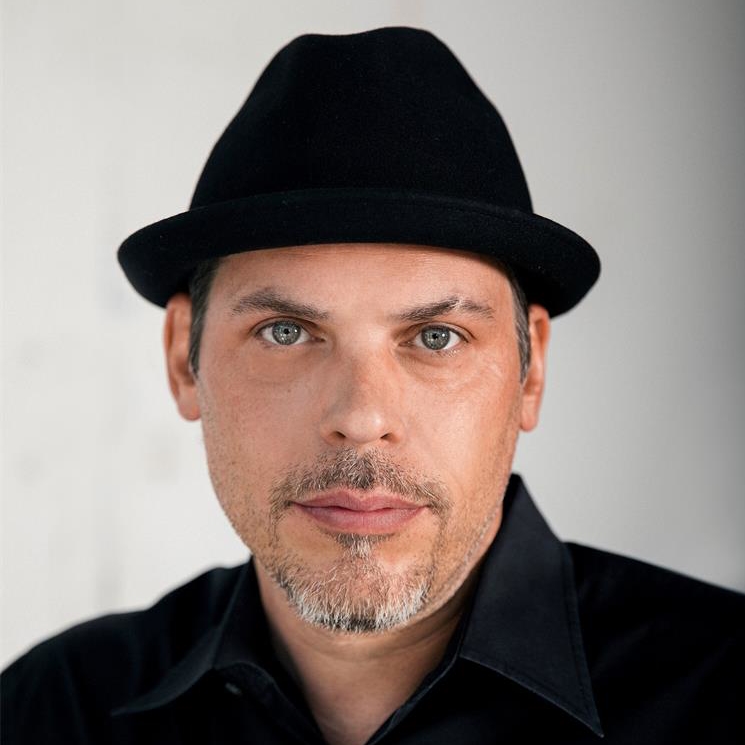 Justin Alexander
Mar 18 2019 . 17 min read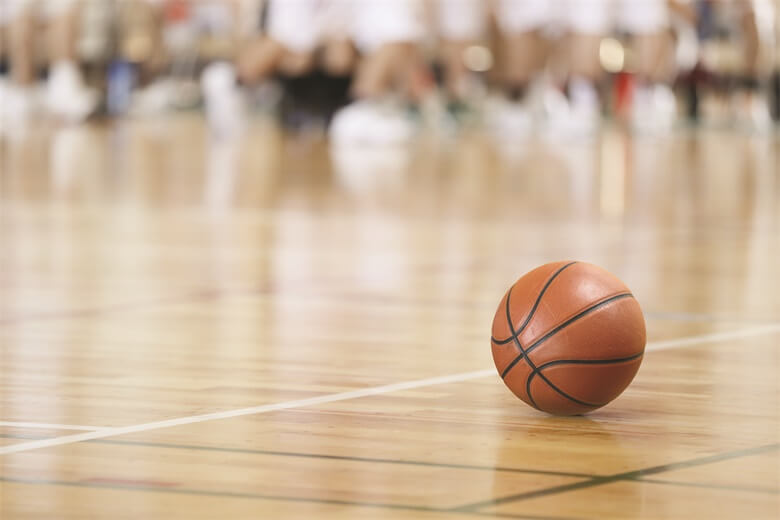 Whether it's baseball spring training and basketball's March Madness happening this month or NHL playoffs starting in April, consider trading an "aggressive alcohol buzz for the gentle euphoria cannabis provides and you'll definitely see a big difference in the way you enjoy the [viewing experience]," says Kabunky's Josh Ranck.
Depending on what you are looking for as you root on your favorite team, cannabis can offer effects that range from calming and euphoric to exhilaration and focus. "The versatility of cannabis is endless and, thus, so are the effects one can receive. Being able to pinpoint exactly what affects you want to achieve is more possible than ever as we look at terpene content and terpene blends," says Cait Brooke, District Edibles brand ambassador. "If I were looking for a strain that relaxes but also enables me to keep my focus, I would be hunting for something high in pinene (known to deliver alertness) but also with high concentrates of caryophyllene or linalool, which both produce more calming body effects great for inflammation or overall relaxation. The blend together can help target the differing effects we are looking for."
No matter what feeling you are looking to experience while watching the big game, cannabis purveyors in Nevada most likely have something to meet your needs. Read on to find out what edibles, flower, concentrates, vapes and even beverages will help you meet your goals while cheering for goals, baskets and runs.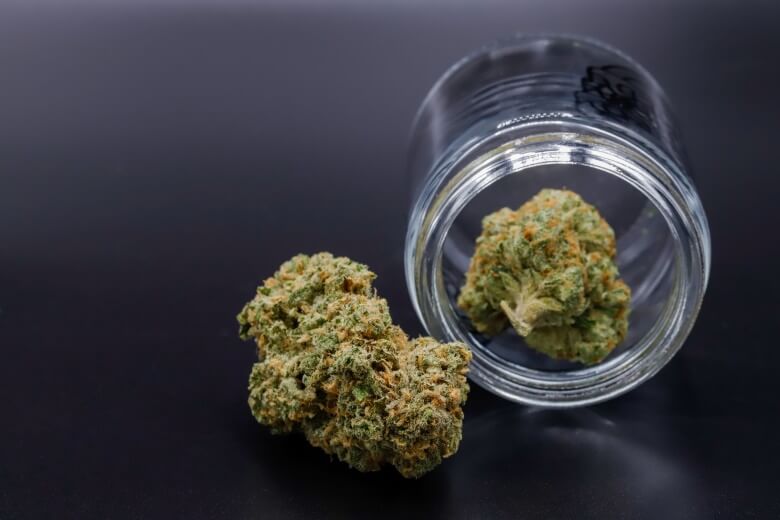 Remedy's Sour Diesel, Bio Diesel, Blue Dream and Purple Cadillac flower
"I live
and die by
my sports teams. Sporting events take time, and typically I need to be medicated throughout the experience, so I don't have a heart attack," jokes Remedy's Randy Villarba. For a match made in game-day heaven, Villarba recommends four strains for their steady balance of euphoric terpenes with high potency: Sour Diesel (30.32% THC), Bio Diesel (28.79% THC), Blue Dream (22.18% THC), and Purple Cadillac Flower (21.4% THC).
As far as genetics, Remedy's Sour Diesel is a mix of Chemdawg 91 and Super Skunk; Bio Diesel is a hybrid of Sour Diesel and Sensi Star; Blue Dream is a classic blend of Blueberry Indica and Haze; and Cadillac Purple is a cross of Purple Urkle, The Black and Blackberry Kush.
"Remedy Sour Diesel has been hitting testing levels in 30%+ THC with our current genetics," Villarba offers. "It has high levels of caryophyllene (3.25 mg), which helps alleviate stress and anxiety. The limonene (2.58 mg) will help with any digestive issues should you indulge in too much junk food while watching your favorite team.
"The high levels of caryophyllene in Bio Diesel will help relieve stress and anxiety. If my parlays aren't panning out but I want to keep watching the game, this is my go-to. If that doesn't help, the high levels of myrcene will finish the job in calming you down. The double-digit terpene profile of Bio Diesel this last harvest was huge at 12.13 mg of caryophyllene and 11.11 mg of myrcene made this a full-spectrum strain to have in your rotation," Villarba says.
"The myrcene (6.19 mg) in Blue Dream will help calm you down and give you that euphoric optimism you have at the beginning of the game. The true pick-me-up if the game isn't going well. Blue Dream will have me dreaming of better days with my teams," he explains. "Caddy P (Purple Cadillac) is the equivalent of a time-out. It will calm you down and allow you to get your head in the game. If the team is making bad mistakes but still in it, this strain will help alleviate your stress."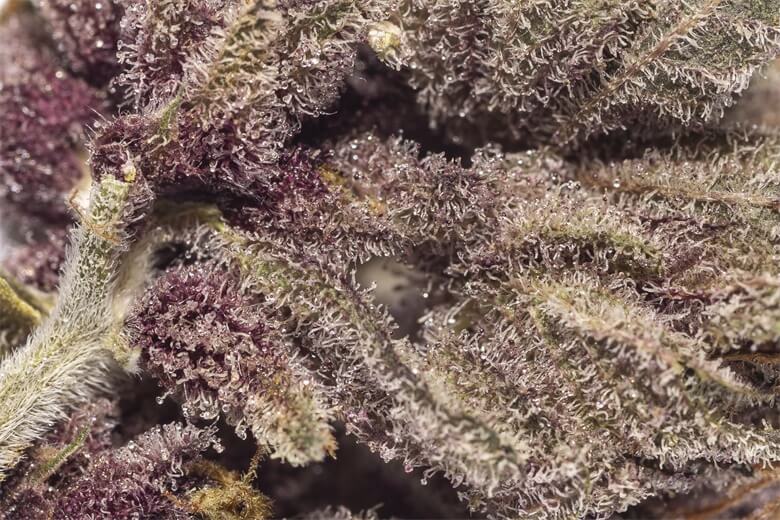 Plum Crazy by Fleur Cannabis
Gameday conjures up visions of hors d'oeuvres and some serious couch time—that means weekends are booked for the next few months with college basketball dominating. What better way to cap off commercial breaks than with cannabis?
Whether you are taking in the game from home or from the sidelines, Fleur helps you amp up the cheer with its Plum Crazy flower. "This would be a great strain to watch sporting events because it's nice and relaxing but does not have that couchlock effect," says Jillian Nelson of Fleur Cannabis. "Plum Crazy produces a nice body buzz. Going to a sporting event can be loud and full of excited people. For those who get anxiety around crowds this would be very calming."
Fleur's Plum Crazy is a hybrid-cross between Tangie x Grandaddy Purple x Girl Scout Cookies. "This beauty always tests in her high teens (15.24% THC in this case), but her deep purple color makes her a fan favorite," Nelson says. "One of the strains Plum Crazy is crossed with is Tangie, which is popular for focus and relaxation."
Forget the score or zone out in the end zone—Plum Crazy spreads its mellow mood and calms your soul even after terrible calls. Plum Crazy's myrcene (4.24 mg) helps with pain and relaxation, its caryophyllene (5.01 mg) helps with stress, and its fruity smell from 3.70 mg of limonene make it pleasant with every puff. Crack open Plum Crazy to put gameday anxiety in a timeout.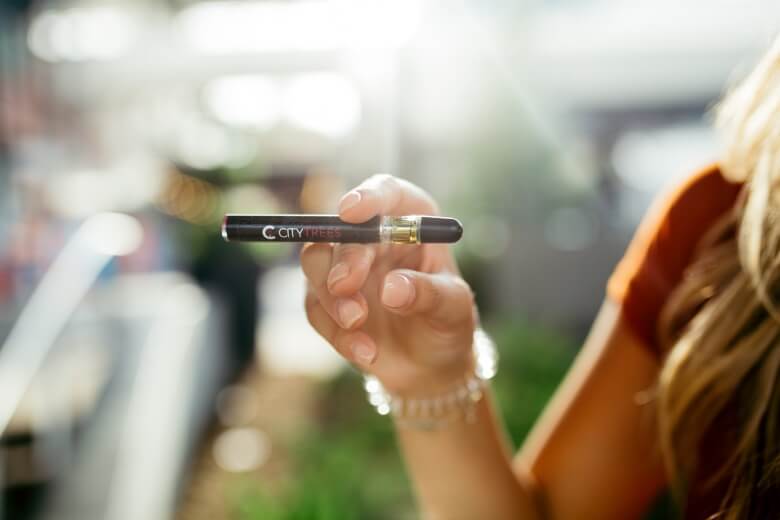 City Trees' Bliss vape pen
When your team is on a winning streak and you're pumped, sink into the cool, delicious vapors of City Trees' Bliss Vape Pen. "We named it Bliss because the effect it evokes is very euphoric, and euphoria is the ideal feeling when cheering on your team!" says City Trees' Russell Johnson. "Bliss has a mood-elevating effect that amplifies [everything] so when your team gets the 'W,' imagine how you're going to feel after taking a pull from our Bliss pen?"
Focus and relaxation come together in a blissful way in this level-headed hybrid that tests at 75% THC and 2.54% CBD. Stay in tune with the game but also feel relaxed in your seat. "Being a hybrid makes it unique because it is the perfect balance between the two tendencies," Johnson says. "Linalool (8.92 mg) and myrcene (12.08 mg) work together to keep the scale from tipping too far into the sativa category," which is good for you, because you need to stay glued to the tube—and you won't need a six-pack to do it.
City Trees' Bliss Pen is for smokers of all experience levels who are partaking in watching the games. "Bliss is the perfect starting point for new users, having our most balanced combination of terpenes. And veteran consumers like it for the heavy-hitting THC present combined with the terps!" Russell says, noting Bliss also includes 14.69 mg of limonene, 12.58 mg of pinene, and 6.79 mg of caryophyllene in its terpene mix. "It's perfect for people who can't just choose one way to feel. Trying it out under different moods is always fun to see how your mind, body, and soul interact with the world."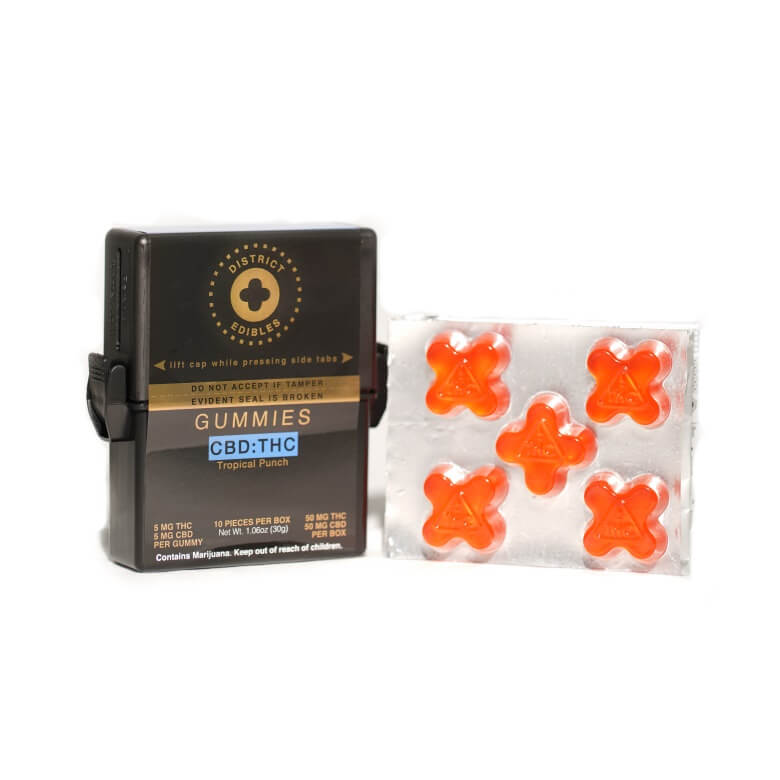 CBD:THC Tropical Punch District Edibles
"Research has proven that watching sports can increase your heartrate by up to 110 percent, making this joyous pastime quite stress-inducing," explains Cait Brooke, who is the District Edibles brand ambassador. "Not to worry, however; adding CBD:THC District gummies into your game-watching routine can certainly help calm those quick emotional responses."
District's new edibles are available in a tropical punch flavor that explodes on your taste buds, masking any unwanted cannabis plant flavor with waves of citrus, pineapple and a berry blast. "In producing our newest CBD:THC District Edible gummies, we've captured the benefits of both the euphoric onset from the THC (4.85 mg per serving) and general body bliss from the CBD (4.77 mg per serving), creating a pairing sure to bring about a relaxed grin," she says. "Due to the 1:1 ratio of CBD:THC, District gummies are not only interacting with the CB1 receptors in our brains, but also the CBD is plugging into various CB2 receptors throughout our bodies. The relaxation properties within our CBD:THC District Edibles come straight from the higher content of CBD. Because CBD talks to so many different receptors throughout our endocannabinoid system, it works as a great mediator, finding the imbalance within us, whether inflammation, tension, or stress, etc., and begins working at creating a happier homeostasis inside our unique body."
Infused here is the classic strain, Acapulco Gold—which has a usually high yield of CBD. With these edibles you get strain-specific oil and consistent dosing with great flavor. And thanks to the CBD:THC option, you can indulge in a lighter psychoactive experience layered with a multitude of feel-good medical benefits.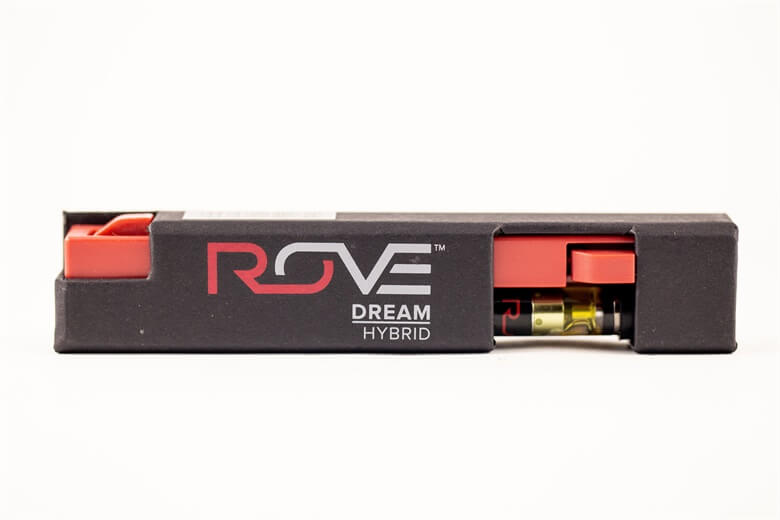 Rove's Waui and Dream disposable vape pens
That hoary old chestnut and surprisingly 420-friendly phrase "it's like watching grass grow" does, sometimes, unfortunately apply to the great game of baseball—and a few other sports as well. Not everyone has the stamina to sit out umpteen overtimes. Enter the uplifting inhalation of Rove's Disposable Waui and Dream vape pens.
"Waui and Dream will keep you engaged in any sporting event setting, whether a live match or out with friends at your favorite sports bar. The sleek and discreet delivery method of our 400 mg disposable Rove products allows you to stay 'in the game' even when no one else is playing," says Rove's Gareth Nelson of Waui and Dream. "Both sativas will awaken the senses to create a new experience for enjoying sports or any activity. Waui, based on the Hawaiian Maui Waui, is a sativa strain that keeps you alert and excitable while giving you a sense of brightness and glow at 82.3% THC. While Dream is a sativa-dominant hybrid cross of Strawberry Cough and Blue Dream that will put your cerebral abilities at the forefront of a relaxing high at 76.8% THC," Nelson says. "We like Dream and sports because it has been known to put pain in the background. Athletes are always pushing through adversity, whether it's pain, defeat or injury, and they strive to keep the dream alive."
Both Waui and Dream feature powerful terpenes. "The relaxation in Waui comes from the b-caryophyllene (.46 mg), while Dream relies more on myrcene (39 mg) to ease those sore muscles from a hard day on the court or at the office," Nelson adds.
Rove disposable vape pens are known for their smooth flavor, subtle yet intense high. Since they're disposable, they don't need to be charged, and they're inconspicuous while packing 400 mg of ganja goodness—perfect for those long extra innings staring at the sky. Play ball!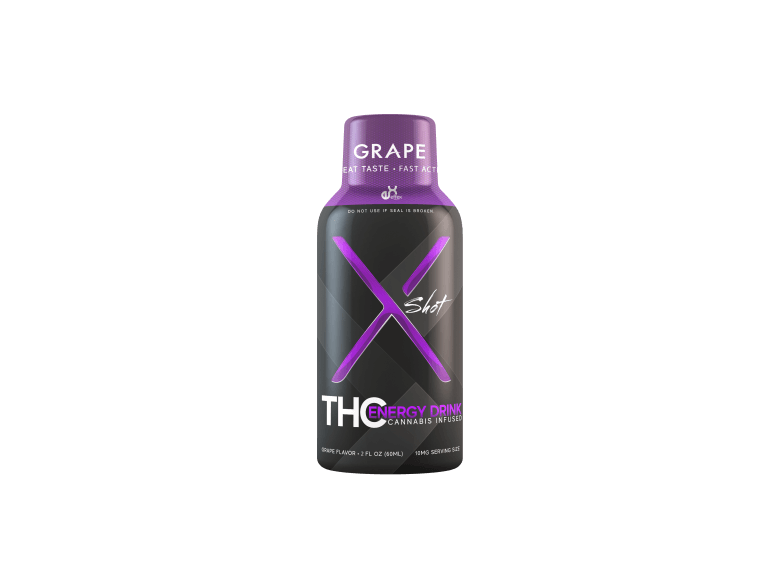 Effex Supply Co.'s X-Shot
Sure, you can game prep with a cup of coffee. You could even try a caffeinated soda. But what better way to stay pumped up for the sports fanatic antics ahead than with an energy drink combined with cannabis? With X-Shot, you get high—and stay high. Effex's new X-Shot gives you a double shot—euphoria and exhilaration—combined together to witness man's greatest pastime—or, some would say, his greatest achievement.
"The X-Shot combines energy and cannabis in a discreet, handy 10 mg dose. When you mix energy and THC, how could it be anything but fun?" says Effex's Marc Baldwin. Indeed, it could not be anything BUT fun. The X-Shot is a quick, drinkable supplement of cannabis goodness that comes in four flavors: berry, citrus, fruit punch and grape. It is guaranteed to pump you up and keep you high—all at the same time.
But approach it carefully sports fans, because this beast is not made for nap mode. "These drinks are definitely not relaxing. They are specifically formulated to shift people into a higher focus/higher performance-driven mindset," says Baldwin. "The Effex Supply Co. X-Shot helps you concentrate better on the game or any other activity where you want a little extra zing and focus with your buzz. It's a little pocket rocket. You get the best of both worlds with the combination of energy and THC in the X-Shot."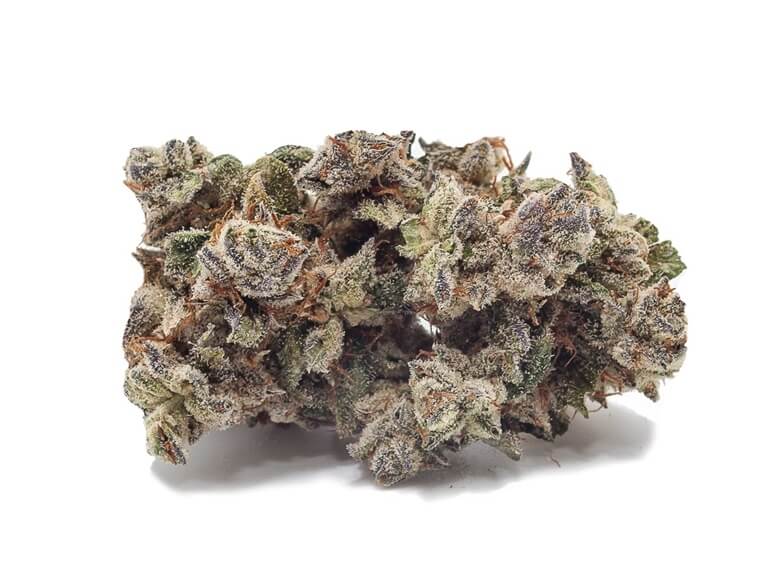 Planet 13's Hawaiian Butterscotch flower
Pick up some Hawaiian Butterscotch at your local Planet 13 dispensary and recall the good ole days. You can even get fancy and display it in a cut-glass bowl—just like your grandparents might've done with their Butterscotch candies. Planet 13's Brandon Zimmer says this exclusive sativa-dominant hybrid "makes you outgoing and very social, which is great for watching sporting events with friends. It features an uplifting high that makes you stay active and focused on the game at hand."
This sweet, candylike strain tests at 21% THC and is, according to Zimmer, "always high in ocimene (13.84 mg)," a potent terpene known for both its decongestant qualities (cough, cough) as well as its energizing kick of zing. Its other terpenes include limonene at 7.66 mg, myrcene at 3.42 myrcene, a-pinene at 2.02 mg, b-pinene at 1.68 mg, eucalyptol at 1.575 mg linalool at 1.469 mg, and b-caryophyllene at 1.414 mg.
It's just what the doctor ordered for a Sunday in front of your 54-inch 4K TV. So, grab a handful of Hawaiian Butterscotch and impress your friends with your thoughtful sweetness.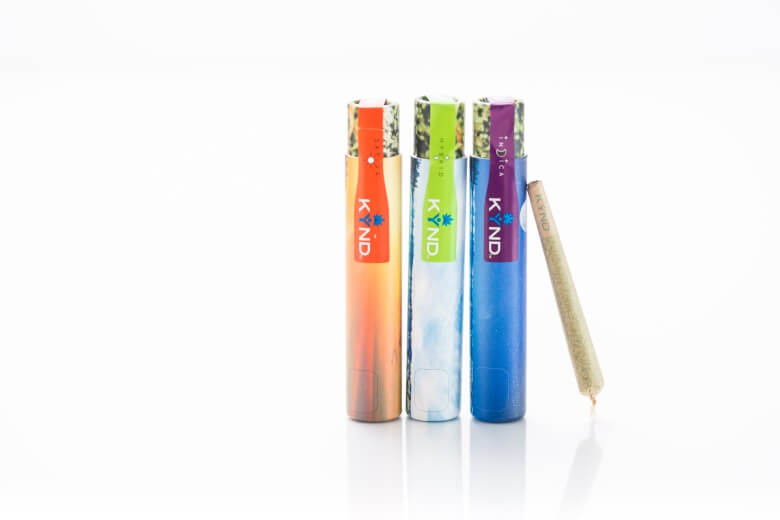 Kynd's Elevate GG#4 infused pre-rolls
What could be better than a pre-roll during your pre-game? No more seeds, no more nasty pipe cleaners, and no more fumbling as Kynd's Elevate GG#4 Infused Pre-Rolls make it easy-peasy to smoke anywhere anytime. Even better, Kynd's Elevate GG#4 Infused pre-rolls will knock your mind out of the park, along with that homerun hit. Not for newbies, they're for heavy-hitting regulars at 29.51% THC.
"These delightful items are a power-packed version of our regular pre-rolls, making them perfect for those with a higher tolerance level. Every pre-roll is infused with strain specific Co2 oil—meaning that each different strain will be a perfect representation of the strain, just heavier hitting!" says Kynd's David Robison, who adds, "they're great for achieving the affects you want, and perfect for sharing."
Kynd's GG#4 infused pre-rolls are a classic hybrid blend of Chem's Sister, Sour Dubb and Chocolate Diesel, "mixing two heavy hitters into one powerhouse strain that will have you couch-locked and focused, ready to load up on snacks and settle down for the game," Robison enthuses.
GG#4 does lean a bit to the relaxation side, so "if you want to chill out during the game, this is your strain. The limonene (3.0 mg) and myrcene (2.0 mg)in our infused pre-rolls will have you pretty heavily glued to the couch so you can zone in," Robison warns. Sounds perfect for those sport lovers who just want to keep their eye on every play.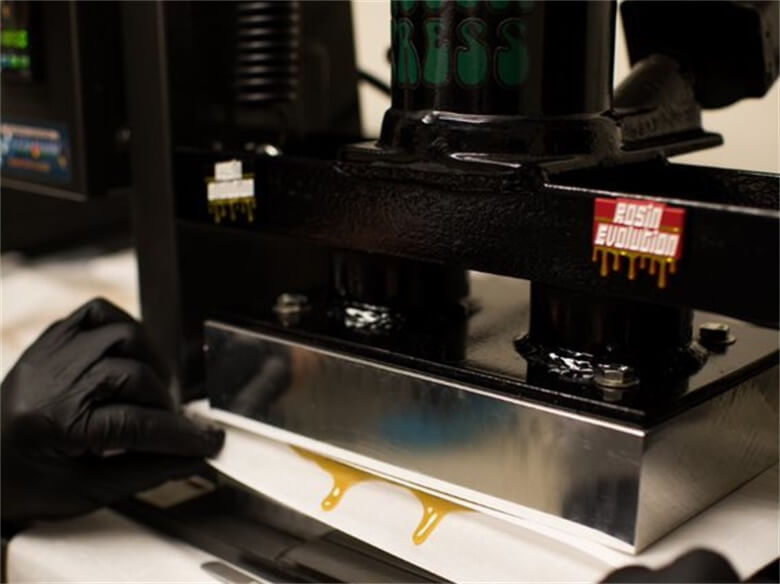 Virtue's Diamond Dust Rosin
If you haven't checked out rosin, you really should. It is a favorite for its clean, solvent-less cannabis concentrate that retains a flavorful, aromatic terpene punch powered by 25.31 mg of limonene and 4.52 mg of b-pinene. Bred and developed exclusively for the Las Vegas market, Virtue's new Diamond Dust Rosin "has a euphoric effect and other sativa qualities that make it great for social events when you need to engage more with those around you," says Virtue's Heather Marnell Wallace of the rosin that tests at 83.79% THC.
Since it's a rosin, it fully retains its delicious terpene profile, including linalool (7.23 mg), which is "great for relaxation while not knocking you out completely," according to Marnell Wallace, as well as anxiety-busting beta-caryophyllene (5.78 mg) and soothing, pain-relieving myrcene (1.79 mg).
Bred in-house by Clade9 for Virtue Las Vegas, it's a creamy, citrusy, euphoric hybrid of Mel's Bubblegum, Sour Bubble, Double Dream and Lemon Haze. Let this mellifluous mélange spark joy in your home or bar come game day and watch everything come up diamonds for laser-like focus at tipoff.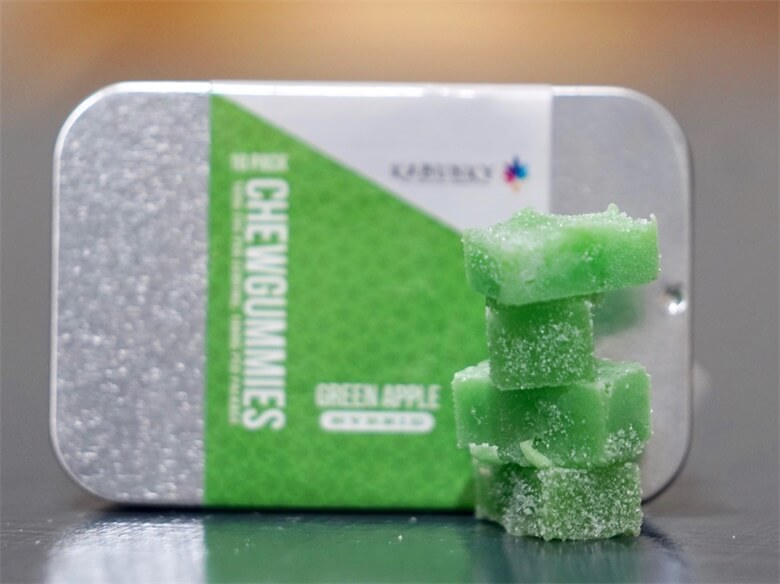 Kabunky Chew Gummies
Kabunky Chew Gummies are a great choice for watching sports because they offer the euphoric and medicinal properties of cannabis without having to smoke flower or concentrates. Whether you're hosting a game party or attending a live event, they are discreet and potent.
"The relaxed feeling our Gummies provide is the perfect counterpoint to the over-excitement sports can induce, especially when your team's losing," says Nevada MMJ's Josh Ranck, noting that the most popular flavors are green apple and peach.
Kabunky Chew Gummies relax the body from head to toe and are often reached for when needing pain management and a sleep aid—but their powers to boost concentration also cannot be overlooked especially when compared to alcohol, another gameday favorite.
"Trade that aggressive alcohol buzz for the gentle euphoria cannabis provides and you'll definitely see a big difference in the way you enjoy the [viewing experience]," Ranck says of the gummies that have 8.6 mg of THC per serving.
Terpenes in this product include caryophyllene for its anti-anxiety and anti-depressant properties, which keeps you calm when the stakes get high. Humulene for its appetite suppressant properties, which helps you to
not eat every bite of food your host puts out. And pinene
for its mental focus and memory boosting properties, which help you enjoy the social experience more between innings.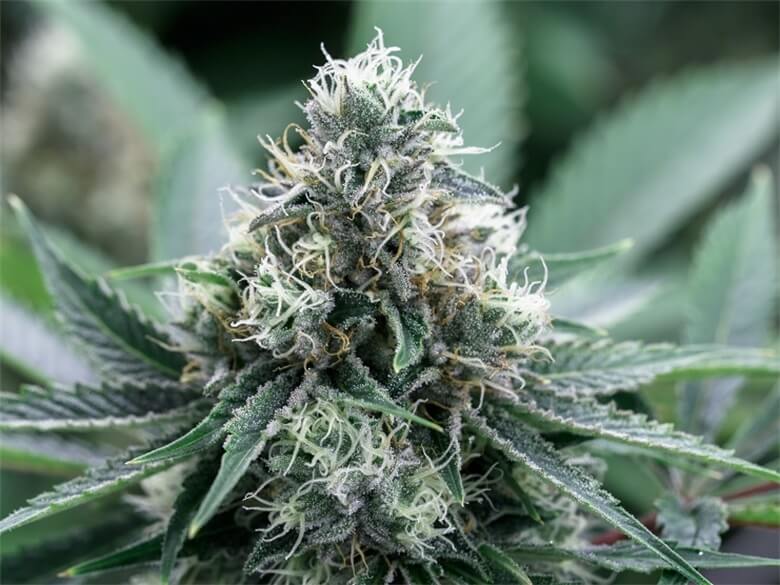 Orange Zeta flower by Cannabiotix
Cannabiotix prides itself on using natural, organic methods to cultivate its fresh cannabis cuts. They never use PGRs, or plant growth regulators, on their crops, which means your product is free of harsh synthetic chemicals that may affect your body's regulating mechanisms. This is an especially important factor for maintaining your stamina during stressful sports situations. Cannabiotix has recently cooked up the perfect amuse bouche for your next viewing day pleasure bouquet. The cultivator's rare sativa-dominant hybrid builds on a cross between Zeta, a mysterious strain in itself and a cross between revered and potent OG Kush and Sage, and an unnamed but fresh, zingy Orange strain. This hybrid tests at a respectable 21.2% THC and highlights two powerhouse terpenes, myrcene (9.5 mg) and caryophyllene (1.7 mg), which lends this strain its pungent, zesty, diesel-like aroma and taste.
Expect to be super-energized after the first inhale, ready to tackle the day and kick chronic stress away. Each puff of this potent orange nug will bring you closer to your own personal Orange Bowl. Game on!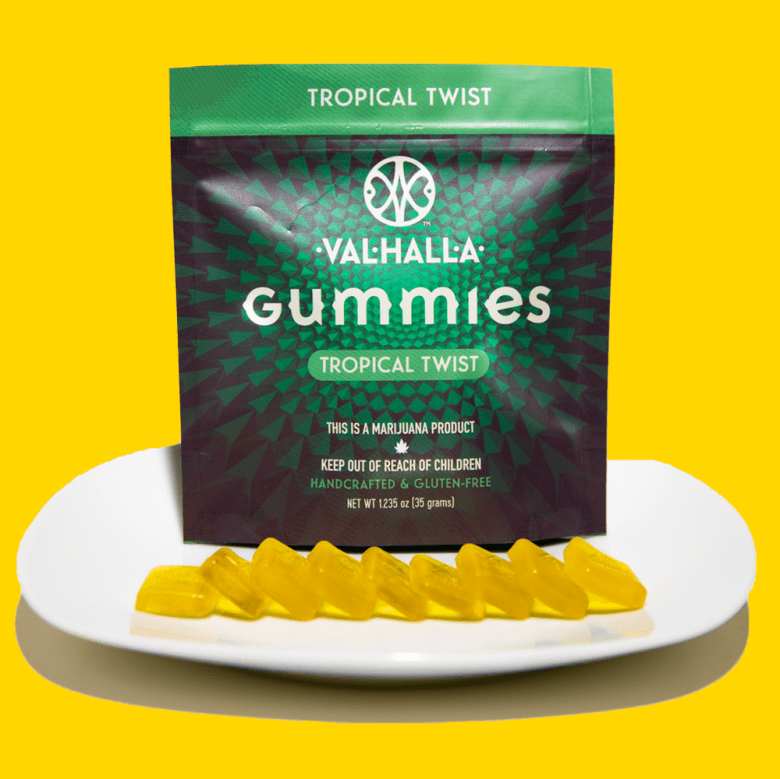 Valhalla Gummies, The Apothecarium
Here's an idea for your next Sunday game day—instead of overindulging in food and drink—relax with some deliciously sweet cannabis edibles like The Apothecarium's Valhalla Gummies.
"Each one of Valhalla Edible Gummies are perfectly dosed with 10 mg of THC to offer an effective and discreet way to medicate without having to consume all throughout the game," says Hailey Stone of The Apothecarium LV. "Valhalla's Gummies are made using a truly hybrid cannabinoid oil blend offering a perfectly balanced effect from tip-off to the final buzzer."
Valhalla Gummies come in three different flavors, each with a unique mix of cannabinoids, terpenes and tastes. "There's no better way to get focused than by taking your mind off all the other things going on in your world. Valhalla Gummies are the perfect way to relax into a state of pure bliss," Stone says. "Valhalla Gummies lend their relaxation factor to the cannabinoid side of the infused oil used to create them. This oil carries many of the same properties as whole flowers and helps facilitate the entourage effect. That means you aren't just getting THC, but a whole plethora of cannabinoids with their own beneficial healing properties."
With every nibble, pick up hints of caryophyllene—a spicy and peppery terpene that helps reduce inflammation and anxieties—so your body and mind can relax, and you can focus on every play.