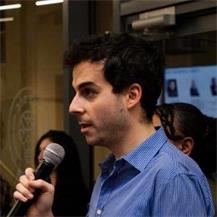 Josh Kasoff
Nov 06 2019 . 7 min read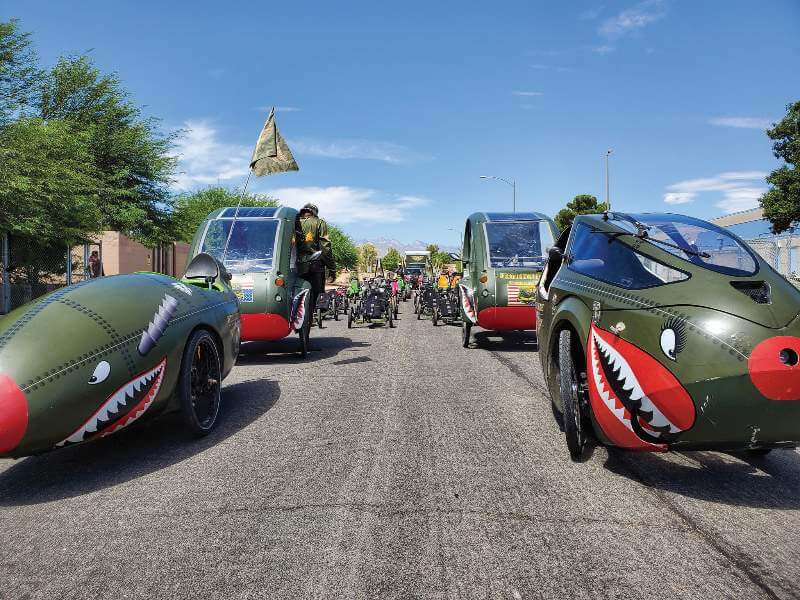 On a hot night in mid-September, a crew of 10 from the non-profit Forgotten Not Gone allowed me to join them on their signature physical activity, a group ride made up of their posse of velomobile recumbent tricycles. The 12-mile ride began at 8:30 p.m. at Patriot Park and then headed to Craig Ranch Regional Park and through the suburbs of North Vegas ending well past 11 p.m.
As I rode beside the military veterans of Forgotten Not Gone, I felt the almost ever-present personal anxiety about intense physical activities and possible injuries float away, allowing me to be fully mentally in control of my thoughts and surroundings and physically in control of a tricycle that's surprisingly easy to operate. Because of its recumbent position and aerodynamics, pedaling a velomobile requires less energy than a normal bicycle.
The testimonies from the accompanying veterans on the ride proved that I wasn't alone in my feelings of personal fulfillment. "They're a veteran organization that actually works for veterans," says Navy veteran Nelson Ramirez of Forgotten Not Gone (FNG), "and as you can see, they have the tools to get veterans out of that isolation and depression. They could be at home feeling sorry for themselves and thinking of hurting themselves, or they could come out here and ride a trike with somebody who's been through what they've been through and can relate to what's going on."
More heartbreakingly often than not, veterans face many challenges when returning home from serving their country. Most times there's crippling mental or physical illnesses due to their taxing time in the military which makes living a simple life nearly impossible. Or there's the stress of relying on a government branch that's understaffed, overwhelmed, or otherwise unable to assist the number of struggles and traumas that our heroes face after serving. Depression, alcoholism and other types of substance abuse is also rife among the rank of former military vets. Painful loneliness mixed with dangerously unstable mental health and suicidal ideologies are also unfortunate realities for countless veterans across America. The U.S. Department of Veteran Affairs simply can't handle providing the necessary assistance for dealing with the aftermath of the horrors of war that so many veterans face on a daily basis.
Instead of relying on the federal government or drowning in addiction and depression, a veterans' well-being advocacy group is making, or rather recumbent tricycling, its way to the streets of Las Vegas, as I experienced during my ride, to raise awareness of veteran suicide and veterans' suffering by providing a healthy and heart-racing alternative.
"Too many veterans isolate, shutting off from the outside world until it's too late. We find that physical activity is one of the surest ways to engage veterans back into an active social life," offers Forgotten Not Gone founder Peter "Kephas Israel" Guidry in a FNG informational video. With rides that vary in difficulty, length and location, FNG's triking brigade has traversed the entire city, taking their trikes across locations that span from Fremont Street to Red Rock Canyon and in the case of my particular ride, parks throughout the suburbs of North Las Vegas.
"I was truly forgotten," recalls Guidry, who is an Air Force veteran. "I was suffering a lot of physical problems and there was just no help and I understood there was no help because of deeper reasons than people want to talk about. I figured if I was going to live another day, I was going to find the solutions myself, and that's how Forgotten Not Gone started—out of that desperation of figuring out how to live another day."
Founded in November 2013 by Guidry and his wife and fellow Air Force veteran Kelley Guidry following more than a decade of suffering from debilitating health issues, FNG, is a 501(c)(3) Veteran For Purpose Organization. Touting a mission statement of "Stomping Out Veteran Suicide" and a call-to-action hashtag of #GetOutTheDamnHouse, Forgotten Not Gone's emphasis in the battle against veteran suffering and suicide is very apparent with three core values: physical, emotional, and spiritual.
How they fulfill the physical key is obvious. However, the ways in which they fulfill the spiritual and emotional show the true meaningfulness of the organization. As far as spirtual, FNG emphasizes finding meaning from something considered spiritual, whether that be a religious text or other spiritual means.
For the third core value, FNG's events deliver a peer support-like network for veterans to find belonging and encouragement from—a direct blow against isolation and loneliness. It is a service that the Department of Veterans Affairs doesn't provide—a safe space to openly discuss the battles they still fight every day. A space that allows vets to socialize with those who've survived similar experiences through a healthy alternative to alcoholism, crippling mental illness or a dangerous concoction of pharmaceuticals.
"At the very least, there's someone who can listen to your problems because I never had that," Ramirez says, only further cementing the absence of VA-hosted social programs. "Having these guys is really a lot of the help that I need."
Apart from advocating for veterans' physical, mental and spiritual well-being, FNG also advocates tremendously for veteran access to medical cannabis and addresses the stigmas still associated with using the plant. With their most popular affiliated hashtag being #StigmaFree, it's clear the hashtag has more than one meaning in the life of a veteran. "You can't feel stigma-free at the VA when they're telling you that something's wrong with you," says Guidry.
But as someone who previously struggled with mental illness and a psychiatrist who wouldn't take me or my medicine seriously and instead labeled me as "cannabis dependent," I found the message behind the #HowDareYou campaign to be the organization's catchphrase that resonated the most.
"We've found that cannabis is an option for some of our veterans with aggression and depression," Guidry discloses. "I have GI (gastrointestinal) issues and I've been throwing up blood for a number of years. If I have a cannabis vaporizer, it can stop me from throwing up. Here I am, overcoming my disabilities and going to school and the VA's saying because I use cannabis, I'm Bob Marley or something and I'm using it inappropriately."
A common experience for cannabis-using veterans is the VA diagnosing a veteran with a condition called "cannabis use disorder" which would subsequently go into their VA medical records and lead to further issues. "But here we are though, overcoming our disabilities and using this medicine and the VA is putting all these horrible labels in our records which are unfounded," says Guidry. "Cannabis is a great tool for certain veterans to overcome their disabilities and right now, we're not allowed to have that conversation because people have 1930's Reefer Madness viewpoints. If we have 22 veterans dying daily, we say that's too damn many. It's helping veterans no longer be depressed, go back to school, communicate with their children better and repair marriages, then how dare you put this "cannabis use disorder" label on these veterans?"
And so, the recumbent tricycle fleet of Forgotten Not Gone will continue to ride on, showing veterans the true, caring support and understanding of their fellow veterans that only organizations like FNG can provide.