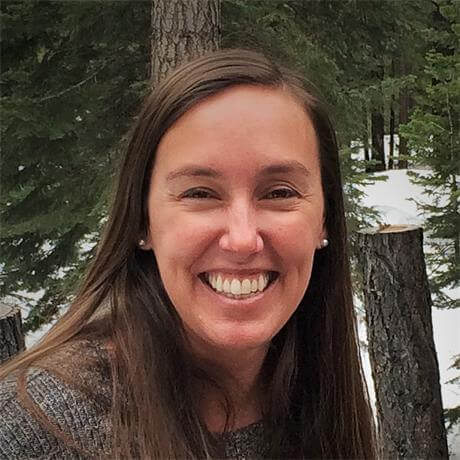 Kayla Anderson
Dec 25 2018 . 10 min read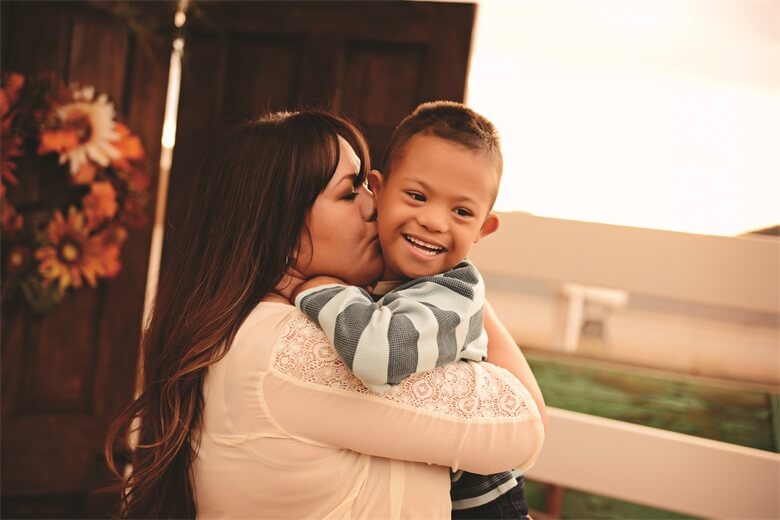 Sometimes the crooked path, although trickier to navigate and strewn with more obstacles, is the one that gets you to your goal. For the Thompson family that was definitely the case.
It all started in 2008 when Taiya and Jimmy Thompson welcomed their son Kian -- an active, lively, and beautiful little baby -- into the world. However, what she and her husband, Jimmy, didn't know was that Kian would also arrive with Down syndrome.
"It was surprising when he was born and came with something extra. But we pushed our fears aside as we embraced him as our child," Taiya says of Kian who continued to grow normally, not displaying any symptoms of Down syndrome during his first three years.
"A lot of things we were afraid of didn't happen. Kian was a model kid, I thought I won the Down syndrome jackpot," says Taiya.
But the Thompsons' good luck with Kian wouldn't last, after turning three he quickly started to regress. He lost all of his functional skills, fine motor skills, had a change in gait until he eventually couldn't talk, and stopped drinking out of cups because he couldn't hold them. Along with these changes in behavior, Kian showed aggression, hyperactivity, and self-harm (such as banging his head against the wall) because he was likely frustrated at his inability to communicate.
His sensory processing was so overwhelming, Taiya felt like a prisoner in her own home. "We couldn't leave because everything was too much for Kian outside of it," she says.
At that time, the Thompsons had another child, Kasia, who is a year and a half younger than Kian. Their friends and extended family members stepped in to help raise Kasia and try to give her a normal life outside the chaos encircling her brother.
The Traditional Path
As Kian got worse, doctors told the Thompsons that Kian's behavior was just the natural evolution of Down syndrome and recommended highly addictive and pharmaceuticals to help with Kian's behavior. But Taiya both refused to accept the diagnosis or the recommendation to lead her precious son down the path of prescribed medications that he would likely be on for the rest of his life.
With Kian's diagnosis, doctors recommended drugs that included Adderall, Ritalin, serious epilepsy drugs, antidepressants, and everything in between. "And there were all the side effects -- they were telling me that he'd have to be on them for the rest of his life and that it would change his brain chemistry. The side effects included suicidal thoughts, even death, and as he grew he would become immune to them and would have to increase the dosage," she says.
"I had friends on Adderall in college and they were not happy people. I didn't want that for my son," Taiya adds.
Taiya got on a nine-month waiting list to see a neuropsychologist and when they finally got the appointment, the doctor noticed some slight motor movement in Kian -- a hint of hope -- and referred him to another neurologist for further analysis. Finally, after a long and difficult two-year struggle, Kian was diagnosed with ADHD, autism, a partial seizure disorder, and sensory processing integration disorder.
"We finally get a diagnosis and it's so much easier to work with something that has a name, a label," explains Taiya, who held off putting Kian on pharmaceuticals, using three months to research alternative therapies. She researched everything from acupuncture and Chinese herbs to Googling things like "naturally treating autism" and "alternative ways to treat ADHD."
"We took him off gluten, dyes, went to a chiropractor, nothing was working," Taiya says. And then she stumbled across cannabidiol (CBD) oil.
The Risk and Reward of CBD
For those who grew up in the '80s and '90s, you most likely were exposed to the "Just Say No to Drugs" campaign and the afterschool "this is your brain on drugs" egg-in-the-frying-pan TV PSA that basically meant that if you smoked weed, your brain would turn to mush. Taiya also grew up in religiously conservative Salt Lake City, Utah where using marijuana was highly frowned upon.
Taiya was a certified financial planner with federal security licenses and she had heard stories of parents whose children had been taken away for dabbling in cannabis products. With that in mind she had to consider that if she invested in cannabis to help her child, she could risk losing her career. "I had to ask myself, 'What would this look like for my family? Are my kids going to be taken away?'" Taiya pondered.
Yet, the overwhelming evidence and stories Taiya was hearing from friends and family about how CBD was helping kids with special needs as well as the online research she was doing dispelled a lot of her fears. Plus, suggested therapies like Applied Behavior Analysis cost around $3,000 a month -- a huge chunk of money for an average-sized family and insurance wouldn't cover it.
Taiya dove into the research and it led her to take a step back and think, 'Hey, at the end of the day it's a plant and we couldn't in good conscience put him on these lifelong, addictive pharmaceuticals.' Therefore, in 2014 the Thompsons drove to Colorado and bought some cannabis oil. Taiya's dad brought over a small syringe and they filled it up with CBD oil for Kian to ingest sublingually.
"We thought, if nothing else it will make him feel better. I asked myself, do I put him on all these medications or do I get him a little high? Maybe he'll calm down, slow down, sleep, and be less angry. His body was going so much and he didn't sleep for days. I thought, how bad would it really be for him to have some THC in his body? So we all gathered around and watched him, wondering if he'd get the munchies or start giggling hysterically," Taiya recalls.
But nothing happened.
That first time, Taiya gave Kian a .1 mg dosage, then the next day she gave him the same dosage twice a day, then three times a day, then started playing with increasing the dosage to .2 or .5 mg servings. Since they spent $400 on the bottle of CBD oil, they were going to use it.
It wasn't until about three or four days later that Taiya started noticing a change in Kian's behavior. "He would spin around and around in a circle for two hours straight," she says about how exhausting and heartbreaking it was to watch. "(With CBD) we started to see him slow down. It's such a subtle change, though, we were questioning -- is it the oil or is it just a good day?"
But Kian was definitely changing. Soon he went from being completely nonverbal to talking again and at the three-month mark of using CBD therapy Kian said "mom."
"Then I thought, this stuff works. Kian started to get green progress reports and we could see the seizure and hyperactivity behavior going down. He started becoming social again, even playing 'Ring Around the Rosy' with his cousins and taking the appropriate actions at the right time in the song. We started to see more breakthroughs, and in the fall (of 2016) he trick-or-treated for the first time in years," recalls Taiya, adding that Kian also takes a small dose of an epilepsy drug as well, but it's the only pharmaceutical he takes.
"But three years later, we have never increased the dosage. My opinion -- and I'm not a doctor or anything -- is that the CBD takes care of most of his symptoms."
The Sprouting of Crooked Cactus
Despite growing up in a conservative area, Taiya's parents were open and supportive of Kian using CBD and her mom grew cannabis recreationally. Still not recognized as a viable treatment in Nevada at the time, Taiya's mom started playing around with growing flower strains high in CBD and learning extraction processes. She made butter and creams and soon started noticing that her rheumatoid arthritis wasn't bothering her as much and she wasn't getting migraines anymore. The only explanation was that the cannabis passing through her hands was making her body feel better.
"I started realizing that it's not just for seizures or autism, and then I really dove into how it works. At that point I was so fascinated and at the same time I felt duped, like I've been lied to this entire time. How have these benefits been kept away from the general population this entire time?" questions Taiya.
Through the realization that CBD had healing potential for a number of conditions and illnesses, a lightbulb went off and a family-operated Las Vegas-based business was born. "Our number one goal was to promote the education of cannabis and CBD," explains Taiya of starting Crooked Cactus Oils in 2017. "But we couldn't sell it to people, so we gave away an ounce of plant material along with our classes. We taught people how to make their own tinctures and bath bombs while sharing the benefits of cannabis. I wasn't really looking for another business opportunity, but there were so many people asking for help."
Word of mouth about Taiya's business got around so fast that she left her six-figure financial planning job to pursue Crooked Cactus fulltime. She started developing her own line of CBD products that, of course, included tinctures to help other special needs families. But she also developed other products -- salves, body butters, massage oils, muscle menders, and dog treats -- that would appeal to and benefit almost anyone.
She explains that the majority of her customers are women between the ages of 45-65. "They're conservative, high achievers -- they have a lot of stuff they still want to do in their lives but feel like their bodies aren't keeping up with them. And they're not the type to go into a dispensary," Taiya says.
Plus, Taiya is grateful that she is able to keep her business in Nevada. "It's pretty amazing running a business here. I'm thankful that we live in a pro-cannabis state that values our freedom and independence. Our community for the most part is embracing cannabis and recognizing the economic benefits it brings," she says.
At nine years old, it seems like nothing is stopping Taiya's larger-than-life little boy. "Kian is amazing. We're living as a normal family now. We went to a pumpkin patch/carnival-like event and I didn't have to hold his hand at all, he stayed with us the whole time," Taiya says. "He's thriving in school and insurance is paying for his therapy because he's progressing. He's learning vocabulary and colors and is just doing really well. And he loves to dance."
And it's a beautiful sight to envision, the Thompson family dancing down that crooked path to a normal life.