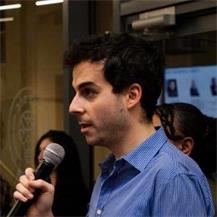 Josh Kasoff
Jun 03 2019 . 7 min read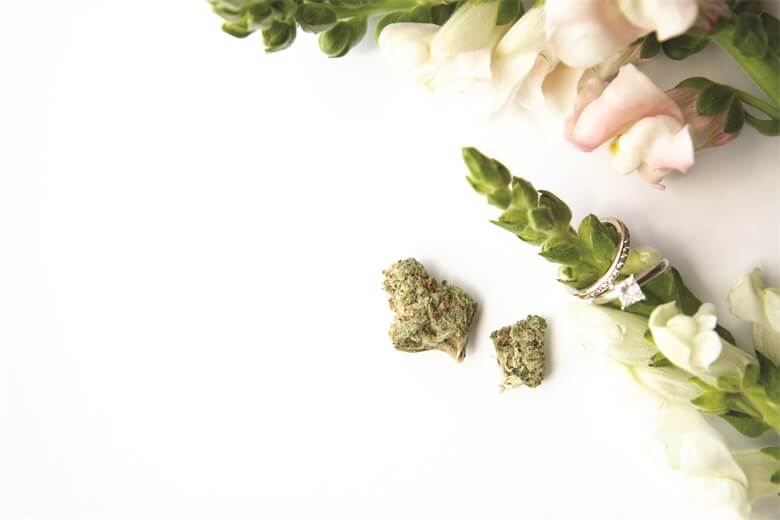 To simultaneously get a deeper understanding of the potential uses of cannabis at weddings while also giving my mother the false hope that I'd be interested in tying the knot soon with someone that isn't Gal Gadot, I attended Las Vegas' inaugural Cannabis Wedding Expo (CWE) where I was awestruck at the scope of businesses hawking their products and services.
In late March MEET Las Vegas opened its doors to several hundred attendees, a decent chunk being engaged couples, and close to 50 different companies and freelancers vying for new wedding clients. From photographers and interior event designers to catering companies, florists and wedding venues, every traditional wedding-related business was present with the majority employing a clever cannabis twist to the otherwise normal wedding concept.
"It's a really eye-opening experience going to the Cannabis Wedding Expo to see the elegance in which cannabis is being presented. All the creativity and incorporation, whether that be internally or externally," explains Philip Wolf, CWE co-founder.
For every conceivable product and service that would be necessary for a traditional wedding, CWE vendors had a cannabis or hemp-centric version. The inaugural Las Vegas expo proved that from couture hemp wedding dresses created by Southern Oregon-based Cannaflage Designs to stunningly gorgeous centerpieces which double as a high-class bong courtesy of My Bud Vase to save-the-dates and invitations by KushKards, there is no wedding-related matter that couldn't be handled magnificently—all while having subtle references to Snoop Dogg's favorite plant.
"From a societal standpoint, people want options. And people are starting to feel obligated to have a cannabis option at their wedding for their guests because that fits more with their lifestyle. I think we're at the point of making it trendy to have cannabis at weddings," observes Wolf.
Giving new meaning to a green wedding
After years of consulting for cannabis cultivation companies in Colorado, Cultivating Spirits founder Philip Wolf conceived the idea for a cannabis-centric wedding expo. The idea bloomed from a conversation with a friend who constructs cannabis bouquets who would either be flat out rejected from traditional wedding expos or have to pay astronomically more for a booth to show her merchandise. Outraged by this blatant discrimination, Wolf and said friend created the full-fledged wedding expo in September 2015 with its all-encompassing theme that was sure to raise some eyebrows while concurrently reddening eyes.
Their vision for CWE was a multi-city touring expo that would stay true to the staples of a more traditional wedding expo but showcase vendors who've cleverly incorporated cannabis into their products and/or services designed for the happiest day of a couple's life. Booths would consist of stunning floral displays interspersed with delicious samples of delectable cuisine and enough sweet desserts to skyrocket your blood sugar to the stratosphere. All while weed Instagram influencers, strutting bouquet-in-hand across the expo floor, would show off full bridal makeup and wedding dresses.
Budding Love
Even without cannabis-centric wedding expos, cannabis inclusions and uses in weddings has become increasingly mainstream in nearly every aspect of the wedding planning process with the weakening of both cannabis laws and associated stigmas. Although Jackie Plummer, co-owner of cannabis wedding planning company Elevated Engagements, notes that one of the most, if not the most, common roadblocks facing cannabis weddings is the lack of venues willing to allow the use of cannabis on premises because of the space's legal grey area. But even absence of venues, the amount of possible inclusions of cannabis in any wedding is still vastly numerous as evidenced by the vendors showcasing their wares and services at CWE.
"Starting with the getting ready aspect, what we've done is created little party favors for inside of the suite in which they (the wedding parties) are getting ready. We have little groomsmen and bridal party boxes usually with a joint among other items that they can consume privately as opposed to outside," details Plummer. "For the bridesmaids, we have cannabis bouquets. A lot of the brides have requested that different types of cannabis be used in the actual flowers in their dressing rooms and as part of their corsages."
As for wedding reception possibilities, according to Plummer, without exception one of the most popular is "bud bars." "Clients have an option to choose the different styles of cannabis that they want present, from the actual flower to edibles to concentrates and CBD," she says. "It would be four different bars and within those bars, they (the clients) would specify what types of product and we then offer different types of options within that category."
Plummer explains that bud bars operate in the same sense as an open bar, in that the client purchases their respective cannabis products beforehand and are allowed to keep whatever is left over. She also shared that, to stay in accordance with the wedding theme, clients usually personalize their products based on either the colors or the imagery of the theme. "If they have a theme or coral or pink, we can get joint papers to match those colors," says Plummer, who also mentions medicated chocolate fountains as another example of a popular cannabis-related spin on a traditional wedding food that's become ever more common.
Cannabliss
Although this particular expo occurred in the Silver State, the influence of our much more populated, kale-eating and higher tax-paying neighbors to the west was evident. The Golden State represented heavily that Sunday afternoon with vendors that included everything from LA-based Babinka Treats with its decadent array of exquisitely crafted and infused wedding cakes of every style to the Flower Daddy, a full-service cannabis wedding planning and hosting company out of Hollywood whose services extend across both Northern and Southern California. The appropriately named cannabis florist Bitchin' Bouquets also calls SoCal home as does San Diego's Southern Girl Sweets' with its signature Red Velvet Cupcakes.
Wolf also mentioned that the Cannabis Wedding Expo received arguably the highest honor in the cannabis community, a visit from cultivation royalty. "We had a lot of people come down from Humboldt and Mendocino (counties) which is nice to get the support from people who were really the backbone of this plant for such a long time," reveals Wolf.
Other parts of the U.S. were also represented at CWE. "We had Beetlebug, a flower company from New York City. They see how the cannabis industry is going to be out there soon, so they came out and vended," explains Wolf. The aforementioned My Bud Vase's headquarters isn't located anywhere remotely near a recreationally legal state, with their hometown being Charleston, South Carolina. Terpene-infused Kush Candles and the completely customizable Dry Hollow Cache smokebox company are both from Colorado while Blue Dream Brides is stationed in Mesa, Arizona.
"This is the forefront of a huge unveiling of different opportunities and I compare it to alcohol in that alcohol started with one way and now we have mixologists doing tricks and specialties. We have the same capabilities in the cannabis industry to take it to that level as well. With the right education and the right marketing, that's how we're going to take it to the next level," explains Plummer. "I think that the education behind it (cannabis) is going to open up a lot of doors for people to at least be able to open their minds or even consider cannabis at their weddings or elsewhere."
Wolf agrees, concluding, "If cannabis can be accepted at weddings, it can be accepted everywhere in my opinion."
Meanwhile I long for the day that a rabbi is equally able to officiate my wedding ceremony and roll a thick joint to smoke as me and my betrothed, outfitted in our hemp suit and dress, respectively, host a reception that includes the throwing of a cannabis bouquet, a multi-course infused meal, and a bud bar. Now that would be quite a weeding.