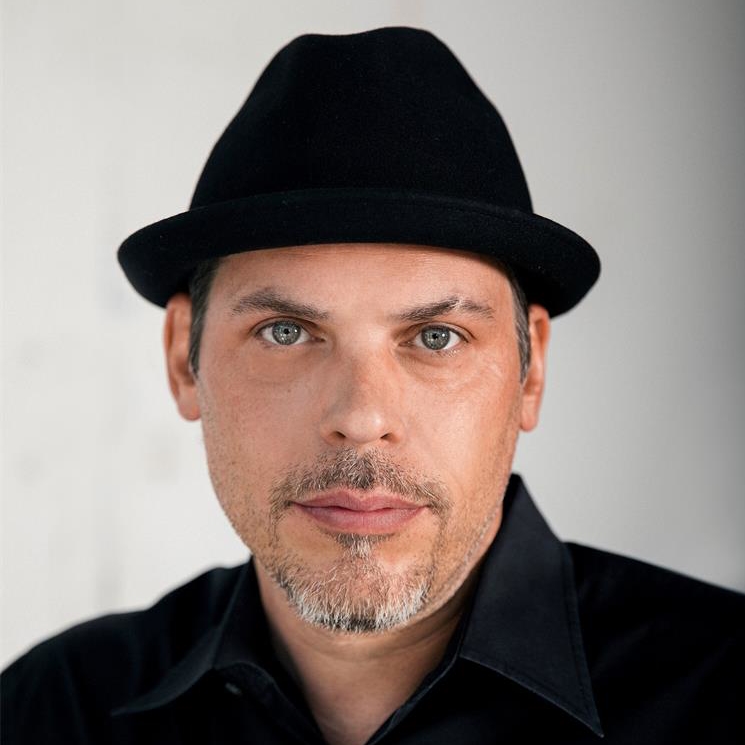 Justin Alexander
Feb 20 2020 . 10 min read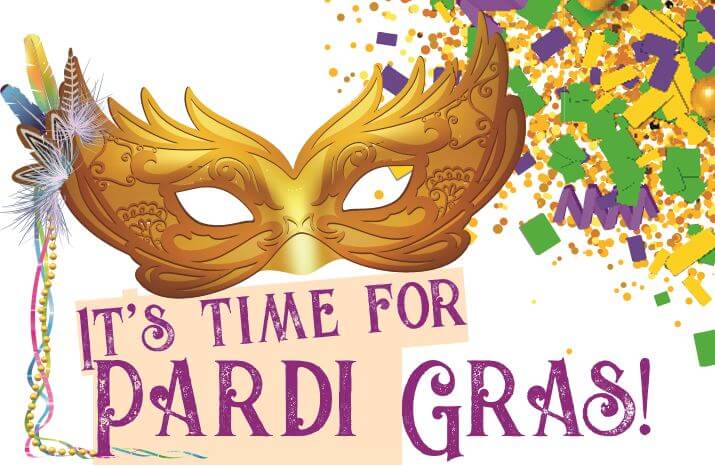 Most of February is consumed with raucous Mardi Gras celebrations that culminate on Fat Tuesday, February 25th. Because the following day is Ash Wednesday when Lent begins, Fat Tuesday is a day when people eat and drink everything and anything they want. But it's not just Fat Tuesday that deserves a party this month, there are many holidays in February that demand celebratory feting including Groundhog's Day, Valentine's Day, and there's even an extra day (Saturday, February 29th) this year to make merry since it's a Leap Year.
With this in mind, we asked local dispensaries and cultivations to submit celebratory products that would bring revelry to any parties you might be attending or for any you are planning to host of your own. Local cannabis purveyors came through with recommendations for a variety of uplifting products that range from sweet treats and resins to tincture and flower. Laissez Les Bons Temps Rouler!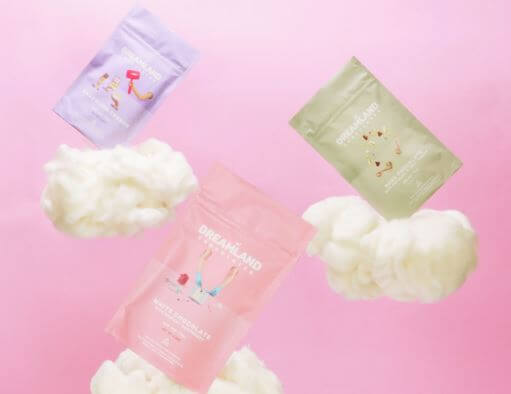 Dreamland White Chocolate with Radiant Raspberry
Nothing says Mardi Gras or Valentine's Day quite like a rich confectionery treat—and even better when it is infused with cannabis. Since tradition says Fat Tuesday is really your last day to eat all the decadent foods, you'll want to gobble up Planet 13's Dreamland White Chocolate with Radiant Raspberry squares. With each bite relax into a blissed-out state of revelry.
"We created a delicious single-origin craft chocolate and pure cannabis distillate mingled together to provide the highest caliber of flavor and effect," says Planet 13's Brandon Zimmer of Dreamland. "Consumers are immediately intrigued with our packaging and branding where they can find fun and unique flavors that match each occasion." He points to limonene as being the power behind the product and each square has real raspberry as an ingredient and a perfect pale pink hue. Be prepared to experience the delicious silkiness of white chocolate combined with a euphoric, talkative buzz.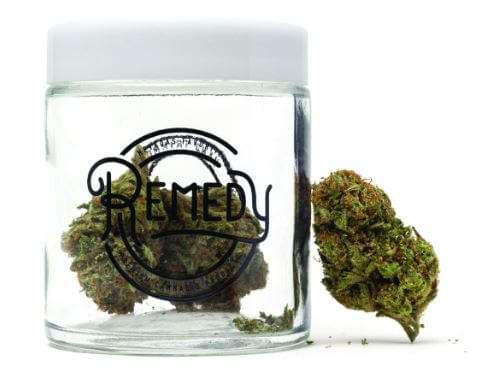 Remedy's Bio-Diesel Live Resin Sugar, Live Resin Sauce and Flower
It's always a party when using Remedy's Bio-Diesel strain with its potent effects and balanced high. Its strong onset hits even stronger when consumed as a live resin or sauce, a more highly concentrated version of the flower. A four-way cross between Sour Diesel, Sensi Star, Original Diesel and NYC Diesel, users can expect a heavy diesel taste with peppery flavor after every inhale.
What makes it so uplifting is its terps, especially present in the sauce version. "Limonene is great for elevating mood and relieving stress," says Justin Van Dyck, Remedy brand manager. "Terpinolene is less prominent but has uplifting effects."
It is perfect for a Fat Tuesday feast because of the high level of THC and myrcene, which gives patients the munchies and then transitions into a numbing relaxation. "This strain is no joke. Heavy smokers love its fast onset warming body highs but are left cerebral enough to celebrate—perfectly balanced for [having a good time]," Van Dyck says. Mental and physical relief get you ready for a true celebration and much like a party it will take you from a cerebral rush to a burst of energy to a calming lull.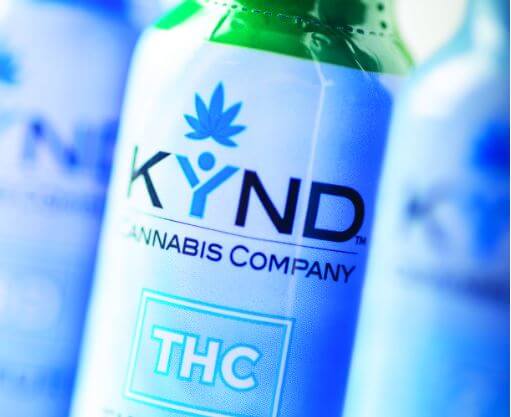 KYND Tincture
When you really want to set the mood for an amazing event, reach for a KYND tincture, which can be easily added to anything you are imbibing and is available in three different formats: 300mg CBD, 1000mg CBD, and 2:1 CBD to THC. "An infused tincture is ideal, as it allows for complete control in your celebration. Tinctures can be easily and discreetly added to food and drinks for effects that are long lasting yet slower to kick in, or you can take it sublingually for a faster onset," says KYND's David Robison.
What separates this product from the pack is its great taste. "Tinctures have a reputation for tasting bad, and that's likely due in part to the alcohol that's often used. While masking the flavor of cannabis itself is tricky, our goal was to create a premium product that was both effective and mild," says Robison. "We avoided the alcohol base altogether, and we opted for the purest ingredients we could source for potency and pleasing in taste."
The main terpene in KYND's tincture is limonene, which brings in a citrus scent and flavor of lemons, oranges, limes, grapefruits and cannabis. "It's believed to elevate mood and contribute to stress relief, and it also boosts the absorption power of other terpenes through the skin, mucous membranes, and digestive tract," says Robison.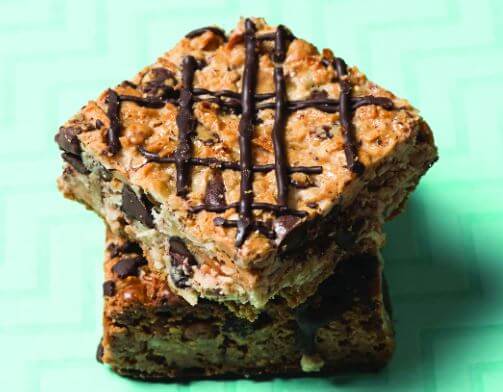 Magic Bar, Evergreen Organix
Mardi Gras is a magical time and it calls for a magical treat. So for a little bit of hocus pocus, reach for Evergreen Organix Magic Bar. Sweet caramel batter is topped on a graham cracker crust and layered with coconut flakes, chocolate chips and butterscotch morsels. "We wanted to give the consumer something completely different than what was currently on the market. When this product was created, we were in the process of removing another edible from our menu that contained coconut. We knew we wanted to keep coconut around because it was so diverse and unique, we just needed to figure out how," Evergreen Organix's Jillian Nelson. "This baked good is actually made with canna-butter. Our canna-butter is made from our own natural living, no-till soil cannabis."
Since it is made with canna-butter it does keep a lot of cannabis' natural essence, which means various cannabinoids are still present in the final product including CBN, CBG, and CBD.
"Because a Magic Bar is truly magic in your mouth, I believe it gives the consumer almost a nostalgic feeling," Nelson says. "The Magic Bar has so many sweet flavors in each bite, it reminds me of something sweet and special your grandmother would make you on your birthday."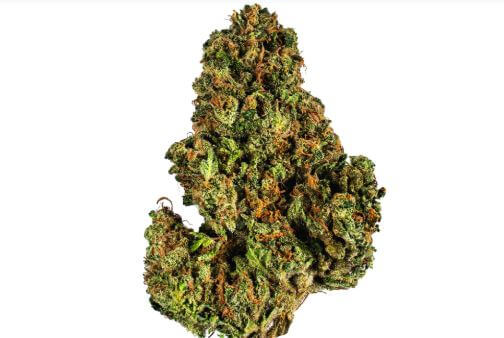 FloraVega's White Tie flower
If you are looking for an uplifting way to kick off your Mardi Gras celebration, try White Tie flower from FloraVega, a cross of Desert Snow and Mai Tai. "We created White Tie in pursuit of a sativa strain that would reflect the two popular strains. It boasts the terpinolene-forward aroma of Mai Tai with the high THC content of Desert Snow," says FloraVega's Sam McAdam. "White Tie provides an uplifting enjoyable high that is great for social gatherings and won't slow you down."
The first thing you will notice is the smooth minty aroma which enlivens the senses and then bask in the delicious terps such as limonene and linalool, which provide mental relaxation and mood enhancement. There is also pinene, which will keep you focused while terpinolene, myrcene and caryophyllene provide the mental and physical effects like pain relief, couch lock, sedation and stress relief. "White Tie's terpenes are ideal for a celebration, the mood elevation of limonene, combined with terpinolene and pinene leave users uplifted and at ease," McAdam says. "The strain provides a social, uplifted high without knocking users out, ideal for celebrating anything, anytime."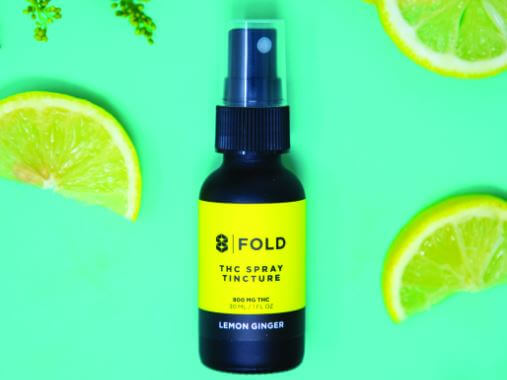 8|Fold Tincture line
Fat Tuesday only comes once a year and the best way to kick off the festivities is to infuse your adventure with celebratory THC. 8|Fold's Spray Tincture provides a metered 3.5mg dose that's as shareable as it is easy to use. "We set out to find the happy place where micro-dosing, taste, and discretion live in harmony," says Matthew Janz, director of THC marketing, The+Source | Nevada Organic Remedies. "With naturally derived flavors and the sweetness of stevia, we've developed a line of deliciously powerful and discreet tinctures ranging from our invigorating Lemon Ginger Spray Tincture to our refreshing Peppermint Spray Tincture."
Limonene is known for its mood elevating and euphoric properties and is often associated with the energetic effects it can produce when teamed up with cannabinoids like THC. "This is definitely the terpene you're going to want to get you ready for proper Mardi Gras merriment. Fortunately, our Lemon Ginger Spray Tincture boasts around 5mg of limonene and with an easily dosable 3.5mg of THC in each spray, it's the perfect pre-game for celebration," Janz says of the pocket-sized party companions. The consistency in dosing plus the discretion of the packaging make it an easy way to lift your mood no matter where you're celebrating.
"Our Peppermint Spray tincture can double as a breath freshener, something that can be a lifesaver before a night out, and our Unflavored Spray tincture provides the opportunity to infuse any of your favorite foods and imbibements," he says. "That means you can infuse any of your Fat Tuesday gluttonous treats, from donuts to jambalaya, and even your favorite king cake recipe."
Forbidden Fruit and Madman OG flower, State Flower
In the spirit of Mardi Gras, try State Flower's Forbidden Fruit and Madman OG. "Everyone is different in what they may look for, effect-wise. If you're looking for more of an uplifting feel, limonene and pinene can help you be alert and upbeat. If you like to wind down for a chill vibe, linalool and myrcene can offer those relaxing body effects," Stone says.
With a lineage of Cherry Pie Kush crossed with Tangie "most customers gravitate toward Forbidden Fruit because of its pungent orange scent and beautiful, dark purple color," says State Flower's Hailey Stone. "With Forbidden Fruit, expect pep from a blend of myrcene and linalool as well as a relaxing, euphoric effect."
"Madman OG is a customer favorite because it is a true hybrid. It can be relaxing without making you tired and uplifted without being wired," Stone says, noting its lineage is OG Kush crossed with LA Confidential. "Madman OG is one of those hybrids that is good whenever. The myrcene mixed with limonene is what creates a great middle ground."
In addition to being terp forward, State Flower's products have received the Envirocann designation which means that they test their plants through every phase of growth to ensure you're getting top-quality flower that has not been treated with any synthetic pesticides from clone to finished flower.
Vert Edible's Trinity Milk Chocolate Peanut Butter
Vert Trinity Chocolates are made for celebrations whether of the merrymaking Mardi Gras or the more romantic Valentine's Day—between the chocolate, which delivers a release of dopamine and serotonin, and the mood enhancing boost of cannabis. "They are consistently dosed and individually packaged so that no matter what you're doing, you'll enjoy a reliable experience you can trust," says Vert's NV Sales Manager Margaux Hansberry. "With sativa, indica, and hybrid dominances to choose from, the effects will match your personal needs whether you're gearing up to celebrate, in full blown party mode or recovering."
The goal in creating this product was two-fold. "Offer a chocolate to the marketplace that not only delivers the incredible strain dominant cannabis experience our fans know and love, but also introduce a delicious century old Belgian chocolate that is smooth and easy to melt into other creations," says Hansberry. "I personally love that I can melt this chocolate at low temperatures to create my own chocolate dipped strawberries, bananas, or chocolate drizzles while knowing exactly what dosage it will be."
The milk chocolate peanut butter variety was inspired by the classic peanut butter cup. "If mellow and relaxed is more your style, the milk chocolate peanut butter infused with Royal Gorilla will treat you right," explains Hansberry. "Our milk chocolate variety infused with the sativa Damn Sour is my recommendation to stay uplifted and euphoric while enjoying any activity."