Deborah L. Costella
Apr 12 2019 . 11 min read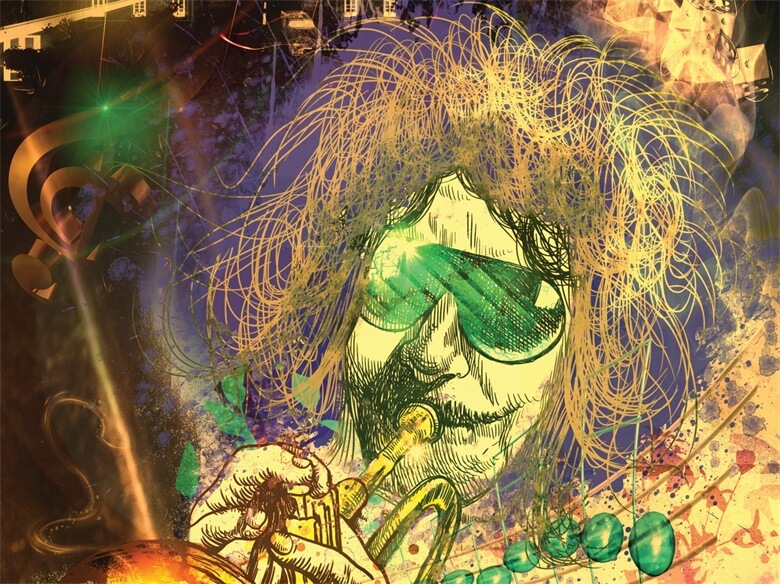 In striking contrast to his larger than life existence, he passed quietly in his sleep at 69 years old. A sad doit just days following his self-proclaimed, but not true birthday. Though born into dire poverty, he found a way to enrich not only his own life, but those of us who love everything jazz, swing, scat and bluesy.
Known by a plethora of monikers – Dipper Mouth, Pops, Ambassador Satch, and Satchmo – it's been 48 years since Louis Armstrong made those unique and influential sounds on his trumpet. It's only right we pay tribute to the man and his music during Jazz Appreciation Month this April. And who can talk about Ambassador Satch without including some conversation about his hometown?
Springtime always brings about memories of my own sojourns to the Big Easy. The food, the music, the celebratory atmosphere; it doesn't even have to be Fat Tuesday, it can be just any Tuesday, you still feel the pulse and rhythm of the city in your chest. Every visit, as I exited the plane, gasping for air, my lungs saturated with that oppressive, wet humidity, I felt waves of excitement. However, one trip, in particular, stands out from the rest.
It was my second visit in as many years. I sat demurely on one of the weathered and heavily etched, wood benches lining the perimeters of the ferry. The blaring horn announced our departure from the Port of New Orleans as the captain inched the rickety boat from its slip. Within moments we were making our way up the Mississippi River. It was the very first time I had gone on vacation alone, without my husband or children. Though well into my forties, I felt childlike anticipation as I relished the sensation of pure independence.
The Mississippi was impressive at 2,240 miles long and as deep as 200 feet in some parts. My senses were privy to a veritable parade of sights and sounds. My eyes feasted on the largest waterlilies I'd ever seen. Shrek-sized white flowers bordered by dark green, leathery leaves. Unfamiliar trees with thick gnarly trunks, bending down as though yearning to tell their stories of old. If only someone would stop long enough to listen. The rhythmic mantra of the meadow frogs' croaks and ribbits. They posed like runway models displaying varied shades of green with Jackson Pollock-like spots of brown. As I peered into the murky water below, I could just make out schools of catfish. They were of such great size that as a chef, I found myself fantasizing a platter of these bottom feeders – pan-fried, smothered with red onions and rounds of fresh lemons, atop a bed of creamy grits.
I was alerted when the boat abruptly halted, knocking against the dock. As my fellow ferry riders and I disembarked, I felt a penetrating stare from behind. When I looked back, I saw the broad dark face of a man wedged between two women. I smiled out of courtesy; he did the same. He was somewhat recognizable, but I couldn't place him. As I stepped off the boat, I turned 'round for another look, but he was gone.
Though the ferry ride was brief, we all clamored toward the brightly decorated food truck as though it had been days since our last meal. Orders of café au laits and beignets were made and consumed. Craving something different, I ordered the locals' version of Vietnamese coffee. A concoction of Naw'lin's indigenous chicory coffee poured over sweetened condensed milk, accented with a splash of jasmine. Holding the warm paper cup in my cold hands, I inhaled the floral scent. It was intoxicating. From the corner of my eye, I spied the man I'd smiled at moments before. He asked the merchant for the same beverage I ordered. Though looking right at him, the merchant didn't seem to hear him. The man walked away.
With beverages and pastry purchased, like ducklings, we followed our tour guide into a massive warehouse. A space so large, it comfortably housed approximately 500 lavish and monstrous floats. Without intending to, I had fallen behind. Our docent moved far more quickly than the slow, southern drawl she spoke with. As I hurried to catch up, I heard another set of feet behind me. Nervously picking up my pace, a scent wafted its way forward. I recognized it – ganga. I turned to look. No one was there. Had I imagined the sound of shoes behind me? I certainly didn't imagine that distinctive aroma.
I caught up with my group at the entrance of the Mardi Gras World gift shop. I purchased a New Orleans cookbook before walking back to the ferry. The gentleman who had attempted to order my same beverage earlier plopped himself down on the bench directly across from mine. He smiled first this time. I involuntarily smiled back then turned to watch the Mississippi roll past. When I turned back, he was gone. Trying to put these strange events out of my mind, I disembarked while deciding what I wanted to do next.
Realizing I was hungry I was glad to hear the sound of a street car clanging its welcoming bell. I grabbed hold of a brass pole, pulled myself up onto the platform and did my best to squeeze onto the overcrowded trolley. There was that smell again. At that moment I heard a deep, guttural, "Hello Deborah," whispered in my ear. I jerked to see who would be so bold. It was him! The man from the ferry! I looked right into his big dark eyes, the whites riddled with blood vessels like streets on a road map. The aura of cannabis so heavy it was as though he'd doused himself in cheap, dime-store cologne. I moved my mouth to speak but was bumped from the side by another passenger pushing a baby stroller as she exited the trolley. When I stepped back the man was gone. Suddenly I saw him – walking, almost floating down a side alley. Frantically, I pulled the cord above, indicating I wanted to get off. As I ran searching, I made mental notes of my surroundings so I wouldn't get lost. Where was I? Canal Street. Dusk was approaching. My stomach tightened with hunger as I rushed past restaurant after restaurant. Finally, I stopped. I didn't even know who I was looking for or why. Something nudged my elbow and gently guided me toward the Italian restaurant across the street. Oddly unafraid, I allowed myself to be drawn through the Flamingo-pink colored doors. I don't usually eat Italian food when visiting New Orleans, but there I was, in the lobby of Mandina's Restaurant, waiting to be seated.
"Two?" the hostess inquired. Two? "There's only m . . ." I quieted myself, unsure of what was real and what wasn't. I followed the woman to a booth in the back. As I sat down the ghostly image also sat. Though younger looking, the figure resembled "Satchmo." When he said, "Hello Deborah," accompanied by that irrepressible smile, I knew I was sitting across from Louis Daniel Armstrong.
"Order the Bruccialone," he directed.
"I was thinking I'd like to try their Fried Catfish Meunière," I replied.
"I'm craving the Bruccialone on spaghetti, it's been years. I can't eat it, so I'll enjoy the meal vicariously through you. Mandina's is the best Italian food in town. It was always one of my favorites," he enthused. Chatting as though this wasn't the weirdest thing ever, Mr. Armstrong reiterated his love of the Creole and Cajun fare he grew up on.
As the waiter set my plate of the spinach, egg and cheese stuffed veal, topped with marinara sauce and served on a heaping mound of pasta, I swore I heard Satchmo gasp like a delighted child on Christmas morning. Giving in to this strange experience, I dug into my entrée with the zeal I believed Mr. Armstrong expected. The veal was tender and perfectly seasoned. The marinara sauce was magnificently rich with something different added; chocolate? I chowed down considering what to ask Mr. Armstrong. His three main loves in life were music, food and women. With our mutual love of food, I figured that would make for good conversation.
Satchmo offered that there was so much he missed from his earthly form, especially music and food. He told me he could still taste his grandmother's Gumbo, Johnny's Po' boys and cooking Red Beans and Rice with Lucille. I had been to New Orleans enough times to know this hometown boy had a penchant for Red Beans and Rice. It was so great that he signed his personal correspondences with the closing, Red Beans & Rice-ly Yours.
When the waiter came to remove my plate, I was stunned. It looked as though I was a charter member of the "clean your plate club." I never clean my plate and was pretty sure I hadn't done so that day either. When asked if I wanted dessert in my head I said, "No, thank you," but out came, "I'd like a plate of pralines and an espresso."
The waiter returned carrying a demitasse of espresso and a small plate with three pralines, their pecans peeking through a silky buttermilk, vanilla and caramelized confection. I looked up to see Satch lean back and light a blunt the size of a Cuban cigar. He laughed at my shocked expression and offered up the rocket-like joint. I declined, adding that while I do cook with cannabis, I don't smoke it. He said he knew that.
Even back in the 1930s, Satch touted the medicinal benefits of cannabis. He told me "muggles," another slang term for weed at the time, helped ease his headaches, settled his stomach after those late-night dinners and relieved his chronic insomnia. Satch shared that for most of his adult life he openly smoked three of these blunts daily. When alive, he had told those close to him, "Weed helps me forget all the bad things that happen to Negros."
Finally, I asked why he had been following me all day. Apparently, Mr. Armstrong, even in ghostly version, knew about my infused foods. Medibles were not available during his time, but if they were, he assured me he certainly would've indulged. Satch asked if I could infuse Red Beans and Rice. Gumbo? King Cake? I said yes to all. He exhaled a large plume of smoke, then grinned as he stated he had a challenge for me: Pain Perdu, the Creole version of French Toast. Satch's memories of Easter mornings spent singing in church followed by plenty of food shared among family and friends was a sorely missed memory. He longed for a plate of Infused Pain Perdu.
To demonstrate I was up to the challenge as well as my appreciation of jazz and the late great Louis Armstrong, I created this version of a Sunday brunch favorite.
COSMIC MUFFIN'S NO PAIN PERDU
6-8 slices of stale Brioche or Challah
2 cups infused heavy cream
½ cup granulated sugar + some for sprinkling
1 Tbsp. vanilla
1/8 tsp. orange blossom water
¼ tsp. salt
1 tsp. cinnamon
¼ tsp. nutmeg
3 eggs + 1 yolk
flour for sprinkling
4 Tbsp. canna-butter
6 oz. cream cheese, softened
½ cup marmalade powdered sugar for garnish
Process
In 13" x 9" pan, arrange bread slices in single layer. In large bowl combine cream, ½ cup sugar, vanilla, orange blossom water, salt, cinnamon and nutmeg. Whisk in eggs and yolk. Pour mixture over bread. Cover and refrigerate for 15-20 minutes. In medium bowl, mix cream cheese and marmalade – set to side.
Heat griddle pan and add butter. When foam from butter subsides, remove each slice of bread from custard mixture; sprinkle both sides of each slice lightly with flour and sugar then place on griddle. Cook until golden brown then flip and cook other side – about 5 minutes per side.
To serve, place one slice of cooked toast on plate, spoon about 2 Tbsp. cream cheese/marmalade mixture in center, then set another slice of toast on top. Repeat for each serving. Garnish with sprinkling of powdered sugar.