Deborah L. Costella
Oct 26 2019 . 12 min read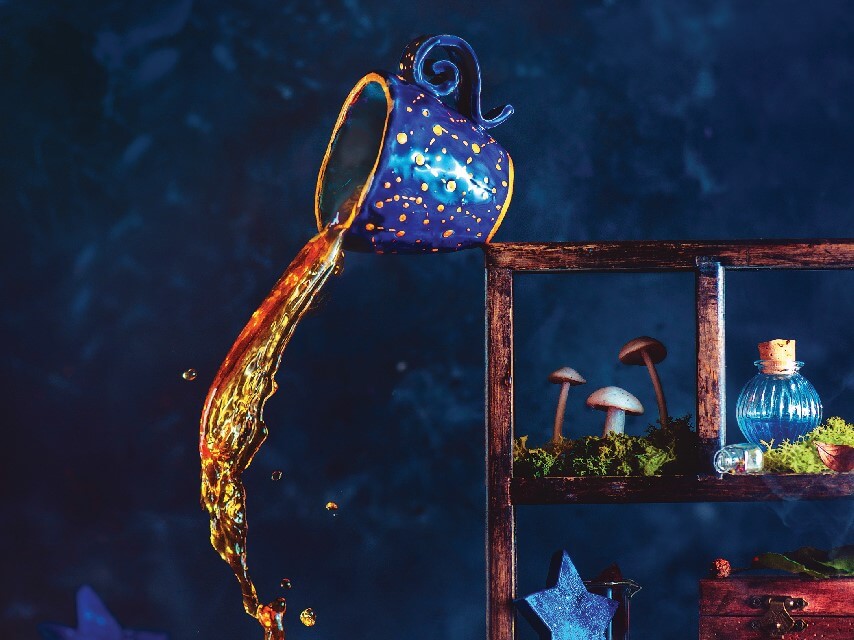 Halfway between the sleepy coastal town of Pescadero and the upscale, art community Carmel-by-the-Sea, sits the now boarded up café. None can explain its sudden closure. Even back in its heyday, as a favored spot for the less than 1,000 residents of Davenport, no one knew its story. Except for Alexio and Tala, both of whom passed shortly after the opening of their niece's café. During their brief time in Davenport, they were careful to keep the secret under lock and key. Customers, acquaintances, even her staff knew only that Serilda was one of the most talented and proficient canna-chefs they had ever encountered.
Many took notice she lived a life devoid of parents, siblings or cousins, especially during the holidays. But their concerns were forgotten when Serilda would open her café's doors to others without family attachments. Together they celebrated with feasts she prepared for them, allowing unasked questions to fade as they consumed course after course of foods they swore were enchanted.
It was during her third year in Davenport when Dexter walked in. A photographer for a popular golf magazine, the pastel-painted café always caught his eye while he was traveling to the annual Pro-Am tournament. Yet he never stopped. This year, for some unknown reason, he abruptly pulled over. Being multilingual, he recognized the name of the establishment Magica Comestível Para Mãe was Portuguese for "edible magic for mom." A rather odd name for a restaurant, he thought. Additionally, he found it strange that a Portuguese eatery, out in the middle of almost nowhere, was consistently busy.
What Dexter would soon discover was that Serilda's café offered only healthy and medicinal foods: Paleo, gluten-free, vegetarian, vegan and infusions of CBD and THC, in her bistro fare. Every sweet and savory dish was prepared with doses of healing herbs and spices, locally grown organic produce and proteins, along with her handcrafted elixirs.
The taste and textures of Serilda's preparations so pleased palates, folks came from miles away to purchase her gastronomical treats. Without that grassy or herbaceous aftertaste, there was no indication her recipes served as aides in the healing and coping of chronic pain, insomnia and inflammation. Even patrons with serious or debilitating illnesses, including those who didn't foresee recovery, were momentarily distracted from their maladies while engaged in edible experiences at her establishment.
The fact she was strikingly beautiful didn't hurt business either. Born to a tall, blond, blue-eyed father and smallish, dark-haired Portuguese mother, Serilda was a stunning combination of the two. Tall and lithe with blond hair and large, almond-shaped eyes that were as dark as espresso.
Serilda had arrived in Davenport on the windiest and most foggy of afternoons, she and her 1973 red Volkswagen almost blowing in. Planning only a pit stop to gas up, grab a raspberry iced tea and those peanut butter filled crackers she so loved, Seri didn't really have a plan, only her dream of opening a canna-café. It was when the wind suddenly stopped and a stream of sun pierced through the mist that she knew Davenport was where she was meant to stay.
Dexter never made it home after that year's Pro-Am tournament. Though practically living together, Seri insisted they each keep their own homes. Explaining she sometimes needed solitude and, though Dexter said otherwise, he needed his. It had been five-plus years of this unmarried, semi-living-together arrangement which was not what Dexter truly wanted.
After several of his marriage proposals were met with "we'll see, what's the rush, why fix what isn't broken," by Seri he decided to make one final attempt. An interactive proposal might bring him the answer he was looking for. One afternoon, Dexter relocated Seri's household security cameras throughout the kitchen. Setting clues in places he was sure she would find them he created an intricate scavenger hunt. Upon opening the refrigerator to hide the final clue in a crisper drawer he saw multitudes of sparkling dust bunnies floating around inside. Dex shook his head, shut the fridge then reopened it. The fairy-like dust was gone. Shrugging it off, he looked around satisfied he had arranged things certain to lead Serilda to the "right" answer. The cameras would allow him to watch her adventure unfold while recording the proposal for their viewing enjoyment in the years to come.
That evening after dinner and a movie Dexter announced he was going to bed. Seri, as anticipated, stated she wanted to do some meal prep and would join him later. After several minutes huddled under the covers, Dex opened the app to view the security cameras. Proud he had thought to place the first clue inside a mixing bowl she frequently used, thereby leaving nothing to chance. That was until he saw what Serilda was actually doing.
To his astonishment, she wasn't prepping at all. Instead, Seri sat on a kitchen stool, feet up, giving herself a pedicure. Meanwhile, a mixing bowl, one he didn't recognize, was on the counter, a whisk standing straight up inside of it. Seri spoke some words he didn't understand and suddenly the whisk began spinning itself round and round, splats of batter smacking against the backsplash. Eggs jumped from the carton onto the edge of the counter cracking themselves. Yolks and whites leapt from their shells directly into a measuring cup. Seri looked up, did a sing-song of more strange words and waved her emery board as if it were a wand. Instantly several buds of cannabis snapped themselves into smaller pieces then rolled, single-file onto a piece of parchment paper. The paper then flew through the air like a magic-carpet, landing on a sheet pan.
Crazier still, the dishes he'd put in the dishwasher after dinner were rearranging themselves in the way Seri had told him, countless times, she preferred. Dex sat mesmerized. He recounted that strange sparkling dust in the refrigerator. Then it dawned on him, whenever someone asked Seri how she created such uniquely tasty and effective edibles she offhandedly replied, "It's magic. I'm a sorceress." He always assumed she was teasing. Politely keeping her canna-culinary secrets, secret. Now seeing this, Dexter wondered: Is it true? Is Serilda a sorceress?
Sitting up he strained to hear sounds consistent with what his eyes were seeing. Dexter's stomach began doing flipflops. Fear mixed with excitement percolated through his veins. He thought about those times he'd asked Seri where she grew up and why she was so alone in the world. She either redirected the conversation or answered with another question. Once she had told him about an aunt and uncle, Alexio and Tala, who cared for her when she was a child. They had taught her to cook and how to select the right herbs and spices to use for healing. Unable to contain himself, Dexter climbed out of bed and tiptoed to the kitchen. Wordlessly, he stood beneath the arched entryway watching. When Seri finally looked up, his questions began spilling out like beans dancing the samba on their way out of a bag.
Serilda set down her emery board and smiled meekly. As always, her beauty momentarily quieted Dex, distracting him from his thoughts. Regaining his composure, he began shooting questions at her. She couldn't lie. He had seen too much. Worse, he had it all recorded on his phone. Seri had no choice but to tell the truth.
Dexter sat in disbelief as she told him how her aunt and uncle had taught her the art of sorcery and potions. She then swore him to secrecy. Dex promised he would tell no one. But he didn't keep his promise. Dexter began sharing tidbits of Seri's talent, calling her his "witchy woman." Boasting that was how she created her enchanted edibles. It didn't take Seri long to find out he had breached her confidence.
Angry, Serilda told Dexter she needed time alone. That night Seri crawled into the small, dark space under the stairs, lit some candles and incense then chanted words to conjure up the ghosts of Tala and Alexio. There was no need to catch them up on what had recently transpired. They knew. Seri asked for guidance regarding the situation. As the two incorporeal beings floated above her, they gave her the remedy. There was only one.
The next evening Seri arrived home to find Dexter sitting on her couch, a bouquet in one hand and a card in the other. She approached him, kissing him long and hard on the lips. He took this as acceptance of his apology. Seri suggested they enjoy a nightcap and a little snack.
With her back towards him she prepared two Kentucky Mulled Ciders. An ounce of bourbon in each mug, she added some warm infused apple cider, a pinch of allspice then garnished each drink with a cinnamon stick and sliced orange round. It was one of their favorite autumn cocktails. Dexter's mug had four drops of a truth potion. After handing him his drink, she asked why he had broken his promise. Slowly sipping the fragrant beverage, Dexter explained he hadn't meant to. It was an accident. Seri exploded. How can telling someone else's secret after being asked not to, be an accident? His explanations were honest but banal, angering her even more.
Seri gathered herself remembering Tala's words and offered to make him the snack she had promised. Alone in the kitchen she prepared some Pastéis com Coracao, crispy crescents filled with hearts of palm, artichoke and olives, and infused with her magical marijuana. Then she cast a life spell over them. She whispered words spoken in an ancient tongue: "Ye once knew the memory we hold – But with this spell – So strong and bold – The memory is gone – Without a trace – Found nowhere near the human race."
Re-entering the living room, Serilda found Dexter on one of her beanbag chairs. He missed her menacing smile as he gobbled down the Pastéis. After eating and finishing their drinks they made love on the floor. As was customary, Dexter fell asleep afterward.
Seri had long left for work by the time he woke the next morning. Dexter scrambled to his feet. Not recognizing his surroundings, he ran outside. Panicked he walked quickly, to where he didn't know. He just kept walking until he was out of town. That afternoon, uncertain who Dexter had told and who he hadn't, Serilda recited the same incantation over every muffin, sandwich, bowl of soup and beverage she sold that was infused with her magical marijuana.
Soon, not a single customer of her café remembered what they had been told about Seri or her powers. But she had gone too far. Locals dining at the café began losing their memories, forgetting what they knew about Serilda and their relationship with her. It didn't take long before her business dissipated unlike the dense fog that hung over Davenport that week.
She had been warned. Tala and Alexio told her this could happen and she should prepare. Seri assembled her belongings, closed accounts and finally the café. By the time she climbed into her Volkswagen, Davenport was eerily quiet. Folks still lived there of course, they just believed they had recently relocated, were meeting new neighbors, starting new jobs. It was a fresh start for everyone.
COSMIC MUFFIN'S INFUSED BRAZILIAN
PASTÉIS COM CORACÃO
(Pastries with Heart)
Ingredients for dough
3 cups flour 1 Tbsp. salt
1 cup warm water 1 Tbsp. infused grapeseed oil
1 Tbsp. white wine vinegar 1 Tbsp. Cachaca or white rum
Process
In large bowl, combine flour and salt. In separate bowl, combine water, oil, vinegar and Cachaca. Make a well in flour mixture then slowly pour in wet ingredients. Use one hand to incorporate flour into the water, as you would when making pasta, until dough comes together into a ball. Pour out onto a floured surface, kneading dough until smooth and elastic. Shape into a disc, wrap with plastic wrap and allow to rest for 30 minutes.
Ingredients for filling
1 Tbsp. infused olive oil 2 Tbsp. canna-butter
1 shallot, minced 3 cloves garlic, minced
14 oz. hearts of palm, chopped ¼ cup half and half
½ cup canned whole tomatoes ¼ cup flour
8 oz. canned artichoke hearts, chopped ½ cup olives, chopped
¼ cup parsley, chopped salt and pepper to taste
8 oz. shredded mozzarella cheese infused oil for frying
Process
In large skillet, over medium setting, heat olive oil and butter. Add shallot and cook until fragrant, then add garlic. Whisk in flour and cook about 5 minutes. Whisk in half and half, cooking until sauce thickens.
Use your hands to crush tomatoes directly into skillet along with hearts of palm, artichoke hearts and olives. Season to taste with salt and pepper. Add parsley.
Assembly
Divide dough into half. Roll one half into 9" x 12" rectangle. Cut 10-12, 8" circles and set on a parchment-lined sheet pan. Place a mound of shredded cheese and filling in center of each circle. Dampen one finger with water and dab along edges of dough circle, then fold in half to seal. Repeat steps until all dough/filling has been used.
Set pastéis in fridge about 20 minutes – uncovered. To cook; heat infused grapeseed oil in heavy pot to 350°. Fry pastéis in batches, about 2 minutes, until golden brown, flipping once. Drain on paper towels. Serve immediately.