Derek Connor
Mar 18 2019 . 7 min read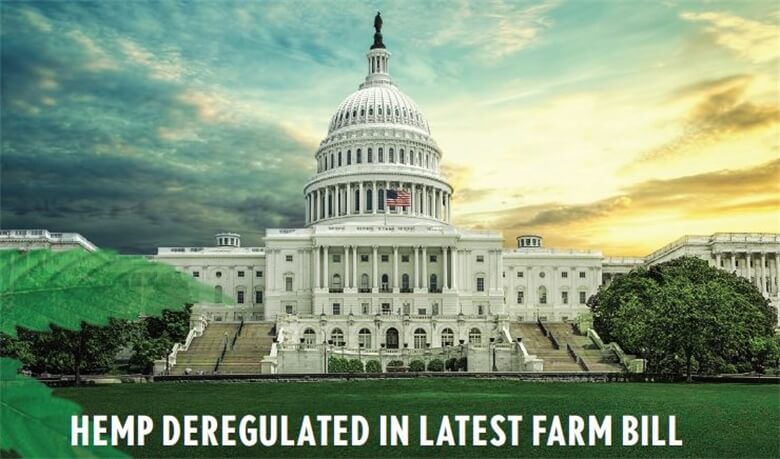 There has been a lot of excitement in the cannabis industry regarding the recent passage of the so-called "Farm Bill," which was signed into law by President Trump in December 2018. After decades of prohibition, the 2018 Farm Bill or Agriculture Improvement Act of 2018 has finally legalized the cultivation of industrial hemp in the United States. The recent activity has raised a lot of questions among my clients and other people eager to enter the hemp industry. To follow is a brief summary of the Farm Bill and how it will affect the hemp industry in Nevada.
What is the Farm Bill?
Every five years, Congress passes an omnibus bill comprised of several pieces of legislation, known collectively as the Farm Bill. The first Farm Bill (Agricultural Adjustment Act) was passed during the New Deal era of the Great Depression. The goal of the legislation was to address the needs of American farmers to help alleviate widespread poverty and hunger throughout the country.1
In the midst of the Great Depression, farmers barely produced enough crops to get by. Exacerbated by the Dust Bowl, Americans had no money to buy up farmers' goods, causing farm prices to plummet.2 The government intervened by paying farmers to cut back on production and by buying surplus agricultural goods to provide for the hungry. In turn, the Farm Bill had a significant impact on agriculture in the United States.3
Today, Congress continues to use the legislation to review the food and farm industry and to adopt policy relating to agriculture and food production. The Farm Bill covers a broad spectrum—ranging from crop insurance, commodities, nutrition (food stamps), and land conservation, just to name a few.
Marijuana versus Hemp
As most in the industry are aware, plants of the cannabis family can be used to produce marijuana and industrial hemp. The fact that marijuana and hemp both come from the cannabis family is one of the main reasons people often confuse hemp and marijuana.4
In reality, plants used to produce hemp and marijuana are actually very different from each other. The hemp plant generally has distinct physical differences from the marijuana plant.5 One of the biggest differences between hemp and marijuana is their chemical makeup. Marijuana usually contains high amounts of THC, the main compound associated with the "high" or psycho-activity that marijuana is known for.6
Hemp has very low amounts of THC (less than .3%) and high amounts of cannabidiol (CBD). Marijuana is primarily used for medicinal and recreational purposes and hemp is mostly grown for industrial purposes and production of CBD oil.7 Dubbed the "Miracle Crop," hemp is very versatile. Hemp fiber can be used to make fabrics, textiles, rope, paper, food, and many other products.
Hemp Wins Big with 2018 Farm Bill
In the most recent version of the Farm Bill passed late last year, the most profound change is hemp being removed from the Controlled Substances Act. In addition, the Farm Bill legalizes hemp production in every state, Puerto Rico, and tribal land.8 As a result, hemp farmers will no longer be subject to criminal prosecution for growing hemp, but states will be required to report hemp farmers to law enforcement if regulators determine their hemp intentionally contains high levels of THC.9
The bill also authorizes CBD extraction from hemp flowers and other parts of the plant.10 Additionally, the Farm Bill allows hemp farmers to be able to obtain crop insurance and gain access to federal water rights.11
If states want to have primary oversight over their respective hemp industries, they are required to submit regulatory proposals to the Department of Agriculture.12 Likewise, the United States Department of Agriculture (USDA) will be required to study "the economic viability of the domestic production and sale of industrial hemp."13
The FDA Weighs In
Although hemp production is now legal, the industry will still be subject to regulations. The day after President Trump signed the Farm Bill, the Commissioner of the Food and Drug Administration (FDA) released a statement regarding the FDA's position on industrial hemp products.14 The Federal Food, Drug, and Cosmetic Act (FD&C Act) 21 U.S.C. Ch. 9, gives the Food and Drug Administration (FDA) authority to regulate certain products containing cannabis, or substances extracted therefrom.
The FDA requires that any cannabis product that claims a therapeutic benefit, including those derived from hemp, must be approved by the FDA before being allowed to enter into interstate commerce.15 It is a violation of the law to market cannabis products as treating any disease or having a therapeutic benefit without first obtaining authorization from the FDA.16
The same standard is required for all products marketed as a drug for human or animal use. Further, the FDA strictly prohibits adding CBD or THC into dietary supplements or food that will be introduced into interstate commerce.17 This is because CBD and THC are active ingredients in FDA-approved drugs and introducing drug ingredients into the food supply or dietary supplements is prohibited.18
Now more than ever, the FDA remains committed to cracking down on such suppliers and companies that illegally sell CBD products that claim to prevent, diagnose, or treat serious diseases such as cancer.19 However, the FDA reserves the right to authorize cannabis compounds in food or dietary supplements in the future.20 Hemp seeds, hemp seed protein, and hemp seed oil are the only items that may be used in food without FDA approval.21
Those that violate the law are subject to a host of enforcement actions by the FDA, ranging from warnings to criminal prosecutions.22 These enforcement measures are not specific to those who violate the hemp provisions, but apply to FDA violations more broadly.23 The least severe punishment is a warning letter, which advises a person or entity they are violating the law and requires a written response to remediate the violation.24 The FDA may forcibly remove the product from interstate commerce by seizing the property or file an injunction to prevent the party from engaging in further action.25 Most severely, the FDA has the authority to seek criminal prosecution with up to three years in prison and fines up to $500,000.26
The Potential of Hemp
In spite of the FDA's regulations, there are many opportunities available to entrepreneurs looking to enter the industrial hemp industry. Nevada law specifically authorizes the cultivation of industrial hemp and the production of products made from industrial hemp including seeds and CBD, with the Nevada Department of Agriculture serving as the regulatory agency for industrial hemp in Nevada. The applications for cultivation, seed producer, and hemp handler certificates are available on the Department's website.
Most local jurisdictions will also require zoning approval and a local business license before you can begin operations at a hemp facility. I highly recommend forming a business entity such as a limited liability company (LLC) before submitting an application for a hemp business. If you have questions regarding the hemp industry, I suggest consulting with an attorney who has experience in this area of law.
1 Julie Kurtz & Farm Aid, Farm Bill 101, May 22, 2018 https://www.fa
2 Farm Bill 101
3 Nat'l Sustainable Agricultural Coalition, What is the Farm Bill?, http://sustainableagriculture.net/our-work/campaigns/fbcampaign/what-is-the-farm-bill/ (last visited Dec. 20, 2018).
4 - 7 Aaron Cadena, Hemp 101: Everything You Need to Know, MEDIUM (Sept. 2, 2018), https://cbdorigin.com/what-is-hemp.
8 - 13 Hemp Industry Daily, Senate Votes to Remove Hemp from Controlled Substances Act, Expand Opportunities (June 28, 2018), https://hempindustrydaily.com/senate-votes-remove-hemp-controlled-substances-act/.
14 - 21 Fed. Drug Admin., Statement from FDA Commissioner Scott Gottlieb, M.D., on Signing of the Agriculture Improvement Act and the Agency's Regulation of Products Containing Cannabis and Cannabis-Derived Compounds (Dec. 20, 2018), https://www.fda.gov/NewsEvents/Newsroom/PressAnnouncements/ucm628988.htm.
22 - 26 Fed. Drug Admin., Types of FDA Enforcement Actions, (Dec. 27, 2018), https://www.fda.gov/AnimalVeterinary/ResourcesforYou/ucm268127.htm.