High On Love's Dark Chocolate Body Paint
The art of love takes on a whole new meaning with High On Love's Chocolate Body Paint. Designed as an aphrodisiac in itself, this rich dark chocolate concoction is made with premium grade hemp seed oil giving couples a satisfying taste for more.
Angela Mustone, founder of High On Love, has created an entire line of cannabis-infused personal lubricants, bath oils, and body paints. As she worked on the creation and testing of her signature Stimulating Orgasm Oil, Mustone's excitement for the benefits of cannabis in the bedroom translated into four more products: Stimulating O Gel for women, Sensual Massage Oil (comes in Strawberries & Champagne and Lychee Martini), Sensual Bath Oil (comes in Lavender Honeybee), and Dark Chocolate Body Paint.
"My line of products is very natural in terms of ingredients, very thought out and researched. I don't put something in it just to make something quickly," said Mustone, who notes all of the massage oils produced by High On Love are lickable and edible because she uses aromas, not fragrances. "A lot of research goes into my products in order for me to develop the formulas. My products contain hemp seed oil which results in increased blood flow to the genitals to achieve bigger, better and longer orgasms."
NLVO's Kissable Sensual Massage Oil
Treat both you and your partner's bodies to hypnotic relaxation this Valentine's Day with NLVO's Kissable Sensual Massage Oil. "Our Sensual Massage Oil allows users to have extended massage time while providing the skin with a nourishing treat," says NLVO's Salpy Boyajian. "Our goal was to create a flavorful intimate massage oil that would be an ideal couples' necessity for those experienced in cannabis products and those not."
This premium massage oil boasts a massive dose of THC at 242.55 mg, Boyajian said, noting it is the highest available in Nevada's recreational market. "The high potency dose will leave your body and mind feeling stimulated, blissful, and in a state of pure ecstasy," explains Boyajian. "It has body relaxation and relief properties. It has a silky texture that allows hands to glide over the body with minimal friction. It was created using a blend of all-natural coconut oil and premium-grade cannabis oil and was infused with a delectable tropical flavor. If you don't want to consume an edible or inhale smoke, topical massage oil is a great way to experience the benefits of cannabis oil."
But, Boyajian notes, you can still consume this massage oil in more intimate settings. "Although not considered an edible, our massage oil is made of natural ingredients that can be considered 'kissable,' making it the perfect addition to an intimate massage," she says. "And it is safe to be used as a lubricant—which makes it that much more blissful!"
Evergreen Organix's Lavender Vanilla Massage Oil
Apply Evergreen Organix's Lavender Vanilla Massage Oil to help loosen muscles and you will be met with a tingling sensation on the surface of the skin. As the cannabis oil penetrates the skin, you can feel the pain and tension in your muscles melt away while its soothing fragrance offers relaxing aromatherapy benefits from premium essential oils combined with a terpene mix of linalool, eucalyptol, o-limonene, and b-caryophyllene.
"These terpenes help clear the mind and relax the body. The lavender oil and vanilla essence create a very relaxing blend that is great for helping people unwind," Jillian Nelson of Evergreen Organix says of the oil that's dosed with 100 mg of THC per container.
"Some people are curious about cannabis topicals but are too timid to try any, fearing that they will smell like weed. Fortunately, our Lavender Vanilla Massage Oil is crafted with fragrant essential oils, including locally grown lavender, that really help keep topical use discreet," she says. "We wanted to create a cannabis-infused topical that masked the smell of cannabis but was still loaded with its awesome benefits."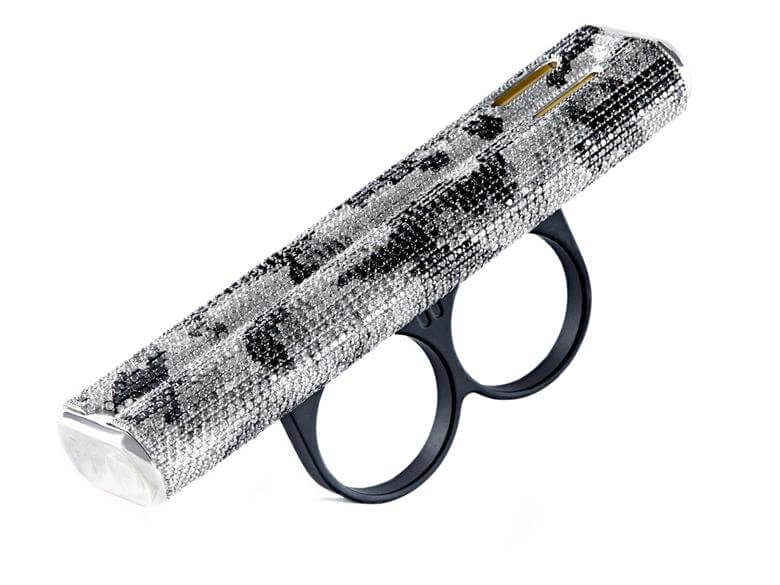 Double Barrel's 21-Carat Diamond-Encrusted Vaporizer
Created for the sophisticated connoisseur, Double Barrel has introduced the Diamond Double Barrel--a $100,000 cannabis vaporizer encrusted with pavé-laid diamonds that is the world's first patented dual-oil chamber vaporizer.
Handcrafted by a team of fine jewelry designers and product engineers, the Diamond Double Barrel's bold camouflage exterior was created using nearly 3,000 pavé-laid diamonds, 21 carats, and 151 grams of solid white gold. "Double Barrel presented me with an opportunity I never saw coming, to artfully execute a high-voltage accessory for the cannabis consumer who has it all. The product we made encapsulates the zeitgeist right now. The power of supreme functionality, personal style, and new wealth," says Gerard Alexander, founder of Saint Jewels.
Double Barrel's vaporizer features a patented, high-end design that utilizes Flex Circuit Technology for precise heat ramp, giving the consumer the very best mouth feel, taste, and cannabinoid and terpene activation on the market today, according to Double Barrel's marketing materials. It was designed for cannabis connoisseurs who want to customize their smoking experience by mixing and maxing flavors or combine THC cartridges with CBD.
For those who can't buy the diamond version, you can purchase the standard version at dispensaries in Nevada, accompanied by Verano premium oil cartridges.