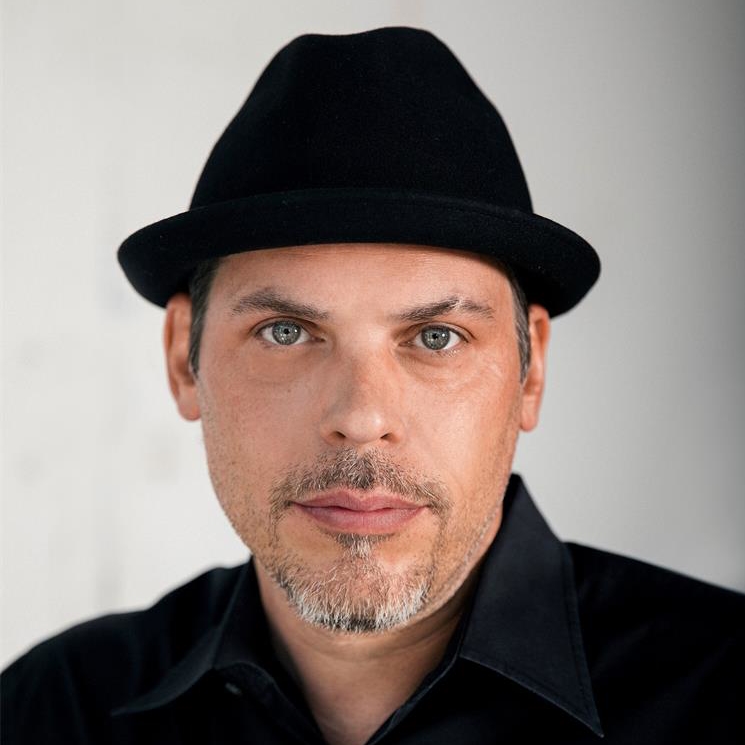 Justin Alexander
Dec 05 2017 . 12 min read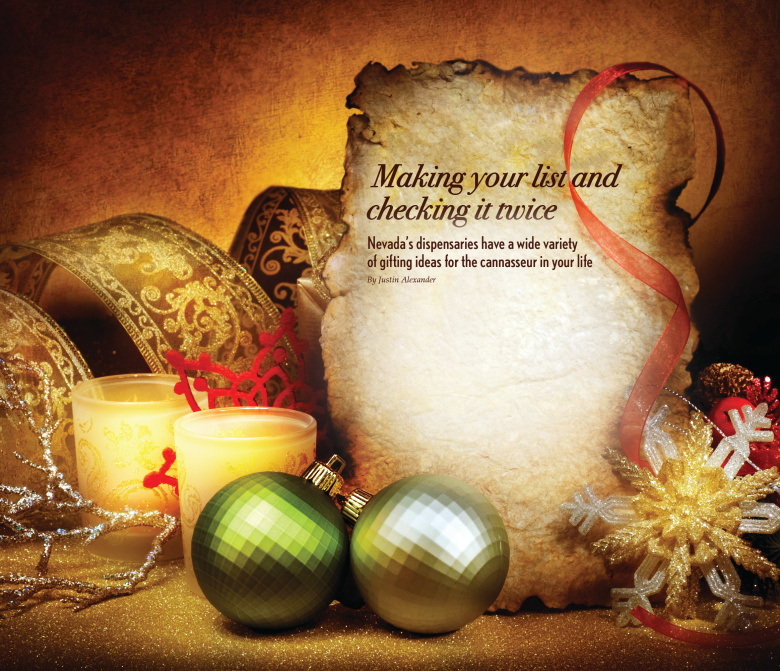 Now that Nevada's dispensaries are accessible to everyone over 21, not just those who have medical marijuana patient cards, you can stop in and buy a treat for your favorite cannasseur this holiday season. And there's most definitely something for everyone on your list. For the beauty maven who loves her potions and elixirs, consider cannabis-based topical creams, lotions, salves, or lip balms. For the foodie, pick up some infused goodies such as honey, dried fruit, olive oil or even a sweet treat of gummies, cookies or chocolate bars. As for the cannabis lover, there's no end of choices from flower and pre-rolls to vape pens and concentrates. Just find out if they prefer an indica or sativa. If you aren't sure, a hybrid is always a safe bet. To follow are some selections from the Nevada marketplace that will give you a general idea of what you will find as you begin your hunt for the perfect holiday gift.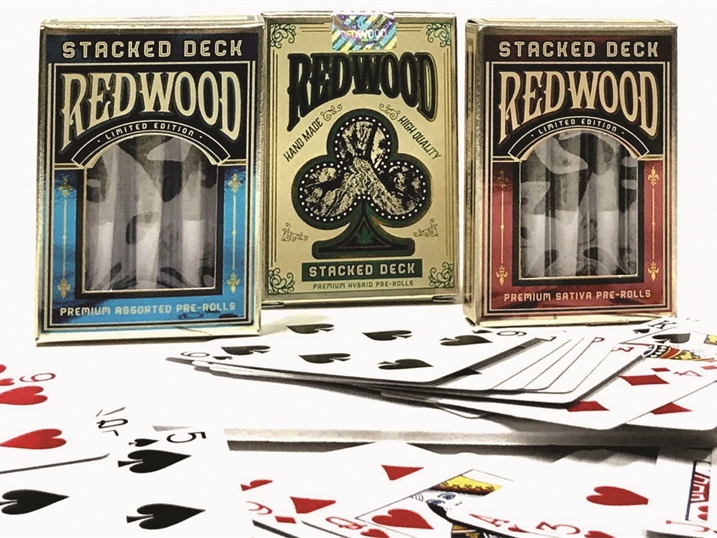 Stacked Deck Limited Edition Pre-Rolls by Redwood
For the classic smoker on your list, you will ace gift giving this year with Stacked Deck pre-rolls from Redwood. For those who love the simplicity of sparking one up, go all in with Redwood's Stacked Deck pre-rolls, which come in packaging that resembles a deck of cards. Different strains are available as well as mix packs for a full house of flavor, so it comes as no surprise that this is a top gift item for cannabis lovers during holiday 2017. The novel and clever presentation will bring a smile to the receiver's face before it is even cracked open. Once this premium bud is lit up, the good times continue to roll back to whatever era you fancy. If you are over 50 you will appreciate the humor and nostalgia, if you are younger, embrace the vintage, retro vibes of this unique offering.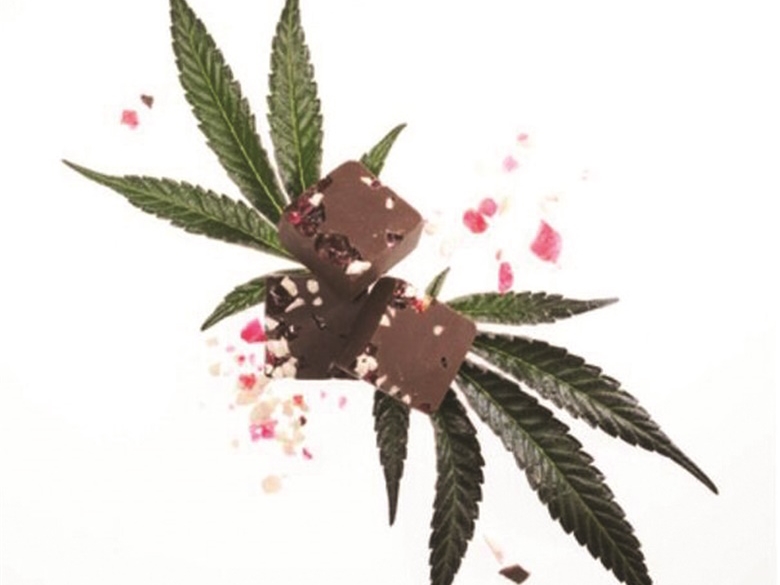 Kynd Cannabis Company's Peppermint Chocolate
Like eggnog and gingerbread cookies, the taste of peppermint is a holiday staple. As is chocolate, which always makes a great gift especially when you add THC oil into the mix making for a happy ho-ho-ho holiday indeed. Kynd Peppermint Chocolates—a seasonal offering—come in a convenient dosing pack of four squares with 11.1mg THC per square. "We don't doubt it's going to take the market by storm," says Kynd's chief operating officer Stacy Castillo of this latest release, which is a product of Kynd's collaboration with a local chocolatier that started in 2016. Dark chocolate in conjunction with crunchy peppermint candy combine for a taste that is as mellow as the relaxing high, but without couchlock. Kynd's peppermint chocolates are so tasty it might be hard to eat just one, but remember to start slow as the effects come on gradually and last longer than smoking.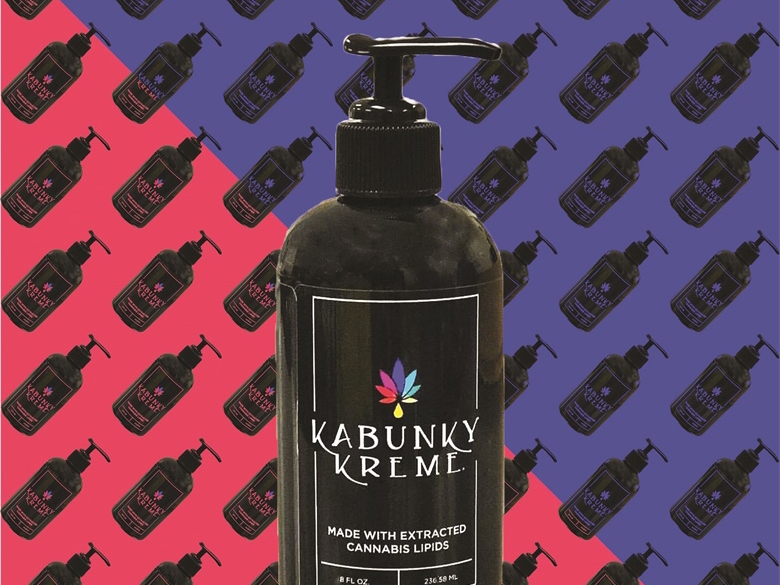 Kabunky Kreme
Body creams make great stocking stuffers for everyone on your list since they have so many applications. Made with extracted cannabis lipids, it is best to only use small amounts of Kabunky Kreme during each application as it is high in THC unlike many of the CBD-rich creams on the market. Kabunky Kreme has 763mg of THC per bottle and 310mg of CBD. While Kabunky does not call out particular genetics that go into this delightfully effective elixir—the biproducts from various plants are used for healing to create a soothing effect. It has a wide array of uses and applications and is recommended for burns, cuts, muscle aches, back pain, arthritis and more, as well as for those who suffer from lower back pain.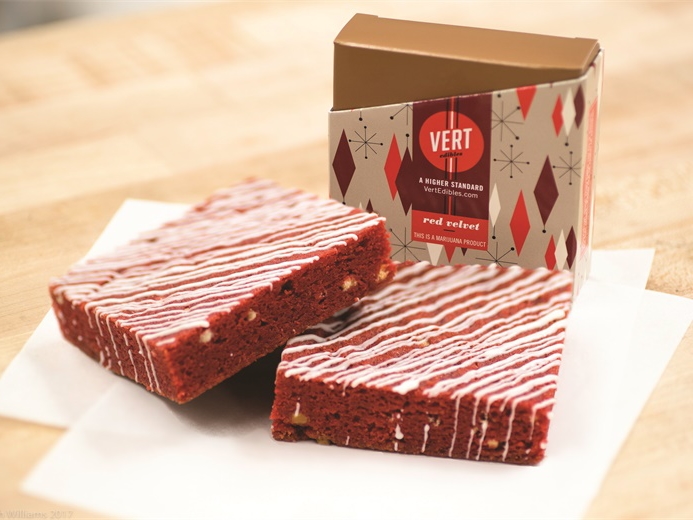 Vert's Red Velvet Cookie Square
Designed to be gifted without wrapping because of its pleasing packaging, Vert wants to change the way people view cannabis-infused foods. "As a Las Vegas company, edible brand presentation and flavor are extremely important to us," says Margaux Hansberry, Vert account executive. "Many people tend to shy away from edibles due to a negative experience they may have had from a home baked marijuana brownie back in the day. We set out to redefine that experience with a homogenized edible made for the consumer to both feed their mind and savor the flavor."
Made with Chunky Diesel oil—Organa Labs certified triple refined oil with amazing taste and potency—the Red Velvet Cookie Square has 8mg of CBG, or cannabigerol, a non-intoxicating cannabinoid. "The genetic parents are Deep Chunk and Sour Diesel, which account for the high amount of CBG because the latter is the parent for several strains that characteristically help relieve temple pressure such as Headband and Sour Kush, also an effect of CBG," Hansberry says, who notes the presence of CBG is good for Glaucoma sufferers as it decreases ocular pressure.
If you've got someone on your list who could use a good night's sleep, the Red Velvet Cookie Square will delight insomniacs. It is also perfect for those who love this trendy holiday flavor. Chef Melissa Parks, who creates all the recipes, is an expert at masking any cannabis taste. "Melissa has taken into account every variable that could potentially affect cannabinoid/terpene burnoff rates and consistent dosages in our products," Hansberry says.
Cannabiotix's Mandarin Mint flower
While edibles make a merry addition to a gift basket during the holidays, don't underestimate the happiness a jar of premium flower can also bring at this time of year. Guaranteed you will be on the top of everyone's party invite list when it gets around that you are gifting strains of Cannabiotix. The in-house breed of Orange Crush and Thin Mint Cookies, Mandarin Mint sounds as refreshing as the way it smokes. A potent indica-leaning hybrid, both of its parents are award winners. At 24 to 27 percent THC, Mandarin Mint is recommended for those with chronic pain, loss of appetite and anxiety. It will also relieve those holiday party hangovers and put you out for the night for much needed R&R. The first thing that you will notice is its frosty appearance (like the snowman himself!), with crystal covered flowers and dense pods filled with bursts of violet and orange. The next powerful characteristic is the smell: think along the lines of a pungent cheese platter with candied nuts. These are all the things you will fall in love with even before you smoke its smoothness. Make sure whoever you gift this to likes to share.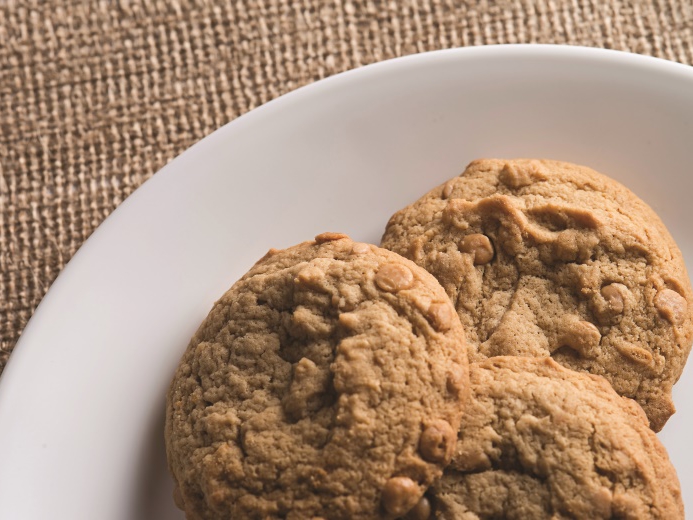 Evergreen Organix Cookies, The+Source
Evergreen Organix has introduced their holiday-inspired line of cookies including their cookie of the month, pumpkin pecan toffee (9.65 THC/2.64 CBG). With a texture that is gooey and crumbly, these soft, fresh, baked cannabis-infused cookies are individually packaged and make a great gift for the edible lover on your gifting list. Other flavors from Evergreen carried by The+Source include snickerdoodle, peanut butter, chocolate chip cookie, and, of course, brownies. A great present to both give and receive, they are low in dosage and work for just about everyone, including newbies. To control potency while at the same time sharing the love, Evergreen's cookies can also be cut into fractions. Evergreen lists the strain they use so it is never a "take a bite and wait and see" process—indica, sativa or hybrid effects are guaranteed.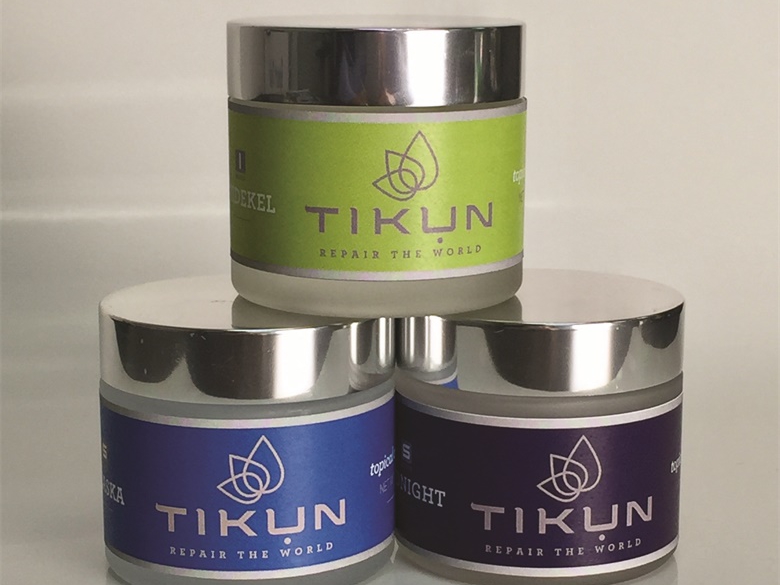 Tikun Olam Topical Cream
Creams offer an easy, user-friendly way to find relief from pain. Cannabis-infused topicals are completely non-threatening because, in most cases, they are CBD (cannabidiol) dominant. Tikun Olam not only has a CBD-rich cream, but has also developed three additional topicals using other cannabinoids geared toward specific patient needs. "Each of the Tikun creams are made with extracts from their namesake plant," explains Chris Kelly, Tikun's head of operations for Nevada. "Alaska is our THC cream that's great for pain relief, Midnight works for pain and inflammation, and Avidekel is a CBD cream used mostly for inflammation."
According to Kelly, arthritis sufferers can rub cannabis-infused cream onto their hands and in about 3 to 10 minutes their pain and soreness could be gone. Same goes for those patients with psoriasis. Then there are just good ole aches and pains due to aging that topicals help with. "In my 45 years I have been pretty hard on my body, from old Army injuries to the ones that come from fueling my weekend adrenaline addiction," explains Kelly. "My personal go-to is the Midnight. After a paintball tournament, day of snowboarding, or an intense gym workout, it is literally a game-changer for me. We only get so many days to play and when your body is feeling your weekend decisions and you need to get back to work, Midnight Cream comes to the rescue."
Some of the best features of Tikun's topical creams are that they have no oily residue or unpleasant smell—its odor is neutral and every whiff is calmingly fresh. But the greatest testament is, of course, in the jar.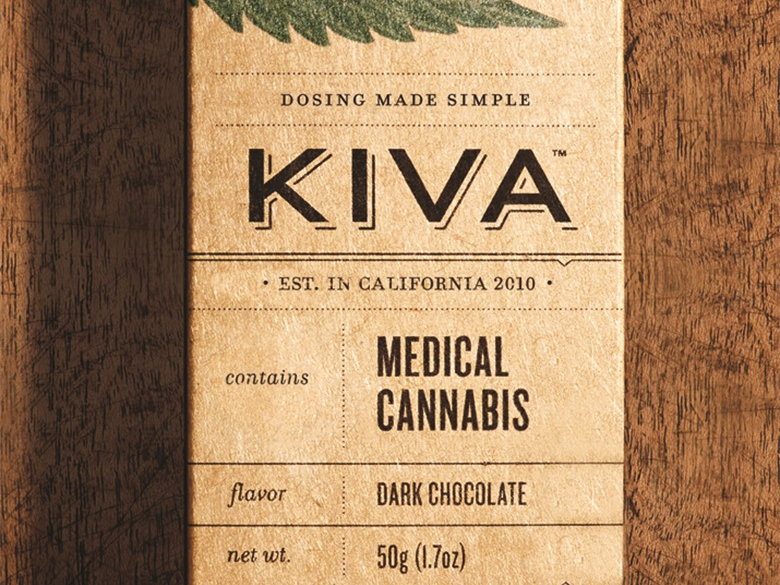 Kiva's Blackberry Dark Chocolate Bar
Tired of bringing a bottle of wine or champagne as your signature holiday-party host present? Given individually or added to a basket full of infused goodies, Kiva Confections' artisanal chocolate products made from premium-grade cannabis extract make a great hostess gift. Cannasseurs love them and so do beginners because of the rich taste with very little weed flavor.
"Kiva Bars will be especially appreciated by anyone who can benefit from cannabis' calming, relaxing and uplifting properties," says Christie Strong, KIVA's marketing communications manager. "In the [two-and-a-half years I have worked for the company I've had] time try every flavor of Kiva Bars. I really appreciate the consistency of our products because it means that there is a reliability to the experience I'm going to have on them. I know my dose for a night out with my friends, and I know my dose for a cozy night on the couch with my husband watching Netflix. Consistency takes all the guesswork out and puts me in control of my experience. I'm also a bit of a dark chocolate addict—and I think our bars taste as good as any unmedicated treats out there."
Segmented to suit a variety of tolerance levels, there are six flavors available in Nevada in both milk and dark chocolate measuring almost 100mg of THC per bar. (Always start at a 5mg dose and wait two hours before consuming more.) Bars have a combination of sativa and indica strains and produce a variety of effects from body highs to head highs, all focused on relaxation. Effects will start to happen anywhere from 45 minutes to one hour and their intensity varies from person to person.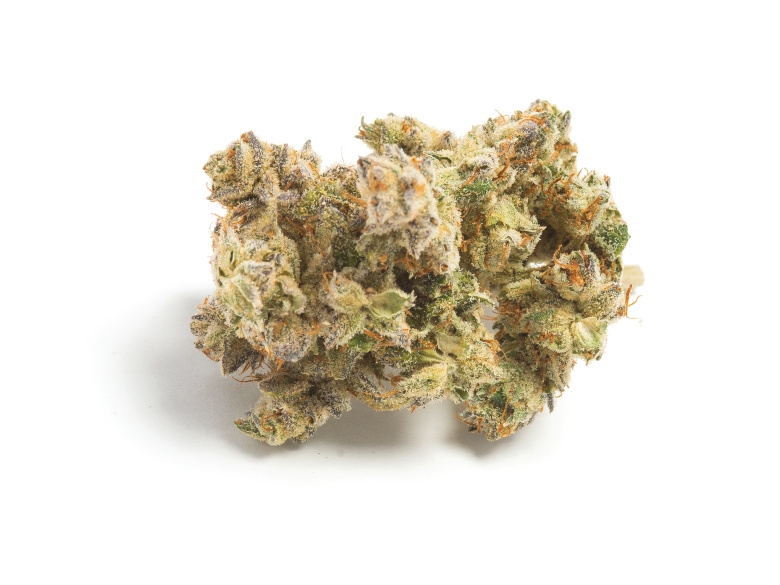 Medizin's Chloe flower
"Many people gift this strain because they are so excited about its effects and consistent quality of having a great mix of terpenes and mid- to high 20s in THC," says Dave Farris, general manager of Medizin, of the Chloe strain. Perfect for both indica and sativa lovers, Chloe has hybrid qualities that make it appealing across the board.
"Many people who smoke only indicas find solace in Chloe due to its calm sativa buzz and pain relief," Farris says. "Even though this strain leans sativa-dominant, it possesses potency and physical sedation that can lull the most experienced person to sleep with continued consumption. Chloe is also a welcome companion for patients seeking relief from a wide variety of ailments, including loss of appetite and chronic pain."
This flower smokes smooth and engulfs with the same mellow luster after consumption. Following a long day of work, it will erase every trouble and worry without knocking you out as well as produce a range of euphoric and creative thoughts at 26.70 percent THC, .113 percent CBD, and .511 percent CBN. It's pleasant and even all the way around, kind of like the first day of your holiday vacation.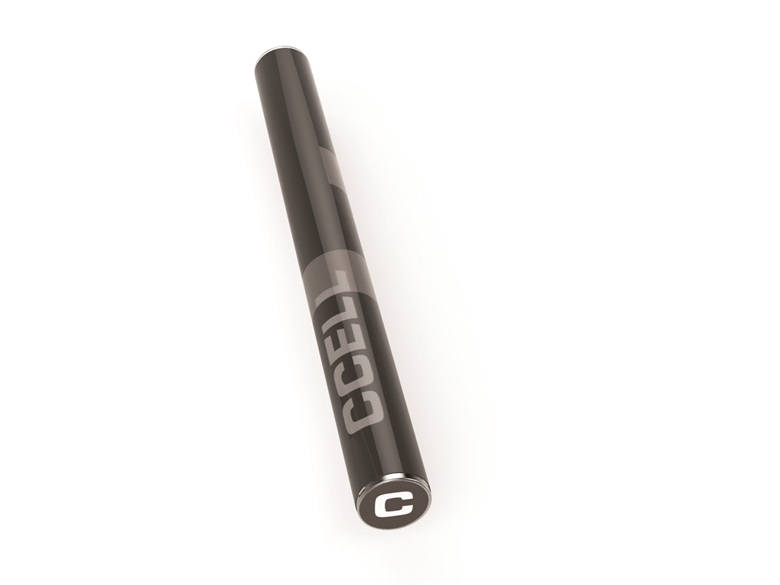 City Trees Calm Disposable Vape Pen
For those searching for calming relief from the stress the holidays bring with them, a disposable CBD vape pen is the perfect call. Just the right amount of CBD isolated from Colorado grown hemp and pure THC distillate come together in a slim-lined vape that doesn't require a button or any accessories to enjoy.
"Our Calm vape pens are recommended for those looking to take the edge off," says Don Decatur, City Trees' director of operations. "The 1:1 THC/CBD ratio ensures a level ride. This is one of the few vape devices that is 100 percent cannabinoids. Without cutting agents our vape pens taste amazing and offer plenty of bang for your buck." The cherry-flavored taste of this vape is smooth and the high is light and mellow, perfect for any time of the day or night. This product truly shows off the magic of a CBD/THC equal pairing.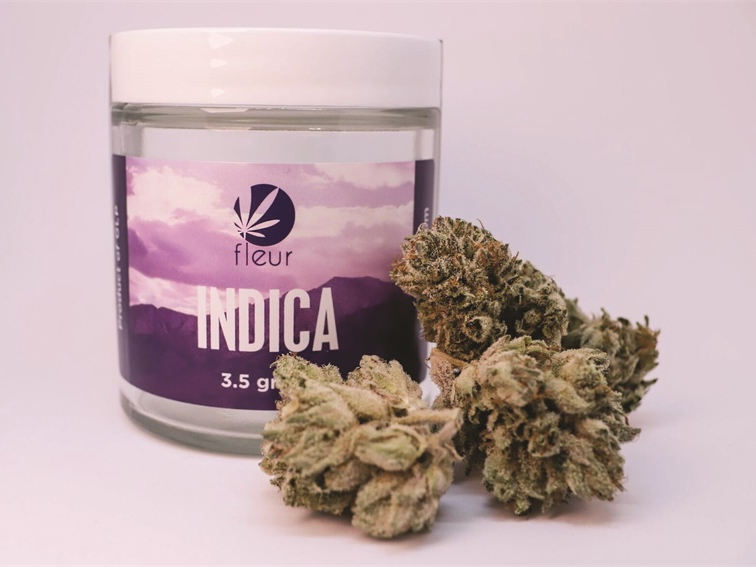 Fleur's White Ghani Indica
A cross between The White and Afghani, White Ghani has Frosty the Snowman written all over it: fresh, frosty and fun. Impress the cannasseur in your life with White Ghani for both its potency and creativity. This is a feel-good strain, producing a euphoric, happy mood as jolly as Kris Kringle himself at 13.89 percent D9-THC and .05 percent CBD. It is clean and even burning. The odor is also mellow so it works well for those times when you need to be discreet. A low to medium potency, White Ghani has a delicious earthy taste to complete its merry buzz. In addition to White Ghani, Fleur, an independent flower brand cultivated under Greenlife Production methods, has three other strains in its line — Tangie, Fire Angel, and Girl Scout Cookie — which combine to make the perfect smile-inducing gift set this holiday season.