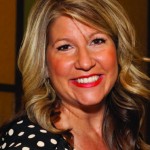 Beth Schwartz
Nov 01 2019 . 9 min read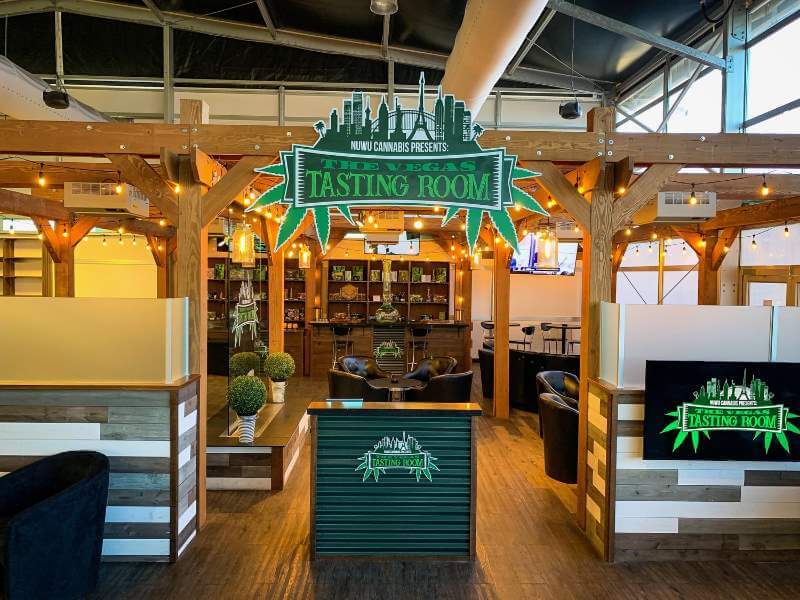 Governor Sisolak and the state's legislators may have put the brakes on consumption lounges by passing legislation in June that would enact a two-year moratorium, but visitors do have one legal option available to them now. A Southern Nevada dispensary has opened a consumption lounge to give tourists and those without a private residence where they can consume cannabis a place to do so legally.
On October 5 NuWu Cannabis Marketplace opened a 2,800-square-foot Tasting Room inside of its 16,000-square-foot Downtown Las Vegas dispensary. Offering 30-minute appointments and table service similar to a nightclub, consumers can select from a 60-item menu that includes pre-rolls, bowls, pipes, concentrates and edibles. Before making a decision to purchase a recreational product, Tasting Room visitors will be able to try a sample "flight" in a space that has a feel similar to a winery's tasting room with rustic wood accents, pendant lighting, topiary plants, leather lounge seating, and, naturally, a giant glass bong.
As outlined in AB 533, which passed during the 2019 Legislative Session, the state has put a hold on consumption lounges to conduct a study of them. NuWu, which is owned and operated by the Las Vegas Paiute Tribe, was able to get around the state's moratorium on consumption lounges because it is not subject to state law due to its location on sovereign land. "We decided to move the industry along and be pioneers," Benny Tso, a former chairman of the Las Vegas Paiute Tribe and current tribal council member, told the
Las Vegas Sun in October.
PROGRESS HALTED
Earlier this year, progress toward the opening of consumption lounges seemed to be moving forward—at least in the City of Las Vegas. On May 1 the Las Vegas City Council, in a 4 to 1 vote, passed an ordinance that licensed marijuana businesses in Nevada would be permitted to apply for special-use permits to open consumption lounges at which cannabis products could be sold and consumed on site.
CEO and co-founder of Oasis Dispensary Ben Sillitoe worked very closely with the City of Las Vegas on the consumption lounge ordinance. "I spent a couple of years working on that," he said. "It had a few different iterations along the way. But I think the ordinance they finally passed was a good start."
With the City's ordinance in place, Sillitoe was surprised when Gov. Sisolak and state legislators amended AB 533 in late May to put a moratorium on consumption lounges to conduct a study that needs to be completed on or before January 1, 2021. "I was very surprised. It happened at the last minute. I did not see it coming. It definitely took me by surprise, I understand the Governor's approach in being cautious. It is what it is. We will have to wait and see if we will be allowed to do it in two years," said Sillitoe, who has set aside space to eventually be used as a consumption lounge.
Former Clark County Commissioner and state lawmaker Chris Giunchigliani, who was appointed by Gov. Sisolak to serve in an advisory capacity on the Cannabis Compliance Board, was also taken by surprise.
"I was on the Governor's panel with (UNLV) Professor Roberts and we were assigned the consumption lounge language and held a couple of town halls. We just wanted to get input from all walks of life and get their thoughts. We used that to write the language for consideration for the Legislature and they choose to put this two-year hold on it," said Giunchigliani. "I was kind of surprised because that was one of the duties of the panel. But I suspect the industry itself is torn on the issue. I also have a feeling that larger players didn't like the idea, and gaming had concerns as well and probably weighed in on that not moving forward for now."
The gaming industry did weigh in during the recent Legislative Session with their concerns regarding the creation of a 1,500-square-foot distance separation between the two industries. "Our position has always been about location and compatibility between the two industries based on the longstanding directive from the Nevada Gaming Commission that the two industries remain separate for their individual success. For us, as long as cannabis remains a Schedule I illegal drug under federal law, we have been asking policymakers to make sure that the cannabis establishments and the establishments with nonrestricted gaming licenses remain separate and that is why we have asked for that distance separation," said Dawn Christensen, Nevada Resorts Association Vice President of Communications and Corporate Responsibility.
"We requested the 1,500-foot buffer. It was meant to give consistency across the local jurisdictions and had basis in the current City of Las Vegas zoning code and land use regulations. The city already has several minimum special use permit requirements with a 1,500-foot separation from other uses, such as taverns, escort bureaus, outcall entertainment referral services, operations with slaughtering and procession of live poultry. We thought it was a reasonable distance."
STUDY VS. PILOT PROGRAM
At this point there isn't much information available about the study that the state will be conducting on consumption lounges because members of the state's newly formed Cannabis Compliance Board, who will be conducting the study, still need to be chosen and appointed. Steve Yeager, chairman of Assembly Judiciary Committee which was the primary sponsor of AB 533, did not respond to interview requests. But during a hearing for the bill in May, he noted of the study that "the Cannabis Compliance Board will look at that issue and decide how best to proceed."
The consensus among those who have already studied consumption lounges is that a pilot program would have been a more practical option. "To me there needs to be a safe place for people to go so they aren't violating the law. Don't tell me they aren't smoking in their hotel rooms because they are. So, it's this kind of if we don't see it, we don't know it's happening situation rather than trying to resolve the situation with a pilot study of eight locations or five locations and see how it works. To me that would have been better than a total freeze on doing anything," said Giunchigliani.
Sillitoe also would have liked to see a pilot program chosen over a study. "I don't necessarily believe it (the study) is necessary but I do understand why the Governor wanted to do it," he said. "Up until NuWu opened, tourists in Nevada who purchased cannabis were made into de facto criminals. They had no legal place to consume the cannabis they just purchased. It's absolutely the most important aspect of this consumption lounge issue is that we can't expect tourists to come to Nevada and participate in a legal "industry" when it's a crime when they consume it. Now that we have NuWu there's a place and I think it's important and I am glad that they are there for that," continued Sillitoe. "And it gives the state something to study which was one of my big concerns about the study. Without a pilot program per se, how do you really have data to study? I had hoped the City of Las Vegas' ordinance would provide that."
Thrive CEO Mitch Britten sees value in both ideas. "I'm somewhat neutral. If it comes to be that it is something that everyone wants to do, I think it's important to have them done in conjunction with dispensaries so you can be sure that what is being purchased is what is being consumed and you don't have to worry about black market dealers but we are not out there actively pushing for this to happen," said Britten. "For me the more important thing is that it is rolled out correctly and responsibly. It's easier to say no then to teach people how to pace themselves and educate them on safe consumption. I think it's smart to put these things into a study, there are enough other jurisdictions doing it. The government will do its study but the way, in my opinion, to study something is to have it in real life and deal with actual problems. I'm very appreciative to NuWu for taking that first step for the industry."
Limbo No More
Visitors to Las Vegas haven't had a place to legally consume cannabis since adult-use cannabis started being sold legally in Nevada on July 1, 2017—until NuWu opened its Tasting Room last month.
When asked how tourists should have been directed to consume cannabis prior to NuWu, Giunchigliani didn't have an answer. "I don't know, that's a good question. You don't want them getting cited with a misdemeanor. I don't know that Metro has done any citing. It's legal to walk around with a vape, you can use it in a movie theatre, there's no prohibitions on that. Maybe rather than an actual joint, using a vape might be the best approach for now," she said.
When Oasis's Sillitoe was asked about consumption, he said, "We avoided that. We didn't give them recommendations. What do you do? You can't really advise someone on how to break the law. But most consumers don't ask." Sillitoe continued, "I'm happy, personally, that NuWu is there and able to provide a place for consumers to go and consume legally, it's very important. Good for them that they get to do it."
Giunchigliani agreed. "I am surprised they hadn't done it sooner. NuWu is a sovereign nation and they have a right to do what they want to so maybe we will see how that works for them."
"I think if I were in their position, I would have done the same thing," said Britten. "They are in a very interesting situation. They have to abide by certain aspects and other aspects they are their own government. I don't know if I would have done anything differently if I were in their position."