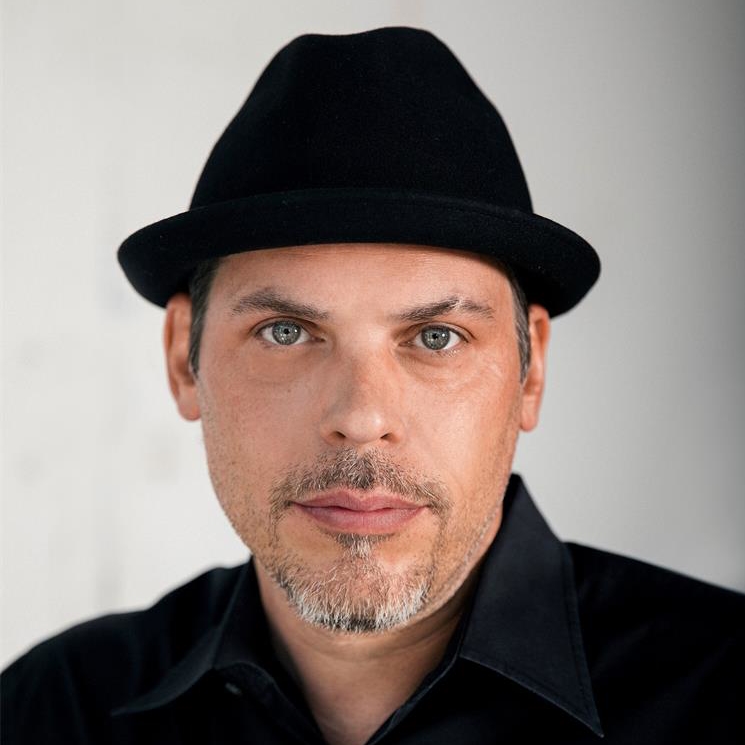 Justin Alexander
Jan 11 2021 . 10 min read
Proving the perfect time to R&D products, the pandemic has given the cannabis industry and its consumers a chance to experiment. Existing cannabis users have increased consumption and are stocking up, while new users are investigating what cannabis can do to help them through this time of anxiety and uncertainty.
To that end beverage and edible offerings have exploded, becoming more widely available and in demand. Some of the beverages on the 2021 horizon will be made by companies that currently play a major role in the alcohol industry. Molson-Coors is considering creating a cannabis-infused beverage, and Coca-Cola may create a carbonated drink that contains CBD. While edibles have been popular all along, in 2021 there is likely to become an increased variety of these products on the market from gummies to market newcomers such as Soul D'licious's infused seasoning blends (see page 15).
Despite the increasing popularity of edibles and other cannabis products, one thing remains tried and true, Nevada's strain breeders will continue to be prolific with their flower offerings due to demand. "Our flower sales remain the strongest of our categories. In the early weeks of the pandemic, we noticed a rise in sales of edible and vape products for a period of time, never surpassing our flower velocity as all categories experienced increased sales," Kristen Everhart, regional marketing director at Curaleaf, says.
Whatever your preference, 2021 will see an increased variety of all things cannabis creating an unparalleled and varied selection.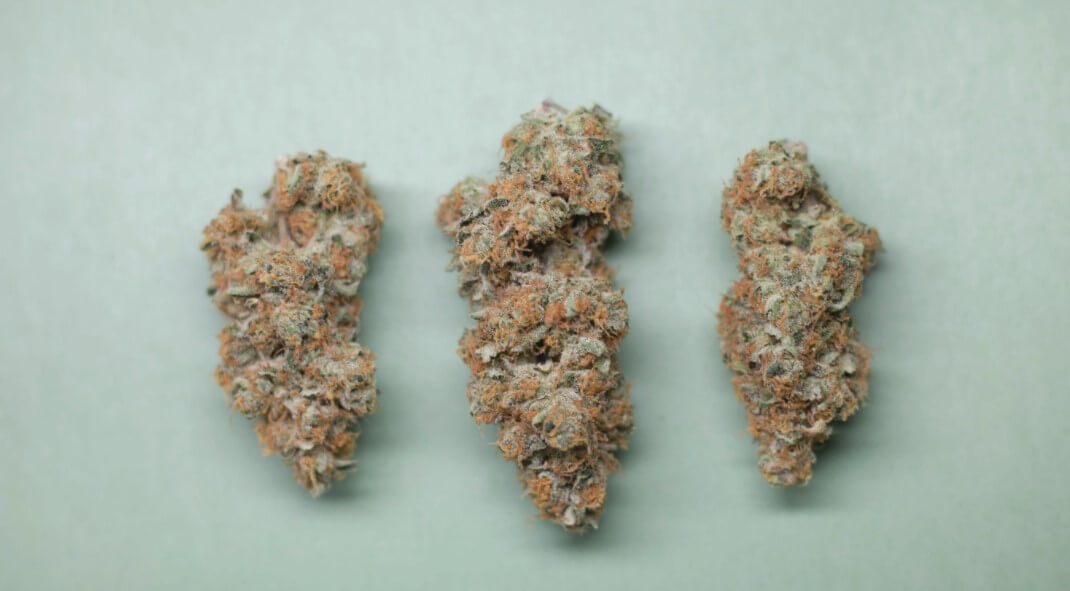 Orange Cookies from Fleur
2021 marks the year we are all searching for a refreshing new perspective and Fleur's Orange Cookies is a real olfactory pleaser that will bring you the happy viewpoint you are seeking. "Orange Cookies is a strain that stands out from the rest because of its pungent orange creamsicle smell. Once you smell it, you're sold on it," says Evergreen Organix's Jerry Velarde, who adds: "This is a very happy and uplifting strain. We call it our happy strain."
As crisp as a juicy sweet piece of citrus fruit, Orange Cookies is a hybrid sativa-dominant strain that cures ailments plaguing both the mind and body while providing that insta-happy and uplifting yet relaxing high.
As a trusted friend during tough times, Velarde anticipates that Orange Cookies will continue to be a top seller in 2021 as it is one that always delights him personally. "On one run we had a huge amount of Orange Cookies. I pulled up to the cultivation and could smell it from outside the smell was so pungent," he says. "While this is a THC strain there are small amounts of CBD, CBC, CBG and CBN. While it has limonene and caryophyllene it is followed by linalool. A lot of consumers enjoy linalool (relative to lavender). It's been testing over 3mg consistently with the linalool. The limonene and linalool create a nice uplifting happy high."
Another one of its benefits is versatility. You can smoke it during all occasions and times because it not only engenders happiness, but it works well to reduce midday stress and work anxiety.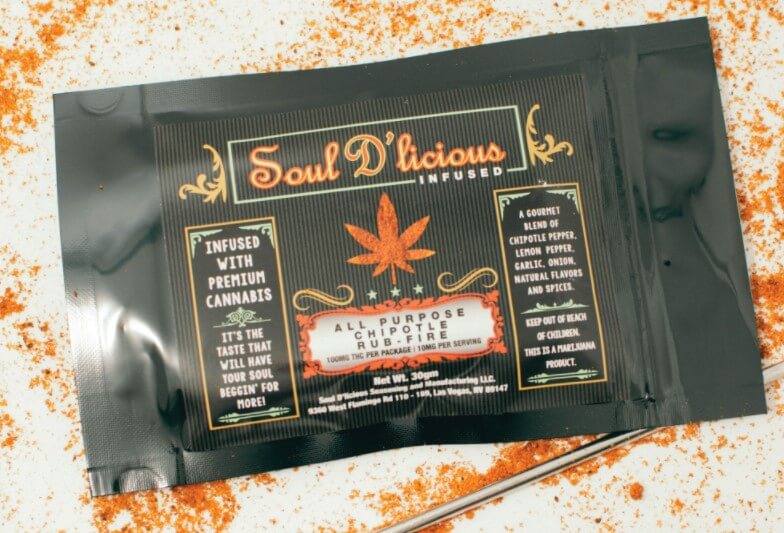 Soul D'licious Infused Seasoning Blends
Soul D'licious Infused seasoning blends are the first infused spices in Nevada—making them the ultimate edible gamechanger for 2021. Vegetable Seasoning and Chipotle Rub-Fire are the first two flavors currently available and soon Lemon Pepper Garlic, Blackened Rosemary, a 1:1 All Purpose blend, and a 500mg Medical All-Purpose Blend will hit dispensaries.
"Virtually all of the edibles in the Nevada market are sweet; our spices are savory," says Stephanie Magurno of THC Production, LLC. "They allow patients and consumers to make anything an edible–steak, baked potatoes, roasted vegetables, sliced fruit, burgers, pasta–the possibilities are endless. The product also addresses another challenge that consumers who enjoy edibles face: eating one dose of a product that tastes really good and wanting more. In this case, you can eat the entire burrito or bowl of soup you make–not just one bite. You can cook with the spices or just add them to something already prepared. Unlike most edibles on the market, they will not melt in the Vegas heat."
The seasonings are infused with distillate, which means they taste just like the non-infused version. They were developed for health-conscious consumers, people who love to cook or love to eat, diabetics, and those looking for a discreet way to consume cannabis.
"The spices are completely homogenized, which means that they are also perfect for microdosing. Each serving is approximately ¾ of a tsp (individually bagged)–if you use ¼ tsp then you get 3.3mg of THC instead of the full 10mg," Magurno says. "With so many people staying home and cooking more, this will be a great cannabis consumption option."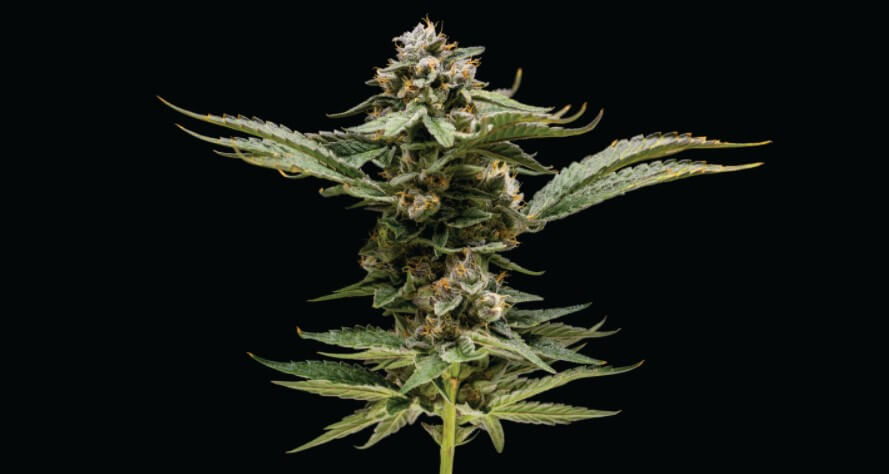 Garlotti by State Flower
Newly introduced to the Nevada marketplace, Garlotti from State Flower is set to change the strain game in 2021. Powerful and aromatic with a flavor
profile that falls across the earthy/fruity spectrum, Garlotti has strong genetics offering a heavy sense of relaxation. Its origins are Chem D crossed with Gelatti and then Grape Mac.
"This new strain, including the rest of the new lineup, has been in the works for about a year, but we think these genetics are perfect for these trying times," says Hailey Stone, marketing coordinator at The Apothecarium. "Besides its delicious, garlicky flavor, it's one of the heavier indicas that we've had recently. This strain is just the beginning of our newest lineup. Make sure to try them all out as they start to hit the shelves."
When smoked, consumers will benefit from a mix of terpenes that include limonene, beta caryophyllene and beta myrcene, and a bevy of cannabinoids including THCa, Delta9 THC, CBGa, and CBCa. With properties that relieve nausea, chronic pain, and stress, expect Garlotti to deliver cerebral euphoria with pops of creativity and bliss that takes over the body with a calming effect. A great thing to look forward to this year.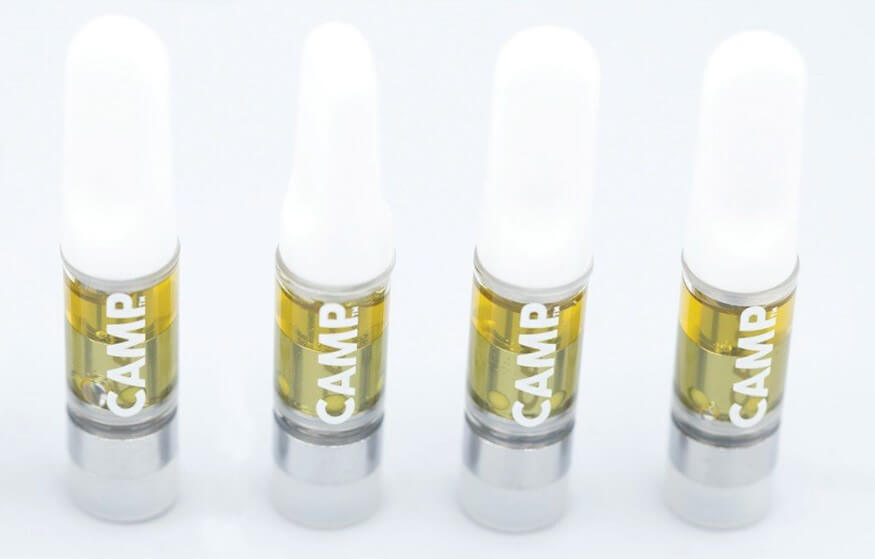 CAMP Live Rosin Cartridge
CAMP's Live Rosin cartridge will set a new standard in 2021—one that preserves flavor and creates a product that is healthful and consumer friendly. It is solventless, which Matthew Janz, director of THC marketing for The+Source | Nevada Organic Remedies, says he sees as the future of cannabis extracts. "Sometimes concentrates extracted with solvents cause a slight burning sensation in the back of your throat when exhaling. CAMP's live rosin cartridges provide a smooth, flavorful hit with no afterburn. Most cartridges require multiple hits to get the desired experience, and our live rosin cartridges typically only need two or three hits to achieve the same result."
Each live rosin cartridge from CAMP has a terpene profile between 40 to 90mgs extracted directly from the rosin in a process called mechanical separation. "Solventless extraction methods have existed long before light hydrocarbon and CO2 extractions gained popularity. Extracting with only water, ice and pressure gives the consumer a full-spectrum, true terpene experience as it preserves some of the lower boiling point terpenes and cannabinoids from vaping away during extraction," Janz says, noting that CAMP's Rainbow OG Live Rosin cartridge has 12.13mg of b-myrcene and 14.69mg of b-caryophyllene. Because the extraction is performed at low temps, terpenes and cannabinoids are preserved and the vapes are high in THC-A, which is the precursor to THC. Janz notes there is anecdotal evidence supporting anti-inflammatory, neuroprotective, and antiemetic properties from THC-A.
Moreover, CAMP is focused on consumer safety in response to the Vitamin E acetate vape crisis. "We feel that we offer a safer way to consume cannabis extracts and that's something top of mind for everyone during this global pandemic. We're proud to be Nevada's first solventless cartridge," he says.
If you are wondering if this product is right for you, Janz says, "This product was developed for the person on the go; for the couple on a date night; for the entrepreneur who needs a pick-me-up before the final work deadline, or for the connoisseur seeking a convenient hash experience. This product was created for everyone."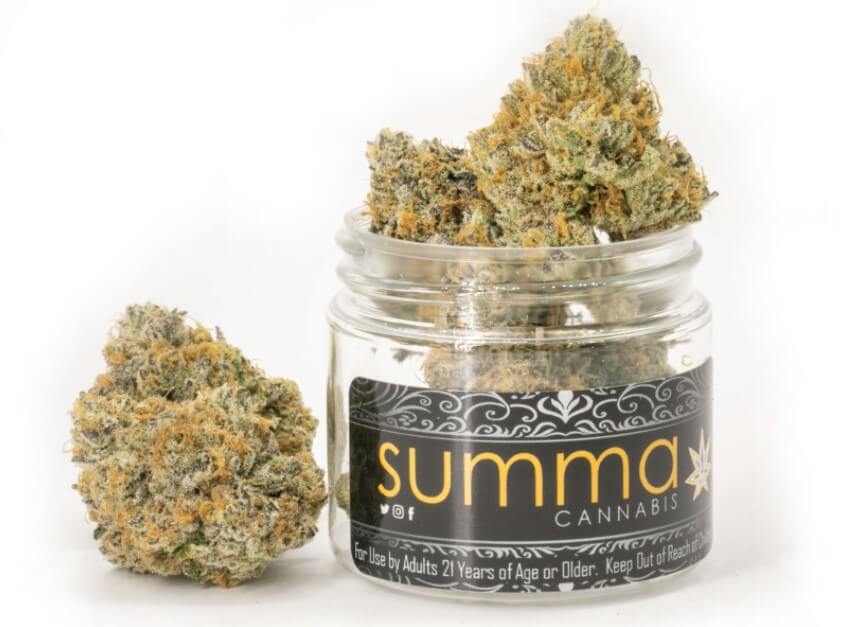 Summa Cannabis strains: Mother's Milk and Wedding Cake
Mother's Milk is the highest testing strain as far as terpene content that Summa has ever produced which makes it a 2021 gamechanger. And along with the incredibly rich peppery flavor of the wedding cake strain, these products are a double header win-win for the new year.
Mother's Milk is a strong hybrid with natural hints of earth and stone fruit. Its origins are Nepali OG and Appalachia. Smoking this flower gives the body a complete high with tingles and dreamy mental vibes. With the aroma reminiscent of condensed milk's sweetness, this is the ideal strain for a restful night of sleep and for combating pain and depression.
On the other side of the spectrum Wedding Cake is a high that lifts you up like a sweet dessert during a happy celebration. Its origins are Cherry Pie and Girl Scout Cookies. Because it's high in THC, users will feel euphoria from this indica-dominant hybrid and should expect relaxing effects.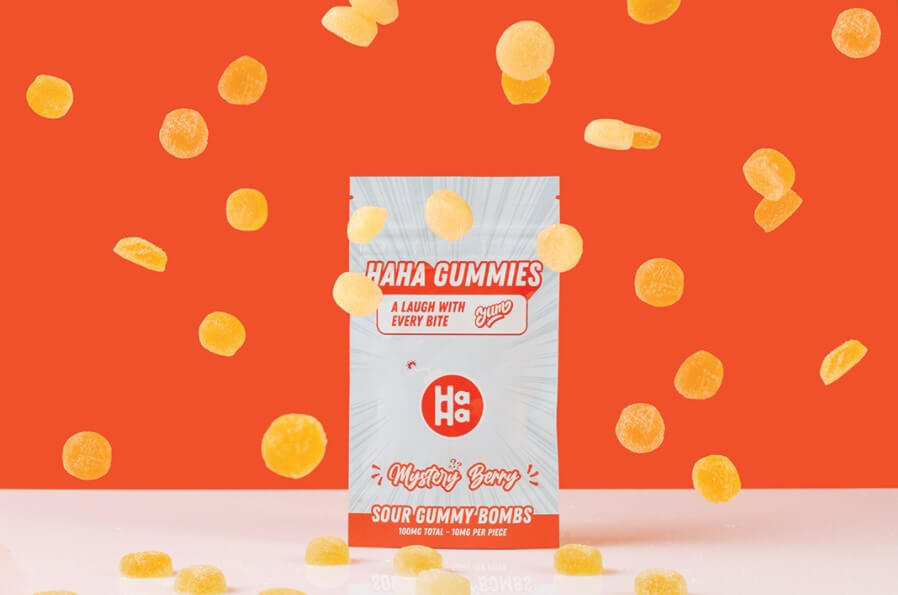 HaHa Sour Gummy Bombs from Planet 13
Looking for a different kind of edible to switch up your dosing routine in 2021? Look no further than HaHa Gummies' Sour Gummy Bombs, an infused treat occupying multiple spots on Nevada's list of Best-Selling Cannabis Edibles. Recently introduced, flavors include Blueberry, Mystery Berry, and a 1:1 ratio THC:CBD Grapefruit.
"The most innovative aspect of this product line is the 1:1 ratio THC:CBD Grapefruit Sour Bombs. These are a phenomenal option if you ever experience any aches, pains, or anxiety," says Planet 13's Zach Brengman. "The added CBD makes them more calming and relaxing. They are also a wonderful recipe for a great night of sleep."
Produced for both new and experienced users, each HaHa Gummy is 10mg, which is typically a perfect single dose for a beginner. Eat one gummy, wait about 2 hours, and enjoy a giggly high. For more experienced users, eat 3 or 4 to reach the desired effect.
As the name suggests, these edibles make you laugh. "Due to the pandemic, people are stressed, anxious and quarantined so the HaHa Sour Bombs are a nice pick-me-up in this time of need. A gummy that can literally put a smile on your face," he says.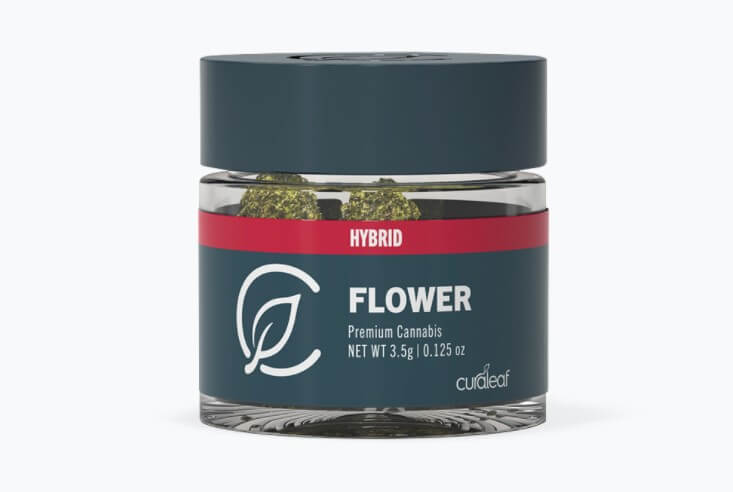 Curaleaf Mountain Glue
Flower is an artform that Curaleaf takes very seriously. "Curaleaf flower is the cornerstone of our business," says Kristen Everhart, regional marketing director at Curaleaf. "It is the base ingredient in each of our products, and our teams work tirelessly in the pursuit of standardized cultivation practices that produce the best cannabis plants possible. When choosing strains, potential candidates are put through a one-year evaluation program from seed to production to test traits like cannabinoid and terpene production, reproducibility, and genetic stability."
Everhart says that approximately 80% of Curaleaf's flower is grown indoors using LED lighting, and the remaining 20% is sungrown in state-of-the-art greenhouses. "This approach has resulted in our ability to consistently offer quality and reliability to our consumers."
One of the strains Curaleaf has crafted is Mountain Glue, positioned to those who want to settle in for the night with a movie and just relax. It is a hybrid with incredible potency so expect a sense of calm, but it won't make you immobile. Mountain Glue is known to increase appetite so make sure and have plenty of popcorn ready.
"The Mountain Glue cannabis strain is lime green in color, sometimes having slight shades of deep purple within its ovular buds. Both its scent and taste are distinctly pine and earthen," Everhart says, noting its primary terpenes are caryophyllene, limonene and myrcene.