Deborah L. Costella
Jan 01 2019 . 12 min read
It was always the same at the close of every holiday season. All the women of the family gathered together to prepare a broad assortment of sweet and savory tamales. As each girl grew, so did her responsibilities at the tamale table. The youngest would begin by spreading masa, a corn flour dough, onto the textured sides of dampened corn husks. A few years later came the responsibility of tying strands of husks to the ends of each tamale. Maturity led to assisting in the preparation of fillings and sauces. Once grown, the girls were allowed to participate in overseeing the towers of steamer baskets piled high on all six burners of her mother's stove.
The day prior to this year's tamale festivities, Luz ran to check the duties roster. Her heart sank upon seeing her name on the list of "spreaders." Luz was certain she was old enough to handle the task of tying and securing. Over family dinner that evening she bravely expressed her feelings to her mother. This only led to an admonishment she didn't understand nor agree with.
So, the following day Luz's attitude was less than festive due to hurt feelings and embarrassment at the scolding she'd received in front of her extended family. But it was New Year's Day; tamale-making day, so she kept her feelings to herself and dutifully spread masa. Listening intently to the women discuss their new year resolutions as they frittered about the kitchen, Luz was struck by how many were behaviors she thought adults should already have under control.
For example, Tia Laura announced her intention to kick her nasty smoking habit (again). Abuelita Rose stated she could no longer stand looking at herself in the mirror. When had she become "fat and 40?" This year she was really going to stick to her diet. Luz quietly chuckled at this announcement, she was sure Abuelita was actually fat and 50. Cousin Annette's intention was to find her soulmate. After three failed marriages that special connection continued to elude her.
Uncle Sergio popped his head into the kitchen to say he was giving up smoking weed. Uncle O, the self-proclaimed taste tester, simultaneously helped himself to a spoonful of bean and cheese filling while stating he was going to take up smoking weed. This he hoped would remedy the constant anxiety and O.C.D. that had plagued him since his teen years. Upon hearing this, Uncle Sergio leaned back into the kitchen amending his resolution, saying what he really meant was he was going to give up smoking weed but would find a method to still partake of cannabis in another form. "Edibles," whispered Uncle O. Even Luz's favorite auntie (Titi) jumped on the self-improvement train by making a resolution to keep her room clean, every day.
Keeping it to herself, Luz made a resolution to "be a more caring and responsible person" as suggested during dinner the night before. Frankly, she was still confused by her mother's comment as she had always been told by her teachers that they considered her a model student. They beamed at Luz, whenever her homework was turned in, consistently on time. They ooh'd and ahh'd at her immaculate desk. She was regularly asked to assist other students whenever they struggled with an assignment. These acclamations were in direct contrast to her mother's assessment.
After seeing the scolding her niece took the previous evening, Titi was struck with an idea. Perhaps a pet would remedy her elder sister's perceived selfishness of her only daughter. One that was small and low maintenance enough, Luz wouldn't get into more trouble with her mother when she brought it home.
The following morning, Luz mindlessly hummed the tune "Where Have All the Flowers Gone," unaware of its meaning and tribute to American youth and wartime. She busied herself adhering oversized flower stickers to the outside of a school notebook while waiting for Titi to finish getting ready. Over a breakfast of cremita topped with blackberry compote they'd decided to take a walk to the Five 'N Dime. Their goal: purchase a small pet for Luz to care for. By noon Luz and Titi had made their way around the corner and were pushing open a door coated with sticky snow-like spray depicting a Brady Bunch-sized family of snowmen. The tinkling of a bell sounded its welcoming chime as Luz and her auntie entered. They were thrilled to see they had the entire store to themselves. They excitedly entered the well-stocked market bulging with hardware supplies, art materials, housewares, and a smattering of pets against the back wall. The heavily bearded store owner clapped his hands in glee at the sight of his only customers for the day thus far.
Walking up and down every aisle on their way towards the small menagerie, the girls still had not decided what kind of pet they would purchase. The store proprietor allowed the girls to meander and take their time. They stopped to hold every kitten, inhale the scent of every puppy and tickle every lizard. There was even an old, graying tarantula, who had been petted and rubbed so often over the years, he sported a finger-sized bald spot on his back.
The merchant asked how the girls were enjoying the holidays and what gifts they'd received for Christmas. He became curious why they were purchasing a pet after such a prosperous holiday. Luz explained she had made her own resolution to be a better person by taking caring of something that couldn't take care of itself. Though they were already two days into the new year she was going to prove she was neither irresponsible or selfish. The clerk considered this an unusual proclamation for someone so young.
He asked Luz if she knew the history of new year's resolutions. Luz shook her head. Looking at her auntie, she was already shaking her head while lifting her shoulders. Extending his hand, the shopkeeper told the girls his name was Falam and if they had some time, this was a story that needed to be told.
Falam began explaining over 4,000 years ago, the ancient Babylonians were the first to engage in the practice of making promises or resolutions. These were made to their Gods at the start of each new calendar year and were rather generic and common: Return all things borrowed from others and pay all debts. The Babylonians were also the first civilization to record their new year celebrations, which took place in the month of March.
The blank look on the girls' faces indicated neither knew of this civilization. Falam asked if they'd heard of the ancient Romans. They had; the girls were of Mexican and Italian descent. Uncle Sergio always referred to himself as Roman rather than Italian. Falam decided that might be a better place to begin.
He continued as each girl settled herself on one of the many scattered crates with a soft, cuddly kitten in her arms. "It was Julius Caesar," Falam boomed, "considered the reform-minded emperor of the Roman Empire, who altered the then used calendar. He established January 1st as the official beginning of the new year instead of March. Romans began each year by making promises to the God Janus, for whom the month January is named. Janus was a two-faced God, whose spirit inhabited doorways and arches. The Romans believed that this positioning was symbolic of Janus' ability to look backwards into the previous year, while simultaneously looking forward into the future. Roman resolutions were promises of improved conduct for the upcoming year. Much like today's resolutions of considering our past mistakes and resolving to do better." Falam stood smiling satisfactorily, his arms folded over his protruding belly.
This made perfect sense to Luz. Inspired, she decided after choosing a pet, there was an even better resolution for her to act upon. Though Luz had been regaled to the baby-task of spreading masa yesterday, she was actually quite capable in the kitchen, thanks to the tutelage of Abuelita Rose and Uncle Sergio. Luz resolved her love of cooking could be the remedy to her being perceived as less irresponsible and selfish.
With only one dollar to spend, the options of what kind of pet to purchase was limited. The merchant said they had enough to purchase one mouse, one turtle or one goldfish. A mouse was definitely out of the question. Luz had a turtle once, but it managed to climb out of its shallow container likely in search of water, since she often forgot to give him any. Weeks later the fossilized turtle was found in a corner of her parents' bathroom. That left only a fish. The girls made their purchase as the store owner placed the water-filled plastic bag into a larger brown bag. Expressions of thanks were made and the girls headed home.
Titi found a large glass bowl, placed some colorful rocks on the bottom then filled it with water. As the girls carefully poured the fish into his new home, low and behold there were three fish in the bag. The kindly merchant had given them two extra fish! "What are you going to name them?" Titi asked. In light of the story Luz had been told, she planned to name the one fish, Janus. But now there were three... she thought and thought. "How about Peter, Paul and Mary?" suggested Titi. "They're the singers of that song you were humming this morning." So, Peter, Paul and Mary happily swam about their new home while Luz went in search of Abuelita Rose and Uncle Sergio.
Luz didn't have to explain the reasons behind her desire to do something kind for someone every day of the new year. What she did have to explain was how she was going to make food that served as medicine. Sergio understood and loved the idea; Luz's resolution could be the remedy for what ailed him, Uncle O, and others like them.
Using Spanish and his ring-covered hands, Uncle Sergio flamboyantly explained to Abuelita Rose what Luz was offering to do. The following day, after the visiting relatives left, Luz along with Abuelita Rose and Uncle Sergio entered the kitchen and began preparing tamales infused with cannabis. Luz's first and original edible. Best of all, Luz was allowed to handle every task at the tamale table.
COSMIC MUFFIN'S STAR-TRAIL TAMALES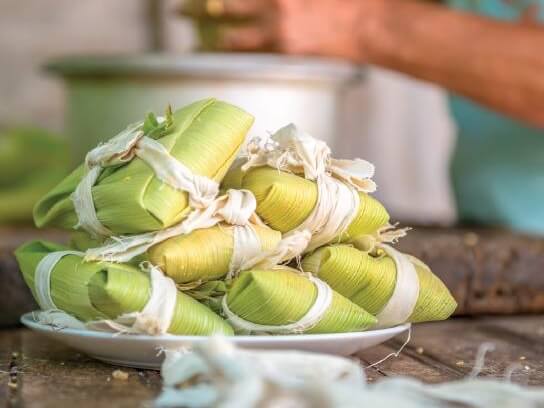 Ingredients for Masa
3 cups masa harina flour
¾ tsp salt
1 Tbsp baking powder
½ cup lard infused + ½ cup infused unsalted butter, room temperature
1 ½ cups infused chicken or vegetable broth
1 bag corn husks, soaked in cold water
zest of 1 lime
Directions for Masa
In large mixing bowl combine masa harina, salt, zest, and baking powder. Set aside. In bowl of standup mixer, whip together lard and butter until light and fluffy. Reduce speed, slowly adding dry ingredients 1 cup at a time, alternating with broth. Beat well, increasing speed until masa becomes a soft, pliable dough.
Test dough by dropping ½ tsp of dough into cup of cold water. If masa floats, it's ready – if it sinks, continue whipping for another minute.
Ingredients for Chicken/Bean/Cheese Filling
½ bunch scallions, sliced
2 14-oz cans fire-roasted canned tomatoes
2 15-oz cans pinto beans, drained and rinsed
1 Tbsp dried Mexican oregano
1 tsp chile powder
1 tsp dried cumin seed
¾ lb. cheddar/jack cheese blend, shredded
½ whole roasted chicken, shredded
salt & pepper to taste
Directions for Filling
In large mixing bowl, combine all ingredients. Season to taste with salt and pepper. Set aside.
Ingredients for Sweet Guajillo Sauce
6 dried guajillo chiles, soaked in hot water
4 Tbsp infused olive oil, divided
2 tsp cumin seeds
1 tsp coriander seeds
1 Spanish onion, diced small
4 cloves garlic, minced
1 14-oz can fire roasted tomatoes, drained
1 cup chicken infused broth
2 Tbsp packed brown sugar
1 cup dried cranberry or cherries, rehydrated in broth
salt & pepper to taste
Directions for Sauce
In a medium skillet, heat 2 Tbsp of olive oil over medium heat until shimmery. Stir in onion, cooking until fragrant. Stir in garlic. Add cumin, coriander seeds and soaked guajillo chiles (torn into bite-sized pieces). Add some of the soaking liquid from chiles to thin mixture a little. Add tomatoes, sugar and dried fruit. Season to taste with salt and pepper.
Assemble and Cook Tamales
Begin by spreading about 2-3 Tbsp of masa onto rougher side of soaked husk. Spoon a heaping amount of filling on top of masa. Fold in one side of the husk then the other side bringing to a close. Fold up bottom (narrow) end of husk up and using either kitchen twine or a strand of husk, tie tamale in middle to hold closed. You may prefer to tie both top and bottom end of the tamale closed. Steam in steamer baskets set in a large skillet or wok of simmering water, seam side down. If keeping one end of tamales open, then steam in a large pasta pot, set upright, open end towards top.
Steam for about 45 minutes or until masa dough is firm when checked. Pressure cookers can steam tamales in about 20 minutes. While waiting for tamales to steam, make a resolution that pertains to bettering your health and well-being in 2019.