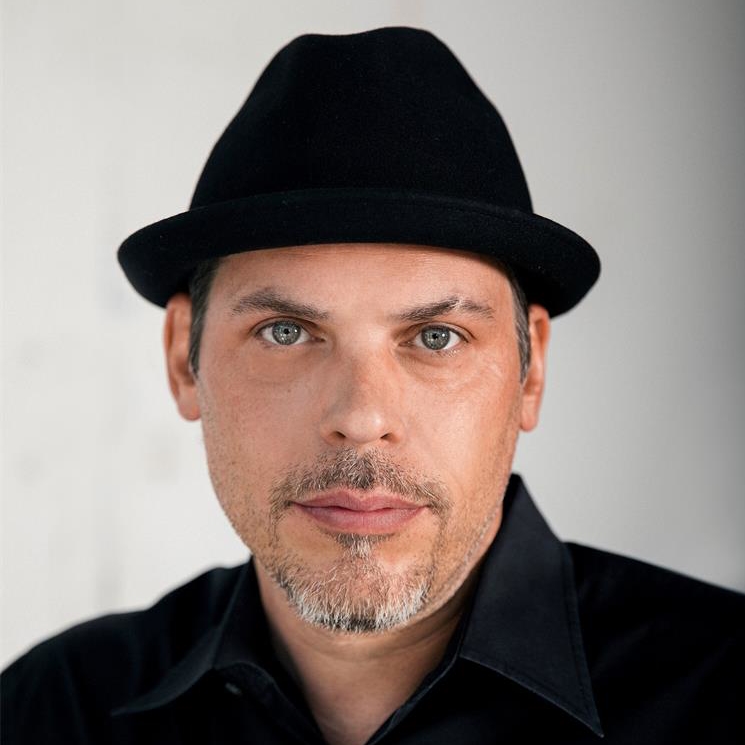 Justin Alexander
Dec 03 2020 . 14 min read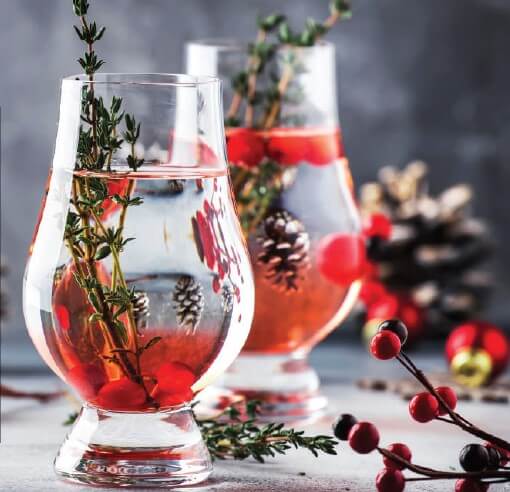 If you are looking for an alternative to wine, beer or liquor and want to get as jolly as the man in the red suit, tetrahydrocannabinol (THC) is well known for imparting that merry feeling—making it a perfect replacement when celebrating this holiday season. THCV (tetrahydrocannabivarin) is another cannabinoid that will give you that 'it's the most wonderful time of the year' jovial vibe.
For making true holiday magic, consider going a step further and adding terpenes to the mix. Not only for their flavor, but also for their mood elevating benefits. Kristen Everhart, regional marketing director at Curaleaf, recommends looking for strains high in limonene and terpinolene that give an extra terpene boost perfect for socializing. "Limonene, as evidenced by its name, is very aromatic and commonly associated with citrusy scents and flavors. It's a prominent terpene in strains such as Wedding Cake, Do-Si-Dos and Strawberry Banana," explains Everhart. "Terpinolene is a more floral terpene and is found in things like lilacs, nutmeg and cumin and is believed to have more uplifting effects."
If you are planning a chill holiday date night, Everhart suggests sticking with "myrcene and pinene—both are known for the calming effect. Myrcene can be found in mangos, thyme, and lemongrass. Pinene is more of a "woodsy" terpene found in pine needles, rosemary, and basil." While they taste great, Everhart advises not to underestimate these little marvels for benefits that include getting you in the spirit. Limonene is known to elevate mood and bring stress relief while many myrcene strains are known for producing joyful and euphoric effects in addition to an overall feeling of relaxation. Terpinolene may induce minor drowsiness with its sedative properties which may, in turn, reduce anxiety as the body and mind simultaneously calm.
Lastly, don't overlook that when consuming cannabinoids and terpenes there's no next-day hangover to contend with. In fact, should you go the traditional route and overindulge in wine or spirits, CBD's (cannabidiol) anti-inflammatory powers make it the first thing you should reach for when you wake up with a headache after a long night of decking the halls.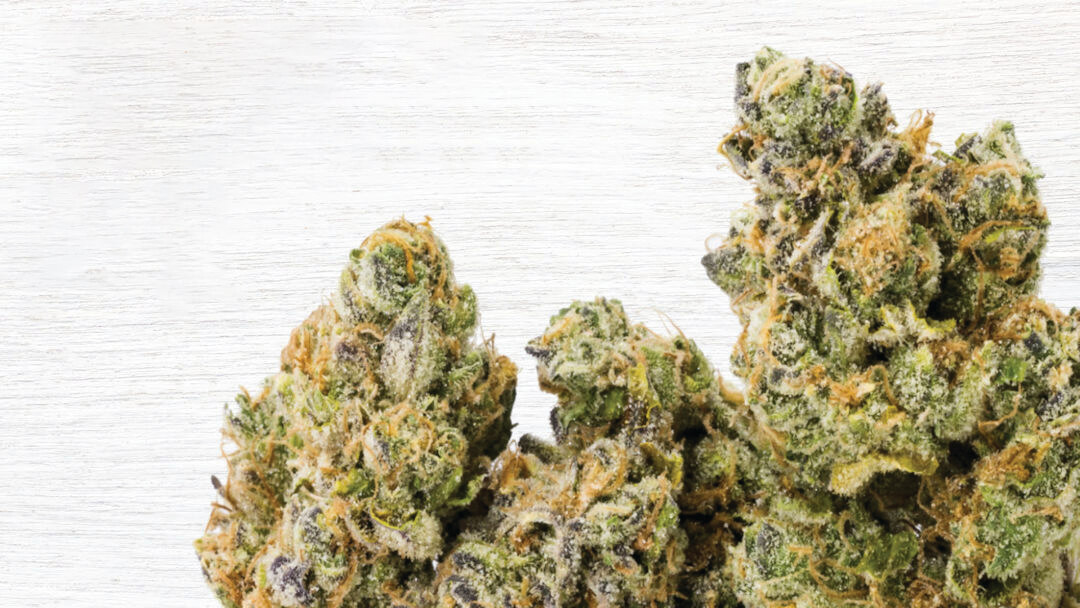 Summa Cannabis' Cherry Cream Pie strain
Why cocktail when you can cannatail? If you decide to forgo alcohol this holiday season, there are a multitude of cannabis products to engage and enliven the senses in a whole new way. "Alcohol tends to be consumed more heavily during the holiday season. Instead of continuing the stigma of cannabis being a 'gateway drug,' cannabis can provide an alternative to the repetitive hangovers that alcohol consumption brings. Plus, all the great holiday food will taste even more magical on cannabis versus your tastebuds being blunted by the alcohol consumption, and your digestion tract fermenting the food you consume," says Panna Extracts' Rob Wright, who recommends neophyte cannabis consumers give Summa's Cherry Cream Pie strain a try. If you enjoy a cocktail that's more on the sweet side, than this cross of Cookies & Cream and Cherry Pie with b-myrcene, limonene, and b-caryophyllene as its power-packing cannatailing properties is the cherry bomb you've been looking for.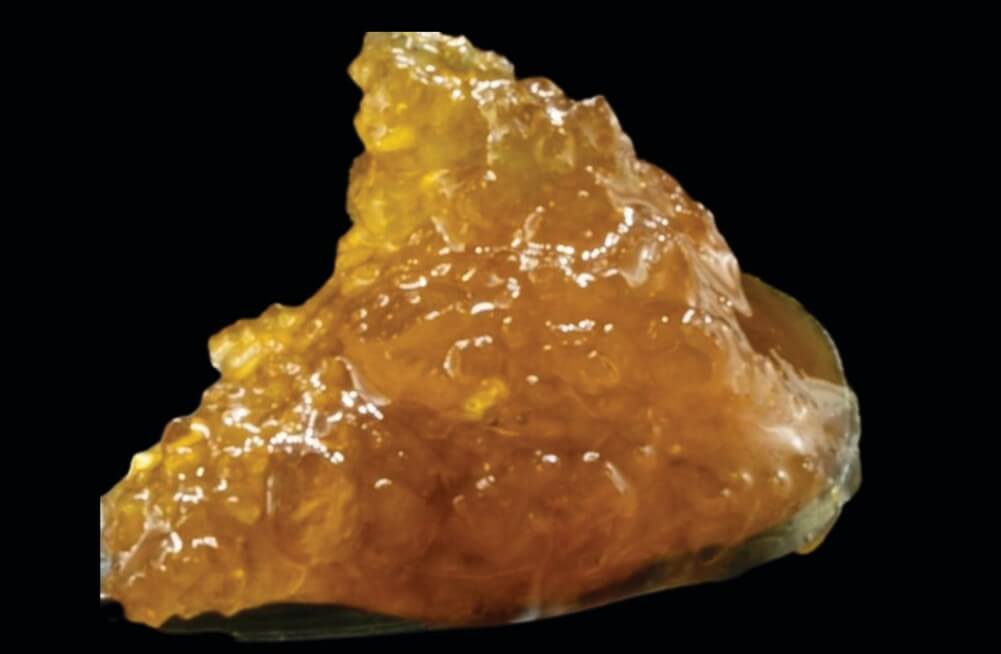 Panna Extracts' Fruit Berry Punch cured sauce
For the cannasseur who wants to try a new cannatail this holiday season, Rob Wright recommends Panna's Fruit Berry Punch cured sauce, a predominantly indica hybrid with a uniquely fruity flavor reminiscent of sugary beverages you may have enjoyed when you were young. Fruit Berry Punch is citrusy and earthy with hints of a candy taste, coupled with other sweet fruit berries, leaving you mildly energetic and sedate while at the same time providing a euphoric and uplifting experience which is fantastic for being able to focus on the moment with all your loved ones.
"This is an excellent product for any consumer, although this product needs to be dabbed," says Wright of Panna's Fruit Berry Punch. "The goal was to create a great concentrate geared towards the fall and winter season. With the days being shorter and the weather getting colder, this concentrate will get you in the mood to mingle and relax while staying bundled up in a cozy house with a fireplace, or a hot bar with a lively scene."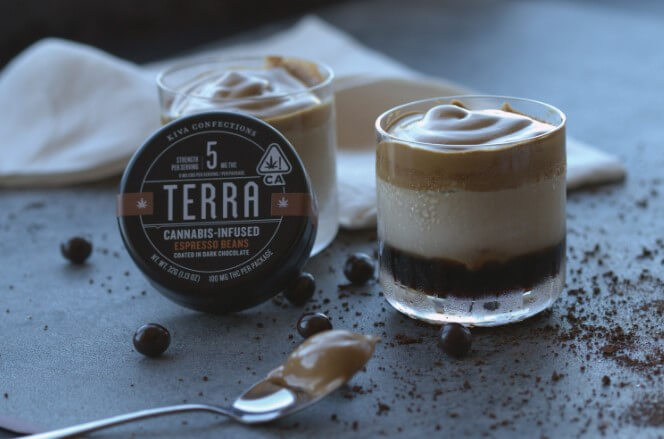 Kiva Confections' Terra Cannabis-Infused Espresso Beans
If you've never tried an edible, popping a bean is the perfect way to transition from day to night or from the real world to family time. Kiva Confections takes the edge off the day and calms the nerves, allowing you to relax and think clearly.
All Kiva chocolates use hybrid cannabis for a balance of sativa and indica effects. "Cannabis' relaxing effects are incredibly useful for anyone dealing with stress and anxiety, which the holidays usually bring in abundance," says Christie Strong, marketing communications manager for Kiva Confections. "Cannabis offers a healthier alternative to alcohol for numerous reasons. First, cannabis is non-toxic, even in large amounts, which makes it one of the safest substances on the planet. Binge-drinking can be fatal within minutes, while it is impossible to die from an overdose of cannabis. The short and long-term health effects of cannabis also don't even come near to the detrimental effects of alcohol."
Offering a shareable format that makes them the perfect stocking stuffer or holiday treat, Kiva's Terra Bites come in two flavors, Blueberry Milk Chocolate and Espresso Bean Dark Chocolate. "Terra Bites are handmade in a traditional process called panning, considered an art in the confections world as it takes years to master. From start to finish, just one Terra Bite takes 10-plus hours to create," Strong says, adding that Terra is made of sustainably sourced cacao infused with cold water hash for a richer, fuller cannabis experience. "This product is perfect for the novice edible user who is interested in controlling their cannabis experience with precision. Because each Terra contains 5mg THC or less, the experience will be subtle. That being said, connoisseurs love Terra—these portable, shareable bites make it easy to dial in their desired dosage and experience." (check out Kiva's White Russian cannatail on pg. 23)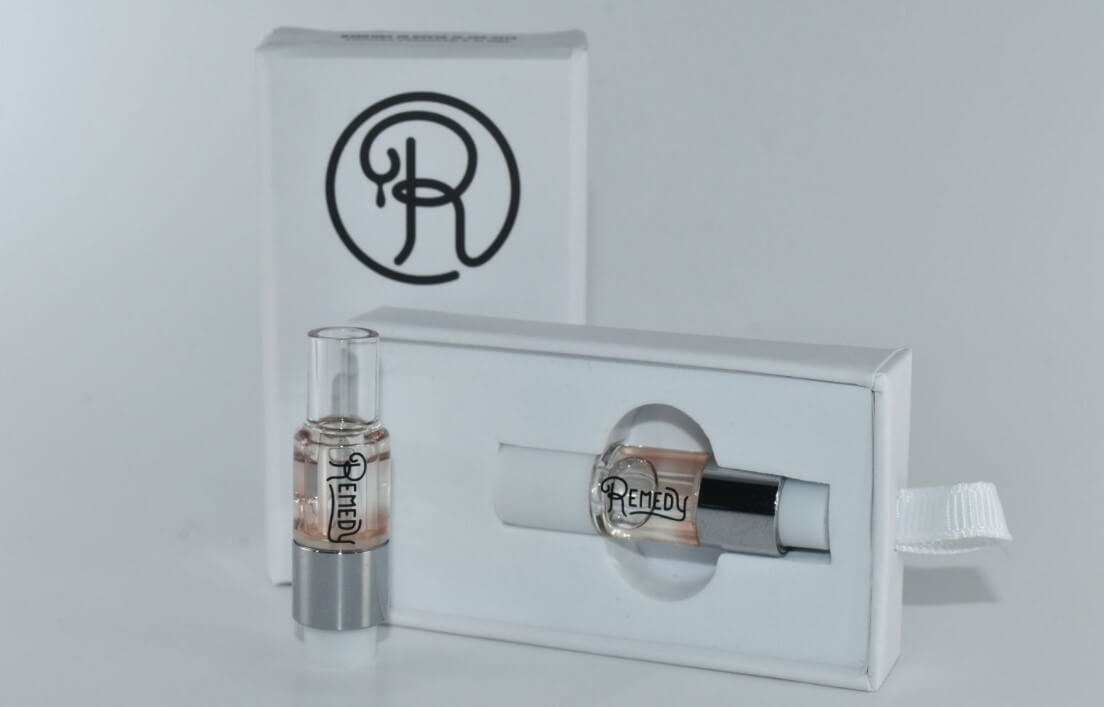 Remedy's Mimosa vape cartridge
Instead of reaching for a mimosa at your next holiday brunch, try Remedy's Mimosa vape cartridge. This decision will result in less regret then an afternoon of day-drinking with tons of flavor and more satisfying potency. "When you choose to bring your cannabis vape with you to a holiday event, you're choosing to skip high calorie, hangover-inducing beverages. Vapes are discreet, convenient in size and easy to use," says Remedy Brand Manager Justin Van Dyck.
Additionally, the Mimosa vape makes for a great holiday happy hour alternative because it is THC rich—the cartridge boasts 92 percent THC and has high levels of terpenes including limonene, caryophyllene and pinene. It also has a distinct citrus flavor thanks to limonene.
"Limonene has stress-relieving and mood-boosting qualities so even when your family starts to talk politics at the dinner table, you'll be feeling relaxed and full of holiday cheer," he says. "Limonene can also increase the absorption of other terpenes, like caryophyllene and pinene, also found in this vape cartridge. Caryophyllene is special because it's the only terpene that is also a cannabinoid, which results in caryophyllene having anti-inflammatory properties. Pinene provides both anxiety relief and pain relief so even if you party a little too hard our Mimosa vape will be there to help you recover."
Remedy's Mimosa strain is a cross between Clementine x Purple Punch and is positioned to the experienced user. "Void of any unnecessary chemicals or additives, our vape oil is one of the purest of its kind, so experienced users know exactly what they're getting out of our cartridge," Van Dyck says. "Because of our purifying process with resulting high potency, our vapes are more ideal for the connoisseur rather than someone unfamiliar with THC effects."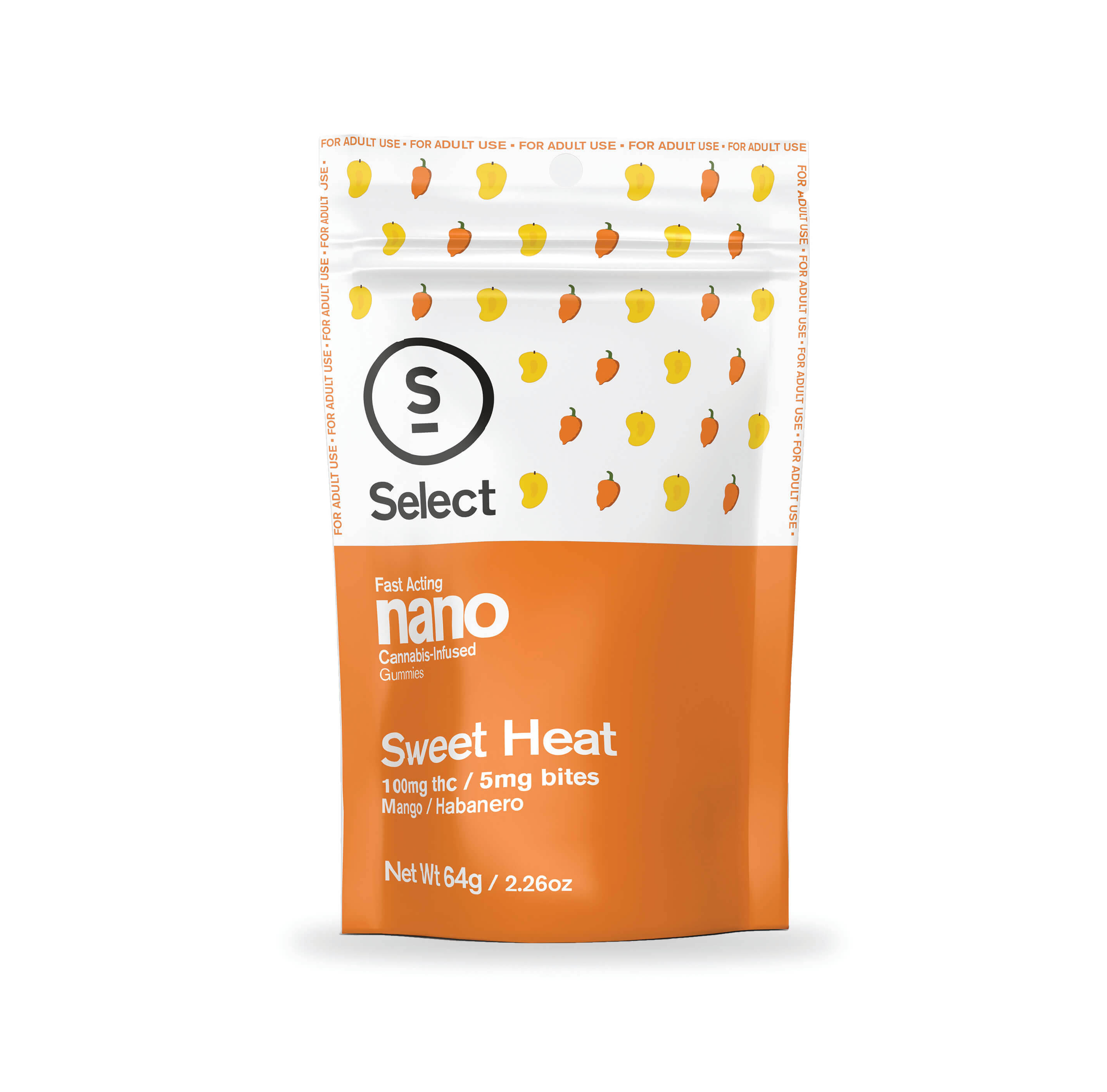 Select Nano Gummies
Small and delicious isn't often used to describe holiday meals—heaping and rich is usually more accurate of a description—but thanks to Curaleaf's Select product line, bite-size euphoria is readily available no matter the occasion. Made with high-quality broad-spectrum distillate, Select's Nano Gummies are not only bite-sized allowing for a discreet and easy-to-dose way to consume cannabis, but they are also fast-acting and use nano-emulsion technology. "They have a quicker onset time of 15 to 45 minutes with full effects in one hour, as opposed to traditional edibles which have an onset time of 45 to 90 minutes, and can take up to two hours for full effects," says Kristen Everhart, regional marketing director at Curaleaf. Nano is a great choice for patients and consumers looking for the effects of vaping or smoking (faster onset and lighter offset) in an edible format, or for those who simply prefer an alternative consumption method to smoking or vaping. "Some customers have said that the effect is similar to flower and a good choice when flower isn't an option," she says.
Nanoemulsion-based cannabis edibles are made by creating tiny water-soluble molecules from cannabis oil, which allows compounds like THC to be more rapidly and efficiently absorbed into the bloodstream. "This technology has been used for many years in other industries such as pharmaceuticals and cosmetics. When applied to cannabis edibles, nano technology allows the body to experience the full effect of the oil inside, ensuring you get the most out of each milligram," Everhart says. "THC in a traditional edible will create a different effect than in a Select Nano Gummy. When processed through the liver, THC is metabolized into a new compound called 11-hydroxy-THC. This produces an experience that is commonly reported as more psychoactive when compared to Delta 9-THC, the compound produced when vaping or smoking cannabis flower. By bypassing the liver, nano edibles provide that same Delta 9-THC to create an effect that is said to be closer to vaping or smoking."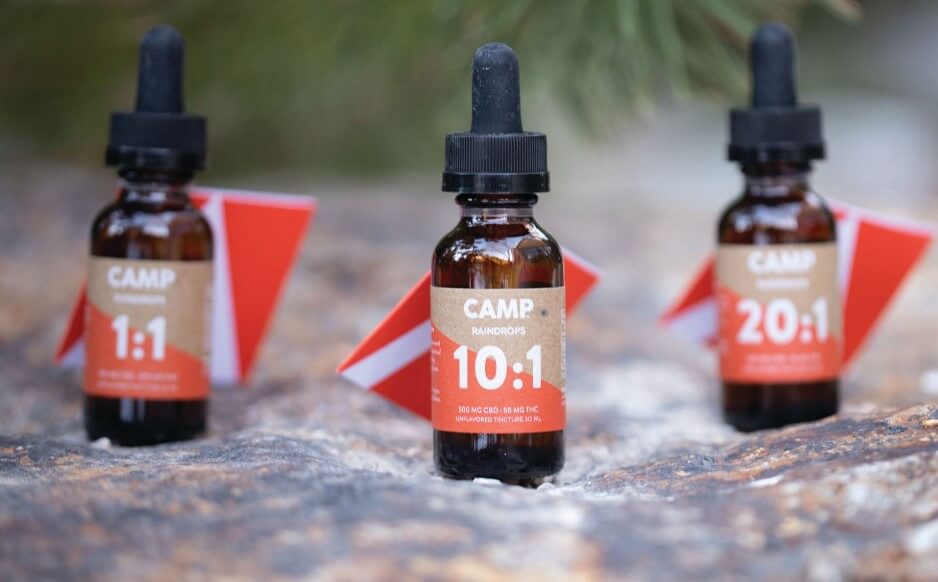 CAMP 10:1 Raindrops
CAMP 10:1 ratio Raindrops (500 mg CBD:50 mg THC) tincture is a great supplement to that after work beer or glass of wine because when slipped under the tongue it evens out a day of stress before you can even download the action to your partner or bestie. Raindrops allow consumers to marvel in the magic of CBD while retaining a strong sense of functionality, calmer effects and to explore micro-dosing. And because of the light THC dosage, many are passing on booze. When combined, THC and CBD become a tremendous powerhouse of relief, wellness, and holiday enhancement.
"Cannabis is a wellness product; it may provide a litany of therapeutic benefits from mood enhancement, to pain relief, and all the way to combating insomnia," says CAMP's Matt Janz. "Alcohol on the other hand is a central nervous system depressant; while it may cause impairment leading to temporary enjoyment, there are long-term health effects to consider—not to mention the not-so-fun hangover. Plus, you'll likely enjoy your holiday feasts with enhanced delight from cannabis over alcohol."
CAMP 10:1 Raindrops are for the novice and connoisseur alike. "The novice can benefit from the low dosing of THC, which allows for a milder effect and in tandem with the CBD provides strong therapeutic potential. Whereas the connoisseur can add this into their daily wellness regimen—sort of like the vitamins you keep in your cabinet. With the connoisseur's approach to daily wellness, they'd likely utilize this as a portion of functional daytime relief," says Janz.
Ego Brands' Mint Chocolate Bar
While there are many holiday traditions, a mint after dinner is perhaps one of the most classic—much like a digestif. Now Ego Brands brings that concept into the modern era with their mint chocolate bar and the results are sweet.
"On processing days, the mint scent can be smelled everywhere," says Jerry Velarde, president of Ego Brands. "One of our chefs is in love with the Andes chocolates you would find in a fine dining establishment."
Whether you are new to cannabis this holiday season or a connoisseur, the 10-piece, 100 mg chocolate bar holds just the right dose for all those who would rather use cannabis than cocktails. "Cannabis rarely has a stigma anymore and has a social experience like alcohol without causing long-term organ damage. Cannabis generally brings out a calming sense in consumers rather than an aggressive nature that tends to come with excess alcohol consumption," Velarde says of the holiday cannatailing trend. He suggests mixing one 10 mg square with hot chocolate or coffee for a classic holiday drink or giving it as a gift—for a treat that is reminiscent of candy canes and bon bons.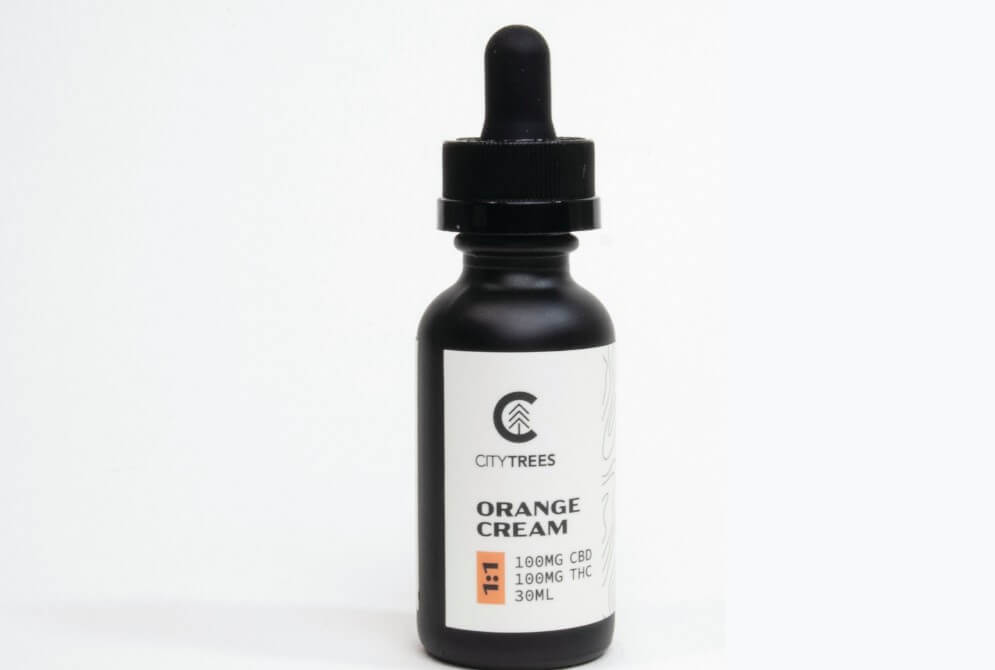 City Trees' Orange Cream 1:1 Tincture
As pleasing as any holiday dessert but with a fraction of the calories, City Trees' Orange Cream also has an equally pleasing ratio of delta9-THC and CBD. And the classic citrusy cream flavor is one that everyone loves—plus, it makes an amazing orange cream eggnog to get you in the holiday spirit.
Ideal for the cannabis beginner, the lower dosage per dropper will allow the user to ease into their cannabinoid experience and to the desired result/effect. The taste is sweet and light with a thick consistency, adding a new dimension to drinks and richness to foods.
"There are plenty of reasons to opt for cannabis over alcohol," says Dominick Monaco, City Trees director of laboratory operations. "Cannabis has a synergistic effect on the body owing to its interaction with the endocannabinoid CB1 and CB2 receptors, it doesn't cause the significant cognitive decline like that of alcohol, and it won't dehydrate you when you need all those fluids to help digest your delicious holiday meals."
"This product has equal ratios of delta9-THC and CBD so the end user can achieve equilibrium and easily micro-dose themselves to the appropriate amount of cannabinoids for a fully functional effect," Monaco says.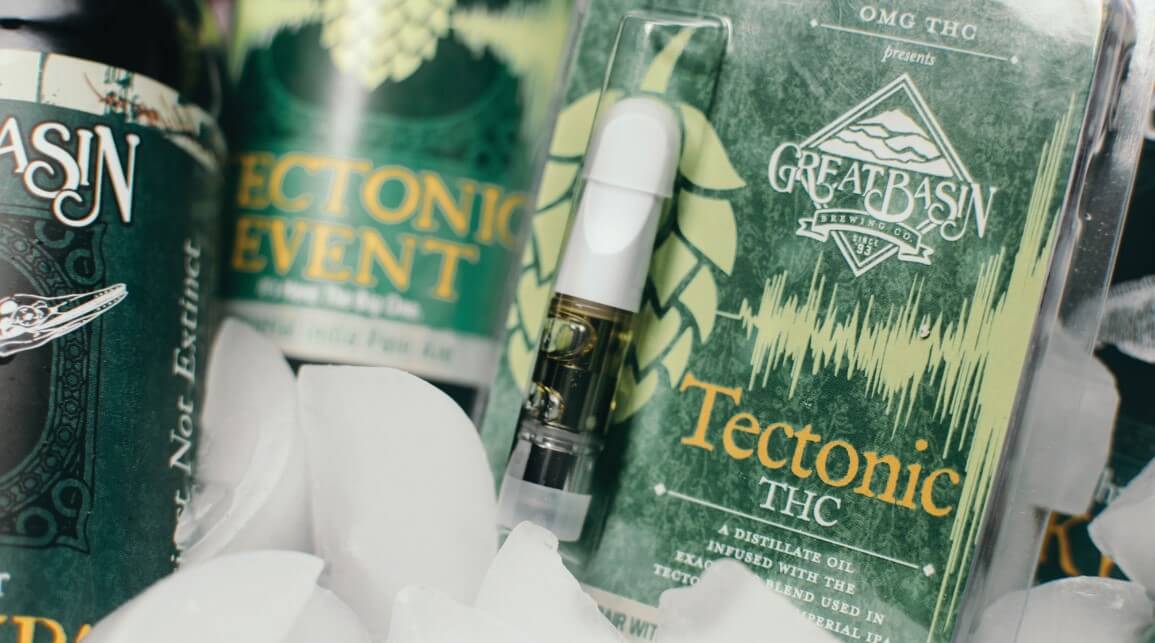 Great Basin Brewery "Icky" IPA and "Tectonic" IPA from OMG THC
Perhaps there is no better product for canna-tailing than a vape patterned after an IPA. This is the magical creation of OMG THC and Great Basin Brewery, Nevada's oldest craft brewery, who teamed up to create cannabis vapes that have the aroma and flavor of hops without the bitterness. "Hops are a cousin of cannabis," says OMG THC's Stephanie Magurno. "Hops have antibacterial properties and share some of the same terpenes as cannabis. Hops have a particular compound in them that increases the activity of a neurotransmitter called GABA, which means that hops have a calming effect."
As for the taste of the two Great Basin inspired strains, "Tectonic" is vibrant on the palate with tropical fruits and citrus flavors, while Ichthyosaur "ICKY" has earth, pine, grapefruit and citrus notes. The predominant terpenes in both products are myrcene, humulene and caryophyllene. The cartridges tend to have 85 to 92 percent THC in the oil. The vapes use cannabis distillate, which means any unique identifying characteristics or genetics of the cannabis has been removed. Through the extraction process the plant is turned into an oil that is composed only of cannabinoids.
"Consumers get the best of both worlds—the taste of beer with the effects of cannabis. Consumers have universally said the experience is relaxing without being couch locked and describe the product as 'very clean,'" Magurno says, adding that hops terpenes are extracted in the same proportions from the same varieties of hops used in Great Basin's Icky IPA and Tectonic Event Double IPA.
Another reason to turn to cannabis over cocktails this holiday season might be a question of economics. "In the case of a cannabis vape cartridge the consumer has anywhere from 50 to 150 hits—and a hit has the equivalent effect of drinking a beer or glass of wine—so even though the initial cash outlay can be greater than a six-pack or a bottle of wine, it goes further," Magurno says.
Dream 5:1 CBD/CBN tincture from Bloom Farms
Hitting a bottle of a different kind, Bloom Farms' Dream tincture is a great way to discreetly medicate when the frenetic madness of the holidays sets in. "Tinctures can be a nice way to incorporate cannabis or hemp products because you don't need to eat or drink a lot of anything to get the effects you're looking for," says the Apothecarium's Hailey Stone. "With tinctures you can just take a drop or two under your tongue or even add a few drops to a drink and make it infused."
The Apothecarium's Bloom Farms' Dream 1000 mg CBD/200 mg CBN tincture was specifically blended to help with deep relaxation and sleep for when you are ready to unwind. Appropriately named, Dream contains CBN (cannabinol), a newly discovered cannabinoid that's currently enjoying its moment in the spotlight, which is a potent sleep aid. Combined with organically grown, full-spectrum whole-plant hemp for boosted evening relaxation and sedative effects "this product can be helpful to anyone looking for deep relaxation without the intoxicating effects of THC," Stone says.