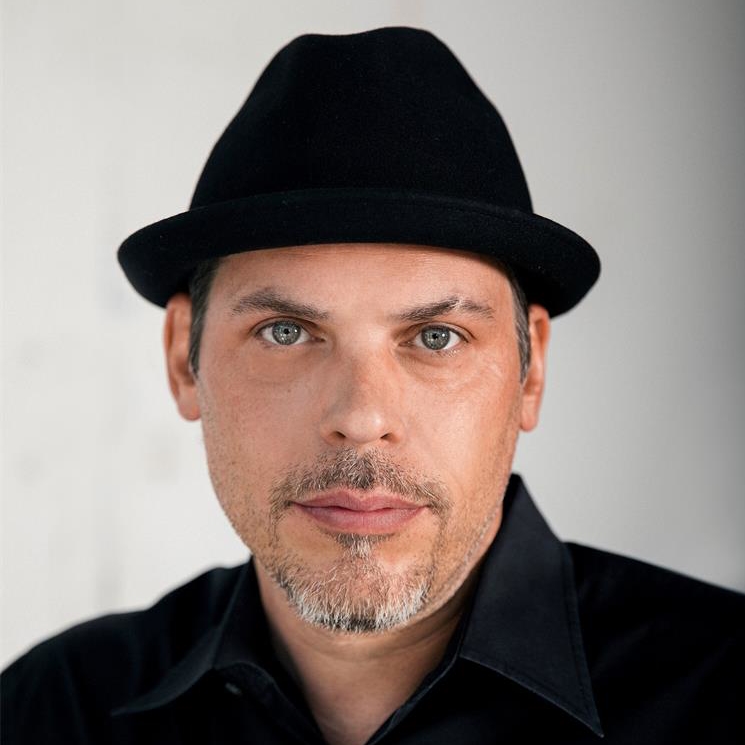 Justin Alexander
Aug 19 2021 . 10 min read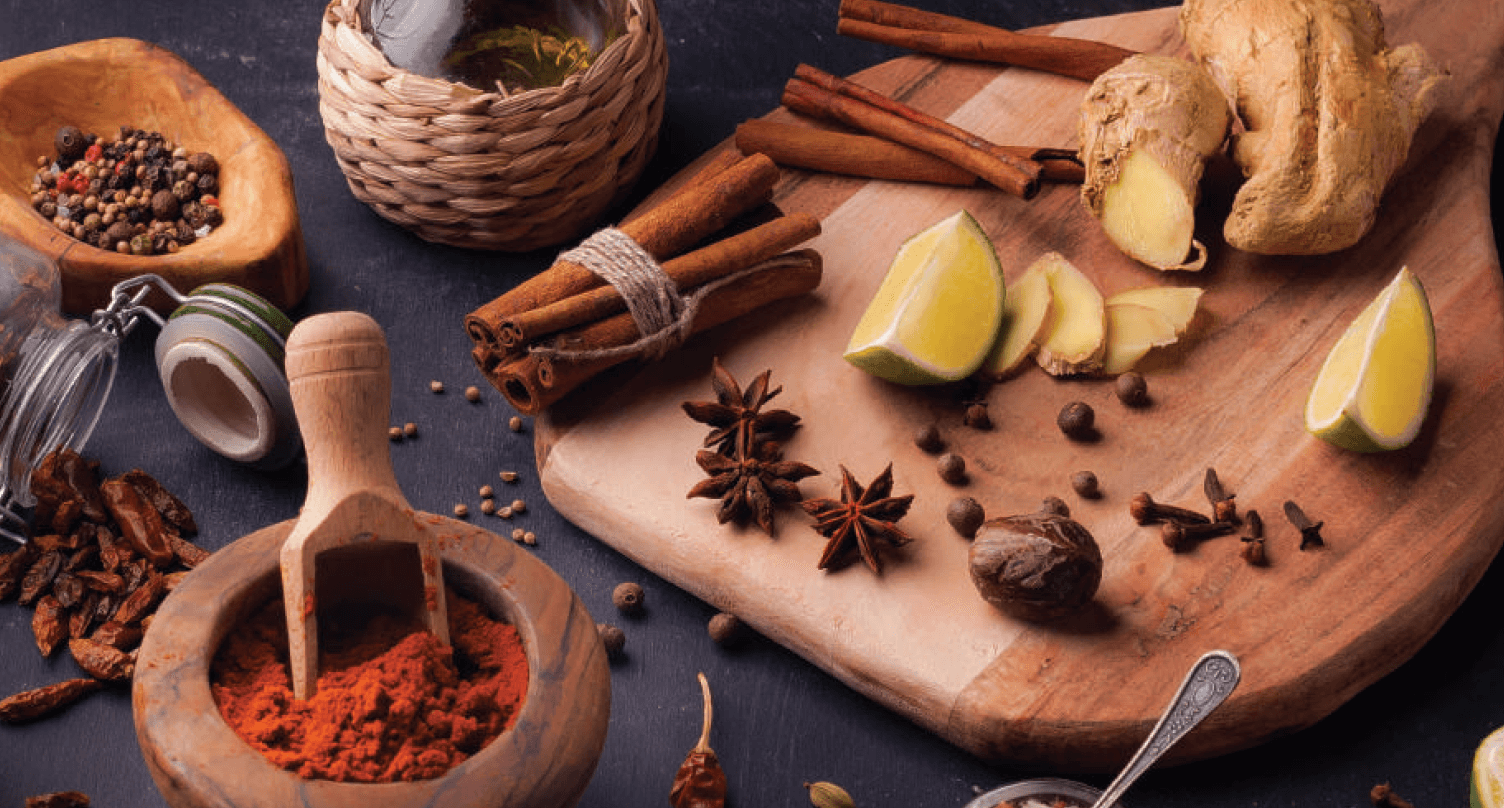 The goal for this month's review was to ferret out tasty cannabis treats that possessed dynamic flavor profiles. The type of products we sought out had to be packed with rich flavors that tantalized the tongue and created a party on the palate. Whether it was savory or sweet, we were seeking edibles, concentrates or flower that were distinctive power houses on the flavor spectrum. We were not disappointed with what we found, and you won't be either. Bon Appetit!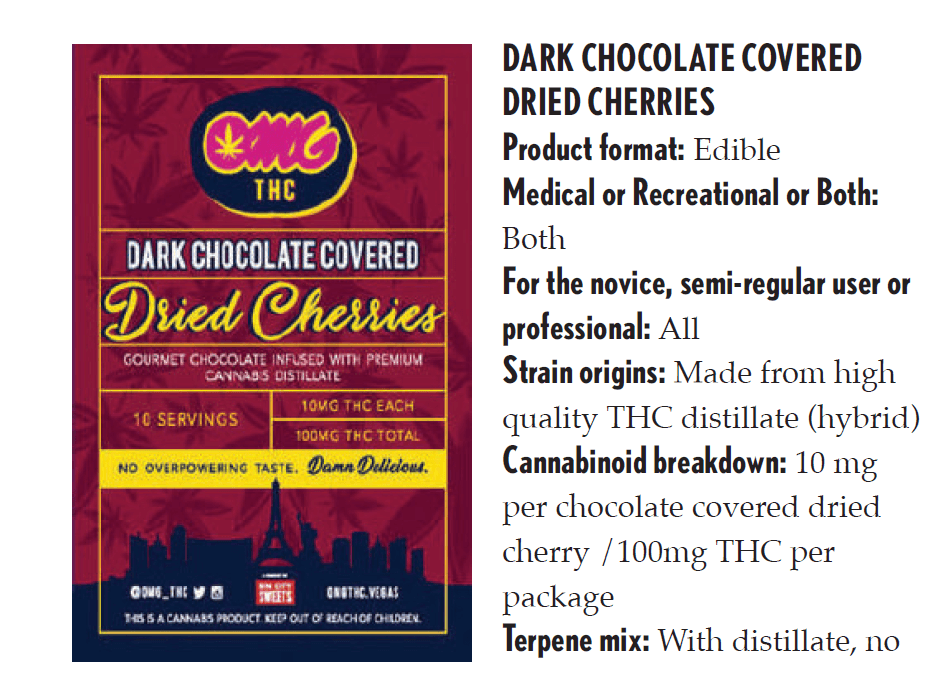 DARK CHOCOLATE COVERED DRIED CHERRIES
Product format: Edible
Medical or Recreational or Both: Both
For the novice, semi-regular user or professional: All
Strain origins: Made from high quality THC distillate (hybrid)
Cannabinoid breakdown: 10 mg per chocolate covered dried cherry /100mg THC per package
Terpene mix: With distillate, no terpene profile is dominant enough to show up on lab reports although fruits are known to have terpenes.
What to expect: The edible game has completely changed in the last three years. The skill of edible chefs is off the charts and traces of weed flavor are undiscoverable. Gourmet chocolate has become a favorite material to use when making edibles. This product is so cool because each one of the 10 candies are individually wrapped. Bite into one and they represent the perfect taste of real cherry and rich chocolate, and you will be scratching your head doubting whether this is infused at all thanks to its great taste. The high takes about 45 minutes to come on and will have you wanting to go grab a bowl of ice cream and then have another. Even better, these are easy to share with friends, so have one and pass on the good vibes. As with most edibles, use them any way you wish, to wind down, relax, sleep or just be mellow and happy, the dark chocolate and cherry profile is the way to go.
Where to find it: Visit omgthc.vegas for a list of dispensaries that carry OMG THC products.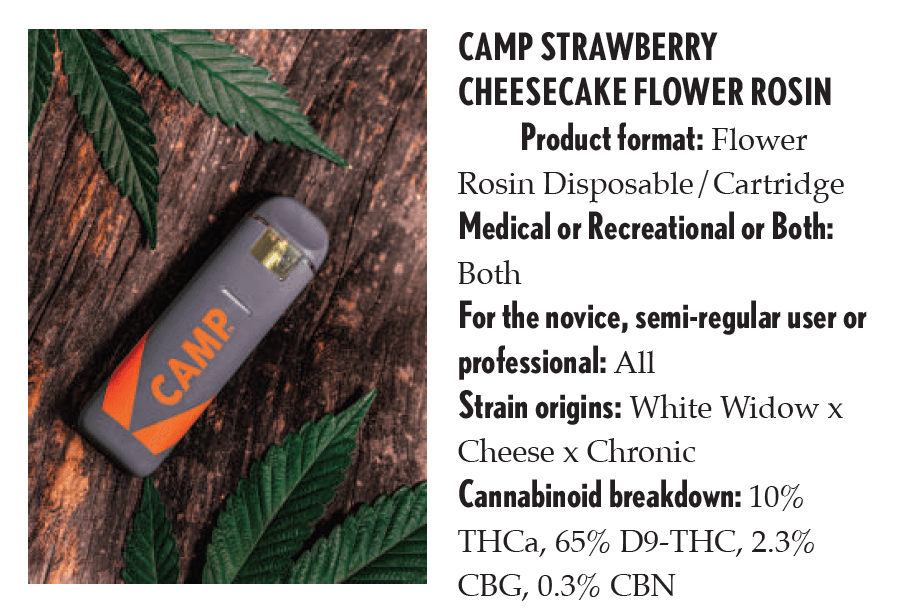 CAMP STRAWBERRY CHEESECAKE FLOWER ROSIN Product format: Flower Rosin Disposable/Cartridge
Medical or Recreational or Both: Both
For the novice, semi-regular user or professional: All
Strain origins: White Widow x Cheese x Chronic
Cannabinoid breakdown: 10% THCa, 65% D9-THC, 2.3% CBG, 0.3% CBN
Terpene mix: 3.2% B-Caryophyllene, 1.0% a-Humulene, 0.6% a-Bisabolol, 0.5% Limonene, 0.16% Myrcene
What to expect: If you are feeling down, a little Strawberry Cheesecake can turn things around especially when it is the CAMP Strawberry Cheesecake Flower Rosin cartridge. This is a product that really helps combat physical pain, first with its taste and then with its high-powered body effects. With every inhale, notice the sweet, creamy essence and hint of berry and then feel the body slip into a state of total relaxation. Pressing flower into a rosin is a process that is growing in popularity and the ability to try that out is made simple with the cartridge that also boasts the benefits of a vape.
Where to find it: Available at The Source+'s four dispensaries across Nevada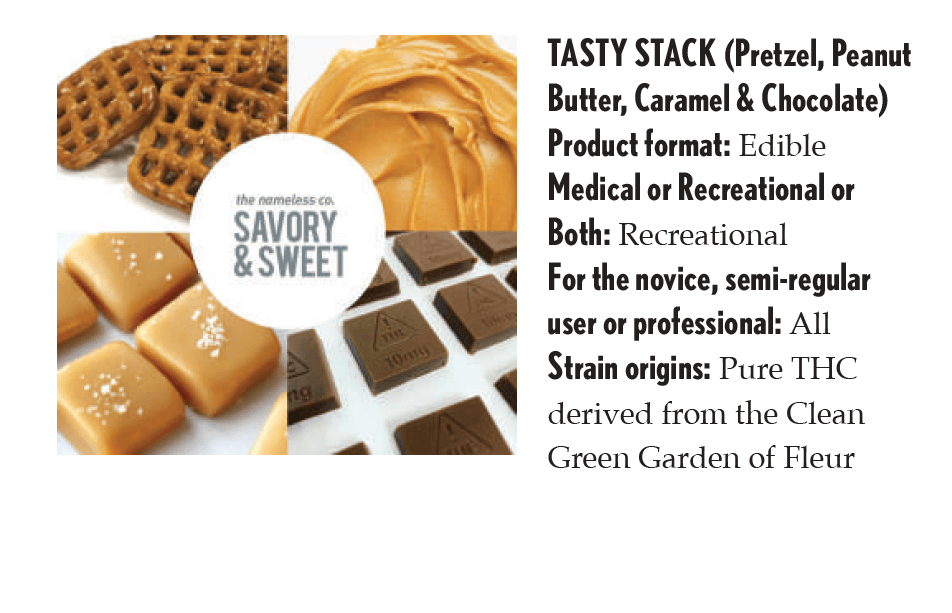 TASTY STACK (Pretzel, Peanut Butter, Caramel & Chocolate)
Product format: Edible
Medical or Recreational or Both: Recreational
For the novice, semi-regular user or professional: All
Strain origins: Pure THC derived from the Clean Green Garden of Fleur
Cannabinoid breakdown: 10 mg per item/100 mg packs
Terpene mix: Edibles do not have anything other than THC as the cooking process burns off terpenes.
What to expect: The Nameless Co's Stack product line is a dream come true for die-hard snack-attackers. They feature the perfect combination of infused bites all perfectly stacked in tubular packaging. Our favorites are the Tasty Stack with pretzel, peanut butter, caramel and chocolate and the S'mores Stack with pretzel, marshmallow, and chocolate. These are so good and easy to eat that you have to remind yourself that they are infused and each one has 10mg THC so you don't grab a whole handful. The Pretzel Stack layers salty and sweet flavors with the crunchy waffle pretzel stacked with caramel and peanut butter filling topped with a rich dark chocolate square. This is a delightful treat after a long day or a spicy meal that begs for sweets. Nothing beats the high-quality flavor of these edibles which almost taste too good to
be infused.
Pro tip: They are great for movie night.
Where to find it: Essence, Thrive, Jade, Euphoria, MedMen, Pisos, Wallflower, Inyo, Shango, Jenny's, Silver Sage Wellness, Silver State, Lucid, and Rise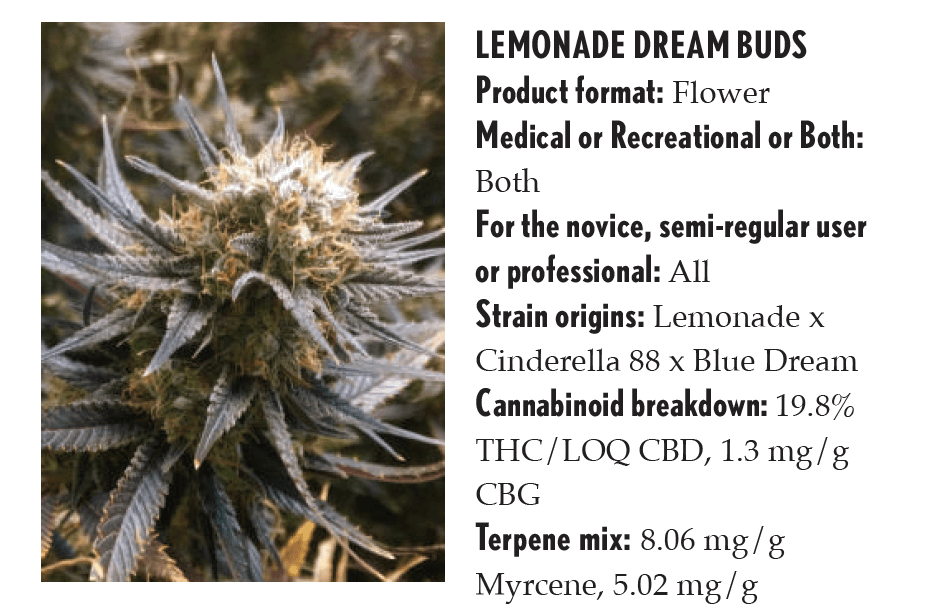 LEMONADE DREAM BUDS
Product format: Flower
Medical or Recreational or Both: Both
For the novice, semi-regular user or professional: All
Strain origins: Lemonade x Cinderella 88 x Blue Dream
Cannabinoid breakdown: 19.8% THC/LOQ CBD, 1.3 mg/g CBG
Terpene mix: 8.06 mg/g Myrcene, 5.02 mg/g Limonene, 2.36 mg/g Caryophyllene
What to expect: The name alone brings euphoria to mind, conjuring summer days sipping lemonade and the refreshing libation dancing on the palate with its sweet, citrusy perfection. Much like a glass of lemonade, Lemonade Dream flower is highly recommended for daytime use as it will give you a mental tune up. Within a few minutes of smoking these buds, expect to feel very dialed in. When you want to get creative, Lemonade Dream is also the medicine to turn to for extreme crafting projects or those house chores you have been avoiding. The properties of lemon/limonene have also been known to alleviate an upset stomach and this strain is especially good to reach for if you are feeling a bit under the weather or have eaten spicy foods and need to cool off. It's pure bliss in a bud, much like its namesake.
Where to find it: Silver Sage Wellness, NuWu Cannabis Marketplace, and ShowGrow dispensaries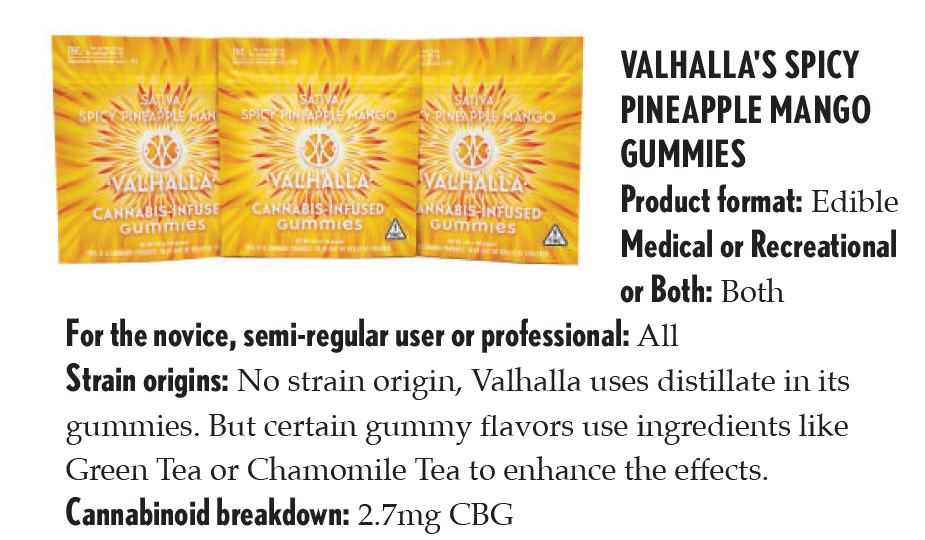 VALHALLA'S SPICY PINEAPPLE MANGO GUMMIES
Product format: Edible
Medical or Recreational or Both: Both
For the novice, semi-regular user or professional: All
Strain origins: No strain origin, Valhalla uses distillate in its gummies. But certain gummy flavors use ingredients like Green Tea or Chamomile Tea to enhance the effects.
Cannabinoid breakdown: 2.7mg CBG
Terpene mix: 8.1mg Limonene
What to expect: When it sounds like a type of cocktail you would want to drink, then it's most likely also a type of edible you would want to try. The Sativa Spicy Pineapple Mango Gummies are much like the perfect Taco Tuesday margarita, sweet and salty with a hint of zest. Valhalla has emerged as the master of edibles and these little treats back that up again and again in every 10mg dose. Easily micro-dosed, they are perfect for a morning pick me up or a boost right before an evening concert—or even take one with your margarita. They are also easily divided up for those who want just a little hint of something extra. Expect a good sativa buzz, especially if taking the full amount. Effects come on around two hours after consuming so plan ahead. These will make you feel engaged, focused, and ultra-creative.
Pro tip: We recommend these gummies for those who are
new to edibles. Start with half or even a quarter and proceed from there.
Where to find it: The Apothecarium
SUNDAY SCHOOL LIVE RESIN SAUCE
Product format: Concentrate
Medical or Recreational or Both: Both
For the novice, semi-regular user or professional: Semi-regular
to professional
Cannabinoid breakdown: 74.6% THCa, 3.72% Delta9-THC,
4.2 % CBGa (top 3 COA results)
Terpene mix: 6.98 mg/g B-Caryophyllene, 5.48 mg/g Limonene, 5.48 mg/g Linalool (top 3 COA results)
What to expect: Live resin is known for its tastiness and Sunday School Live Resin sauce definitely checks that box as a fan favorite—along with its light body buzz effects. Sunday School is the perfect morning or after-work high as it boosts your taste buds like a bowl of fresh berries or helps you unwind with notes of pleasing rosemary. Overall, expect to feel mellow and relaxed, but this isn't the type of strain that will shut off your brain. Indulge in the cerebral engagement properties and the euphoria that comes with smoking this concentrate to maintain energy and boost your way through the body buzz. The best part about the product is there is no come down—it is smooth sailing from the top of the wave back down to shore. Throughout the dabbing experience make sure to notice the complexity of tastes that are one of live resin's divinity traits. It is a mellow and relaxing experience, with a slight cerebral effect. It's not overpowering, has a great body buzz, and still allows for maintained energy.
Where to find it: Jardín Premium Cannabis Dispensary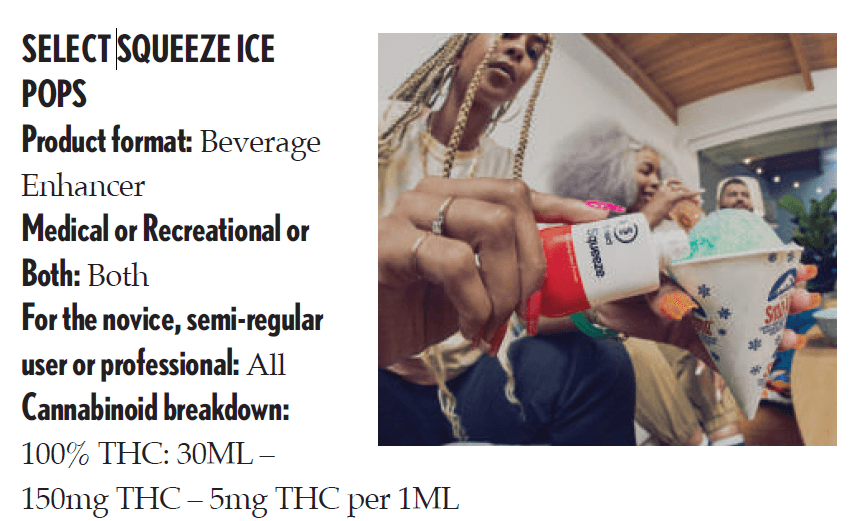 SELECT SQUEEZE ICE POPS
Product format: Beverage Enhancer
Medical or Recreational or Both: Both
For the novice, semi-regular user or professional: All
Cannabinoid breakdown: 100% THC: 30ML – 150mg THC – 5mg THC per 1ML
What to expect: A whole new take on the concept of a spiked drink, Curaleaf recently introduced THC-infused beverage enhancer Select Squeeze. This is revolutionary because it turns any drink or frozen treat into something a little bit more fun. The mechanics behind it are cool, literally and figuratively—nano-emulsification technology turns cannabis oil into tiny water-soluble molecules, allowing the product to dissolve in water more easily and be absorbed into a consumer's bloodstream more efficiently. If you enjoy a faster way to consume cannabis, this is it—within 15 minutes expect to feel the effects. The line comes in four flavors: Lemon-Lime, Watermelon, Strawberry Lemonade, and Hint of Sweet. All
of which are completely delicious, just make sure to sip and mix with care—suggested dose is 5mg or a single ML drop.
For dosing, the bottle's design features a "unique fill-and-
pour reservoir."
Pro tip: Try making Select Squeeze Snow Cones, which can be mixed into any beverage or yogurt base and then frozen to become "ice pops."
Where to find it: Curaleaf Blvd and Acres by Curaleaf
KABUNKY KWIK
STICK - CHERRY PIE
Product format: Disposable Vape Cartridge
Medical or Recreational or Both: Both
For the novice, semi-regular user or professional: All
Strain origins: Granddaddy Purple and F1 Durban Poison
Cannabinoid breakdown: 77.6% THC and 4.5mg/g CBN
Terpene mix: 3.0 mg Limonene, 24.7 mg Myrcene, 7.1 mg Ocimene, 6.7 mg Caryophyllene, 7.8 mg Pinene
What to expect: Experienced smokers love this strain because the effects come on quickly and stick around for a while—like a friend you really, really like—time goes by slowly and the whole trip is a joyous one from start to finish. The Kwik Stick is an easy-to-use disposable vape, so it is a good way to consume medicine on the go or in social situations. In tone with a convivial vibe, Cherry Pie's high won't make you get wrapped up in the woes of the world…it is easy on the mind, keeping you clear headed with a boost of euphoria. Expect the flavor of bursting cherries with an earthy undertone that almost tastes like dessert. If you have trouble sleeping, try this before bed and it will knock out insomnia without leaving you down for the count the next day. Also, when struggling to recover from a job that taxes the muscles, Cherry Pie is a trusted friend.
Where to find it: Exclusively available at all Nevada Made locations.