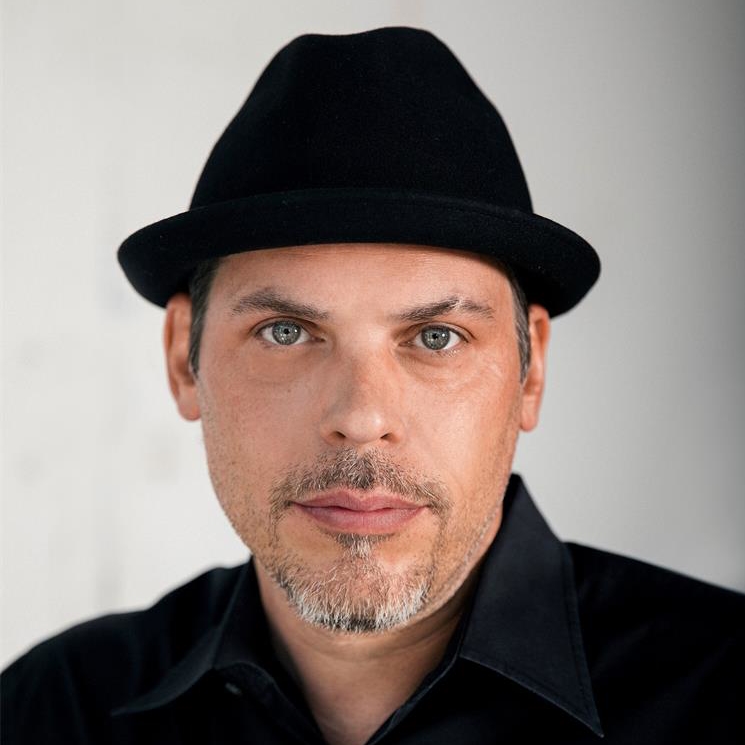 Justin Alexander
Oct 26 2018 . 18 min read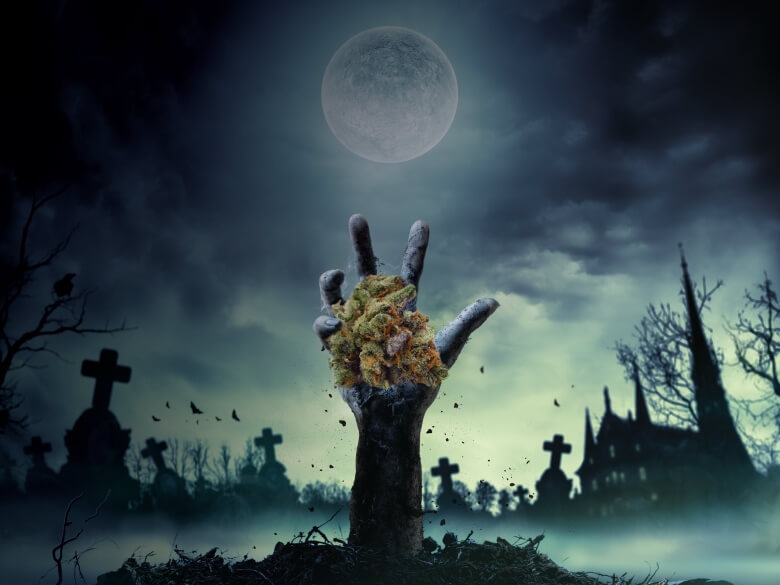 In honor of All Hallows' Eve elevate has assembled a special review of products that range from flower, vapes and lotion to crumble, edibles and cannagars. They are all different and offer varying effects from medicinal to recreational but one thing they do have in common is their ability to either serve as a trick or a treat. Will let you decide which one.
Itís Halloween! Itís Halloween! The moon is full and bright And we shall see what canít be seen On any other night. Skeletons and ghosts and ghouls, Grinning goblins fighting duels, Werewolves rising from their tombs, Witches on their magic brooms, In masks and gown We haunt the street And knock on doors For trick or treat. Tonight we are the king and queen,For oh tonight Itís Halloween!
THC Nevada's Orange POTUS flower
Carve those pumpkins and hang those cobwebs, 'tis the season for all things orange -- and THC Nevada's Orange POTUS matches the briskness of a fall day with its crisp, smooth smokiness. On the nose, users will be engulfed with a citrus sensory overload from this prime flower that springs from a terpene mix of 3.68 mg beta-myrcene, 1.72 mg beta-caryophyllene, and .72 mg limonene.
Orange Potus is a hybrid cross of Herijuana and Orange Creamsicle. "The Herijuana lineage of Orange POTUS would suggest a heavy-hitting couchlock experience, but the Orange Creamsicle cross genetics help to lighten the effects of this strain," says Nick Puliz, general manager, THC Nevada. "Great recreationally for hiking or outdoor relaxation, this strain makes an easy weekend afternoon so much better."
Is this product a trick or a treat for most patients? "I would say it's a trick, because the THC is not really high (22.11 percent), but it hits you hard after you smoke it," says Puliz. Sounds like a sneak attack we can get into.
Stressed about the holiday season in general, Orange POTUS is perfect for mellowing out before or after gatherings. "Medicinally, this moderate strain will help alleviate minor pains while providing an uplifting experience that allows the patient to stay active," Puliz says. "With its delightful fruity experience and its uplifting euphoric effects, this strain is a guaranteed favorite."
City Trees' Fruity Pebbles OG Disposable Vape Pen
Who doesn't love October? Especially when there is the possibility of surprise and delight in the form of Snickers, Almond Joy, Tootsie Rolls and Fruity Pebbles around every corner. According to City Trees' Don Decatur, their newest strain, Fruity Pebbles, is a definite treat for both cereal lovers and those with a sweet-tooth. "The sweet flavor is great for anyone who enjoys nostalgic cereal flavors. We wanted to create a blend that would be just as memorable as it was flavorful. And it truly has an unmistakable cereal flavor."
City Trees' new Fruity Pebbles OG vape pen is a perfect addition to your morning—and evening—routine. "This is one of our newest releases here at City Trees. It has only been in the market for a few weeks," Decatur says of the Fruity Pebbles OG vape that tests in at 86.65 percent THC, 2.22 gr/mg CBD, and 7.33 gr/mg CBN.
City Trees created this in-house mix using Green Ribbon, the legendary Granddaddy Purple, Tahoe OG, and Alien Kush. Fall into fall mornings with something a little sweeter than an average bowl of Cheerios and full of rich terpenes including linalool (8.04 gr/mg), b-myrcene (3.77 gr/mg), and b-caryophyllene (1.16 gr/mg). And for those who enjoy rigs or water pipes, all of City Trees' vapes fit directly into 14 mm female glass joints.
Kynd Milk Chocolate CBD Bar
Halloween without chocolate is like Christmas without the tree, Thanksgiving without the turkey—it's just not the same. Just for adults, take a bite of a special sweet with added benefits of Kynd's Chocolate CBD bar this Halloween.
According to Kynd's Stacy Castillo, it's definitely a treat at 1.48 mg THC and 33.3 mg CBD. "Adding our premium cannabis oil takes it to an indulgent new level. Our goal was simple: Create the most delicious way to unwind," she says. "We sourced the highest-quality chocolate we could find and combined it with our pure, clean Co2 oil. It's really the best of the best. Users love the rich flavor and wonderfully relaxing effects."
Expertly dosed for consistent effects every time, Kynd's chocolate is available in single pieces or full bars, "an important decision when you consider your own willpower," Castillo says. Scoop it up this Halloween and satisfy your sweet tooth without any added tricks.
Medizin's Banana OG Flower
"With a smell and flavor of overripe bananas, this indica-hybrid definitely earns its name," says Medizin's David Farris of Banana OG flower, an indica-dominant cross between the revered OG Kush and Banana. "The underlying goal was a high potency strain that can ultimately become a connoisseur's favorite,"
Farris says.
Can't manage polishing off that half bag of Starburst leftover from last night's frightening festivities? Too hyped up from an office sugar overload to get a wink of sleep tonight? Try Banana OG! "[It] has a reputation as a 'creeper,' usually reaching intense hunger and sleepiness. It may be effective in treating loss of appetite and insomnia," Farris says.
Since it's packed with a terpene blend of limonene (3.007 mg), myrcene (1.475 mg), b-caryophyllene (1.198 mg), and b-pinene (1.127 mg) and often tests up to 31 percent THC, Banana OG is perfect for medicating away post-trick or treat aches and pains.
District Peach Gummies, Sweet Pebbles Strain
"I consider the District Gummies a trick because they are so delicious you'll hardly realize they are infused but, of course, something that tasty would be considered a treat as well! It literally tastes like biting into a fresh, juicy peach. It reminds me of fresh peaches harvested in fall," says District Sales Manager Margaux Hansberry.
"There are so many unique things about consuming District Gummies. But people [are sometimes] surprised by the potency (10.96 mg of D9THC per serving). You will taste a juicy gummy similar to a gummy bear consistency with hardly any cannabis flavor [because] we use such high-potency distillate to infuse the product," she says.
Hansberry suggests giving the gummies a good chew to liquefy them for a quick sublingual absorption that will induce an all-around sense of well-being. She says the Peach Gummies "create a cerebral uplift that enhances my mood while keeping a warm body buzz."
And say goodbye to stale candy: "District's Peach Gummies consumers love how fresh the gummies stay in our individual blister packs," Hansberry says. "They keep their shape in the high heat, and even if melted will stay consistently dosed!" This Halloween pop a few peaches in your pumpkin pail.
State Flower Cannabis' Shape Shifter Hybrid Flower
If the ghouls are keeping you awake this Halloween, State Flower Cannabis' aptly named Shape Shifter is here to save the day. "Shape Shifter is a treat for anyone looking for a relaxing but cerebral experience. This strain in particular is one that can fit almost any mood," says Hailey Stone, marketing coordinator for The Apothecarium.
Shape Shifter is a cross between Old Man's Purp, Malawi, NL Haze and Memory Loss with a THC count at 20 percent. "Malawi, NL Haze, and Memory Loss are all heavier sativa strains, but crossed with Old Man's Purp, we got a more sedative-type strain," Stone says.
This enchanting new hybrid is quite the looker, too. "It has the most unique coloring with vibrant purple hues throughout the bud and great orange hairs. Visually, this strain is stunning. When it grows, you can see the colors change from a lush green to a dark purple, kind of like a slow-motion aurora."
Take note of the pleasing, very berry taste. Beauty, taste, and a seasonally appropriate name. What more could you ask for? How about terpenes? "The main terpenes present in Shape Shifter are myrcene (4.62 mg), caryophyllene (1.88 mg), and limonene (.85 mg)," Stone says. "The heavier myrcene and caryophyllene give the user a nice, relaxing, and pain-relieving experience, while the limonene keeps your mood elevated."
Banana Treez Budder by Cannabiotix
There are, amongst thousands of others, two things trick-or-treaters never expect to see dropped in their candy bucket: bananas and butter. But if there are two things seasoned cannabis users expect, it's bananas of the kush variety and budder of the extract variety. Budder, as every patient knows, is a smooth fragrant easy-to-handle concentrate that packs plenty of terp-heavy flavor. And banana, particularly the banana kush variety, is a revered strain in experienced circles.
So, here's the question: Is Cannabiotix's Banana Treez Budder a trick or a treat? Cannabiotix's Joshua Broussard "would definitely consider the Banana Treez Budder a treat. It doesn't come around too often, but when it does, it always has such great flavor and smell. And the experience that comes with it is always a good one."
Banana Treez Budder, an extract of Banana Kush and OG Kush, is packed with a rich banana taste that "makes you want to [eat] bananas!" Broussard says of the extract which tests at 73 percent THC and 82 percent THCA. "The Cannabiotix production team wanted to create a relaxing yet euphoric experience with all the qualities it comes with. With this strain and run, the limonene is very high at 10 mg, which brings that relaxing and calming experience to the user." Bring on the budder!
Scarlet Oilworks' Blood Orange Crumble
Always a treat, Scarlet Oilworks' Blood Orange Crumble is "an indica-dominant hybrid strain that is a tasty phenotype of the infamous Tangie strain, a cross of Cali Orange and Appalachia," says Jessica Woo, director of marketing and purchasing at CWNevada.
Crumble, as its name implies, is the crumbly cousin of budder, another potent concentrate at 743 mg THC, 2.78 mg CBD, and .45 mg CBN that packs a punch. Scarlet Oilworks' crumble does not disappoint. "The Blood Orange aroma is very flavorful, although much more potent, with hints of spicy sour citrus and zesty tangy earth," Woo says. "Patients really like the fragrance. It has an earthy citrus undertone that stimulates your endocannabinoid system."
Scarlet Oilworks' Blood Orange Crumble is no slouch when it comes to terpenes—in fact, it's a veritable powerhouse. "It's heavy in terpinolene (6.10 mg), limonene (1.88 mg), and b-pinene (2.51 mg). The three terpenes together create a synergistic effect which enhances the effects of THC and CBD. Terpinolene stands out the most because it is known to be anti-fungal, sedative, anti-oxidant, and anti-bacterial," Woo says. "All of these properties could help an array of patients with different ailments."
Best of all, those of us without the proper equipment can simply sprinkle the crumble into a pre-roll or a bowl because "the crumble will enhance the taste and experience of your flower," Woo says.
Hot Mess Kushmetics Sugar High Cannabis-Infused Body Lotion
Celebrate the sweet side of Halloween this season by indulging in some high-end body products from Hot Mess Kushmetics. "This is definitely a treat. Sugar High Body Lotion is a great way to satisfy your cravings without the calories. It smells like candy, but in a deep romantic way—not overly sweet," says Hot Mess Kushmetics' founder Heather Vanek.
This luxurious lotion is a treat that can travel—it's "infused with pure CBD from hemp, making it legal in all 50 states—so you can travel with your medication. The first and most important goal when formulating our body lotions was to make sure it absorbed quickly without leaving a greasy residue. No one likes feeling greasy. But even more important, if a topical is greasy that means it's sitting on top of your skin rather than absorbing, which means the CBD isn't doing its job," Vanek says. "We definitely accomplished our goal. Sugar High glides on smoothly and moisturizes deep beneath the skin."
With high expectations come high results, and Hot Mess Kushmetics' lotion does not disappoint—it is packed with the good stuff: "[It] has a unique blend of terpenes. It's high in limonene (on the surface, it smells similar to cotton candy, but once you get to know it a little better, it kind of smells like lemon cake—that's the limonene) and vanillin. You can actually see the vanillin in the lotion because it causes the cream to turn just a little darker than our other lotions without vanillin," Vanek says.
All of these premium ingredients add up to potent pain relief. "Yes, it smells amazing and feels glorious, but all of that means nothing if it doesn't work. Most of our patients tell us that they receive fast if not instant pain relief when using this product," Vanek adds.
This lotion will be a treat for your loved ones as well. "One thing we often hear from women who use Sugar High is that it drives their boyfriends/husbands crazy. That's because vanillin is a natural aphrodisiac."
"We love animals and humans way too much to cause any harm with the ingredients of our products, so we're very selective with what we choose to use," says Vanek of Sugar High being vegan, sulfate-free and paraben-free.
Cannagar, Exhale Las Vegas
The classic joint is still a preferred method of consumption for many patients but there are ways to kick the tried and true up a notch. We asked Marc Baldwin of Exhale Nevada why we should upgrade to a Cannagar and he referred us to Redeye, the creator and principal of LV Cannagar Co.
"The Cannagar is a twist on the old-school Thai stick, but created using cigar-rolling techniques. It is the most luxurious and exotic way to smoke on the market. Las Vegas Cannagar Co. creates only boutique cannabis products not found anywhere else in the world. It is simply a unique, handcrafted product with no limits, nothing held back in production. From start to finish, it is created using only 'best of class' in each component," summarizes Redeye. "We only use the freshest flower available, so the product will vary. The most recent order we dropped was Hell's Angel OG, an indica-dominant hybrid with an OG Kush and BlackBerry lineage."
Not only does the Cannagar look, smell, and taste above and beyond, it also boasts lots of pinene and limonene, which means it will help you feel great and tastes great too. "Hell's Angel is a therapeutic strain commonly used to treat inflammation, insomnia and PTSD. This particular strain of Hell's Angel was very flowery, with a woodsy, earthy scent and flavor," explains Redeye. "Patients love our product for many reasons. The nostalgia, the look, the prestige. It is luxurious, it is unique, and it lasts longer with a longer burn time than any other product on the market."
Rove's Skywalker Vape Pen
October can be a tough month—scary for some, exciting for others, barely a blip for the unfortunate few. But if you're a parent, teacher, or harried Halloween Superstore employee, October can be downright exhausting. Enter Rove's premium Skywalker vape pen, sure to add some well-deserved relaxation—and a fast-acting trip to seventh heaven—to your life pronto. Rove's Skywalker pen is "an indica-dominant cross between Blueberry and Mazar, ideal for those who suffer from mild pain, insomnia, stress, or anxiety. Users of this potent strain are treated to an out-of-this world experience, punctuated by deep body highs and feelings of euphoria. Spread the earth beneath your feet and let the forces guide you," says Rove Lab Manager Chris Marroquin. "The high is mostly relaxed, with euphoria and a mood boost. This is a good strain for insomnia, as well as anxiety, ADHD, bipolar disorder, migraines, and PMS. It's particularly effective at pain relief."
Rove's highly effective pen packs a discreet punch; it boasts 75 percent THC, which "seems low compared to other indica carts, but with 8 mg of myrcene and 22 mg/g of CBN, it will feel like an elephant tranquilizer," Marroquin says. "CBN has extremely effective sedative qualities. Five mg of CBN is equal to 10 mg of Valium (diazepam) in regard to body relaxation."
And lest you worry about terpenes, well, worry not: Rove does not disappoint. "The combination of ß-myrcene and linalool flanked by ß-caryophyllene is the perfect combination for insomnia, stress and anxiety," Marroquin explains. "Linalool has a spicy lavender scent that is a huge contributor to a heavy sedative sensation along with being an anti-epileptic. High amounts of linalool and myrcene together make this strain a necessary item."
Watermelon Cannacubes from Evergreen Organix
Evergreen Organix' Cannacubes are the perfect potion for a quick, potent pick-me-up that will get you going without dropping you to the floor. "Our Cannacubes are micro-dosed for easy and buildable dosing. These tiny cubes are dosed at 5 mg each and come in packs of 20, so it's easy for consumers to take a few at a time to ingest a dose that is suitable for their tolerance level," says Jillian Nelson of Evergreen Organix. Cannacubes are perfect for small, on-the-go doses to pep up your brain game. "The precise dosing, robust flavor, and ease of use have been a popular feature of our Cannacubes that consumers really love," Nelson notes.
Cannacubes are tasty, too; they come in a variety of seven flavors, so picky patients can find their match. Best of all, according to Nelson, "Cannacubes are vegan-friendly and sugar-free, so they are a great edible option for those with dietary restrictions." After this Halloween, you're gonna need to lay off the sugar—try a Cannacube instead.
The+Source and 8|Fold's Canna-Rillo
Elevate your Halloween festivities with The+Source and 8|Fold's uniquely elegant and powerfully potent
Canna-Rillo, the only one of its kind on the market with 8|Fold's Inferno
OG flower.
What, you may ask, is a Canna-Rillo? It's like a super cannabis cigar. "The Canna-Rillo is a bit of both trick and treat," says Laura Schmidt of The+Source and 8|Fold. "The treat is the devilishly good Inferno OG live resin from 8|Fold, which holds together the flower and wrap. The trick is that it's not a traditional paper wrap, but rather fan leaves that wrap around the shatter and flower. They are hand-rolled by the amazingly talented Redeye and her team at Las Vegas Cannagars. Its parent strains are OG Kush and Blackberry, so this is definitely more of an indica."
This isn't your average three-hit-and-it's-quit smoking experience, however—the Canna-Rillo provides long-lasting pleasure that your fellow partygoers might never, despite the high THC (testing in a 42 percent), ever forget. "It's a more luxurious smoking experience. It burns slow so that you can savor and enjoy the 'gar' over a prolonged period of time. It's great for parties where a group of friends can relax and enjoy it together," Schmidt says. "It's a really unique and visionary product; it's the only cannagar on the market with 8|Fold flower and shatter."
The Canna-Rillo features a well-rounded range of terpenes, as well, including caryophyllene (11.52 mg), linalool (4.66 mg), and humulene (5.50 mg). Schmidt's pro tip? "Take your sesh to another level by attaching a blunt bubbler to the end of the wooden tip for smoother pulls."
Kabunky's Sugar Cookies Shatter, Trap Star Krumble and Banana Pudding Flower
Talk about a Halloween grab bag! Take your pick of the exotic treats on offer from Kabunky this October. Their Sugar Cookies Shatter, a potent concentrate similar to budder or wax but with a firmer, more brittle consistency, is a powerful indica-dominant hybrid of Crystal Gale (a reclusive descendent of Northern Lights), Blue Hawaiian (a mix of Blueberry and Hawaiian Sativa), and Sensi Star (an indica strain that deserves its own category). After consuming Sugar Cookies Shatter you will be rocketed into a deep, fruity post-trick-or-treat sleep from the combination of 680 mgs of THC and a terpene mix of humulene (1.3 mg), limonene (2.0 mg), caryophyllene (5.5 mg), and pinene (1.4 mg).
Kabunky's Trap Star Krumble, another concentrate meant to be dabbed, is an indica-dominant hybrid of the rather bespoke and definitely mysterious strain The Cube and the revered and hallowed LA OG Kush. Its spicy, piney, terpene mix of humulene and limonene along with 731 mgs of THC is sure to bring the funk to a post-holiday slump.
Finally, Kabunky's Banana Pudding Flower will wow with its creamy dream aroma and mellow banana flavor. A mix of OG Eddy and Banana, this indica-dominant hybrid will knock your orange and black striped socks off with a THC count of 23.8 mg and 5 mgs of myrcene.
Shango's Orange Cookies Flower
Halloween to-do list: Head to Shango to pick up their new cut, Orange Cookies, which "is a great strain for unwinding at the end of the day. It's THC levels average 15-20 percent making it a great strain to enjoy and still function as one may need," explains Shango's Kraig McGee of it being a treat. "This hybrid strain has a great citrus aroma and imparts an uplifted yet relaxing effect when enjoyed. Perfect for a walkin' around high, it's great to get you prepared to trick or treat, or enjoy handing out the tricks or treats."
Shango's Orange Cookies is a hybrid of Orange Juice (itself a hybrid of Orange and the legendary OG Kush) that assists in providing the motivated, focused and energizing feeling and the renowned Girl Scout Cookies (a vibrant, nearly shockingly potent mix of Durban Poison and OG Kush) that provides this strain's intense cerebral and physically relaxing high.
Orange Cookies stuns with a sweet, juicy flavor reminiscent of tangerines and a bouquet of titillating citrus aromas resulting from myrcene (1.48 mg) and limonene (.81 mg). If you bring Shango's Orange Cookies out this Halloween, you can expect wacky laughs and intense euphoria.