Amanda Connor
Apr 26 2018 . 4 min read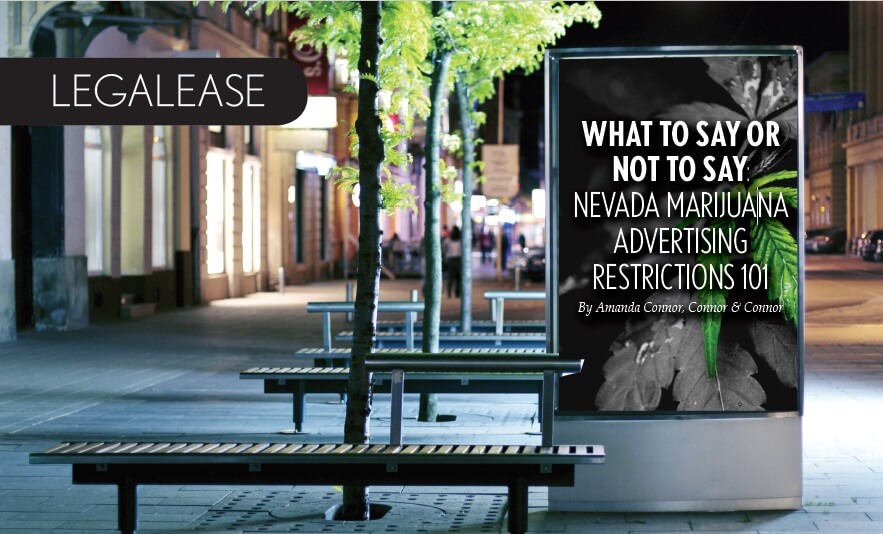 Advertising marijuana in Nevada is a tricky business. On one hand, it is important for businesses to promote and advocate for their brand. On the other hand, advertising violations have fierce consequences that, in some cases, could cost a marijuana establishment their license. Thus, it is important for all marijuana stakeholders to familiarize themselves with the state's advertising rules and restrictions.
With the passage of retail marijuana last July, Nevada recently changed its advertising guidelines in regulations recently adopted by the Legislative Commission. The new regulations impose more detailed and stricter guidelines for advertising marijuana businesses and marijuana products. Below are some of the crucial regulations marijuana establishments must follow to stay in compliance.
General Advertising and Signage
When a marijuana establishment wants to be known, the best and easiest way to advertise is through traditional means. This includes billboards, magazine advertisements, and social media. Many establishments opt for these methods, but there is a fine line between promoting a message and noncompliance. Most importantly, all advertising (except social media) needs to be submitted to and approved by Nevada's Department of Taxation prior to use of the advertisement or marketing material. Advertising approval is a crucial step for marijuana establishments. Advertising violations often come from those who do not first seek approval.
All advertising, including social media, done by a marijuana establishment or on behalf of a marijuana establishment, shall not:
Be false or misleading
Promote overconsumption of marijuana or marijuana products
Depict the actual consumption of marijuana or marijuana products
Depict a child or have objects that suggests the presence of a child or be designed in a way that may be appealing to minors
Advertise or offer marijuana or marijuana products as free or donated without purchase
In addition, all advertising, including social media, for a marijuana establishment or its products shall contain the warnings prescribed by the Department which currently are:
Keep out of reach of children
For use only by adults 21 years of age and older
Even if the artwork of the ad is approved, the placement of the ad must also be approved. There are several guidelines for businesses to follow regarding placement of the ads. First and foremost, the advertising rules were generally constructed to keep children in mind. One restriction placed on marijuana advertising is the prohibition of ads within 1,000 feet of a public or private school, playground, public park, or library. Advertisements are also prohibited on public transportation vehicles, at sports or entertainment events allowing those younger than 21 years of age to attend, or through any publication or radio where the audience is primarily underage.
In addition to these state requirements, it is also important for marijuana businesses to be aware of local rules when advertising. For example, Clark County has a separate advertising approval process. Localities may also enact their own rules that place more restrictions than the state level, but both local and state rules must be adhered to.
Packaging & Labeling
Another important area for marijuana advertising is with regards to the packaging and labeling on marijuana and marijuana products. For example, the law requires that the consumer be aware that what they are purchasing is, in fact, marijuana or a marijuana product, and that the packaging shows the accurate amount of THC within the package. Warnings are also required on the packaging and labeling.
Additionally, Nevada prohibited the use of cartoon characters, toys, mascots, or action figures to promote a marijuana product on packaging or labels. As for the products themselves, Nevada outlawed the appearance of lollipops or ice cream, products modeled after a brand primarily marketed to children, and products that have marijuana infused into commercially available foods. These restrictions, like the ones above, were placed in effect to make the packaging and labeling less attractive to children. As packaging is considered a form of advertising, all packaging must be submitted for approval.
Overall, advertising is an important part of a marijuana establishment, and can boost a marijuana business tremendously in the state of Nevada. However, it is imperative that the rules are followed. The consequences of advertising violations, such as penalties, fines, and suspended or revoked licenses, can be very detrimental. While this is by no means an exhaustive list, businesses should focus on advertisements and packaging that educates the consumer, caters only to the adult community, and promotes safe consumption.