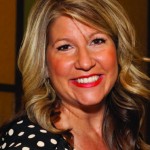 Beth Schwartz
Jul 10 2020 . 5 min read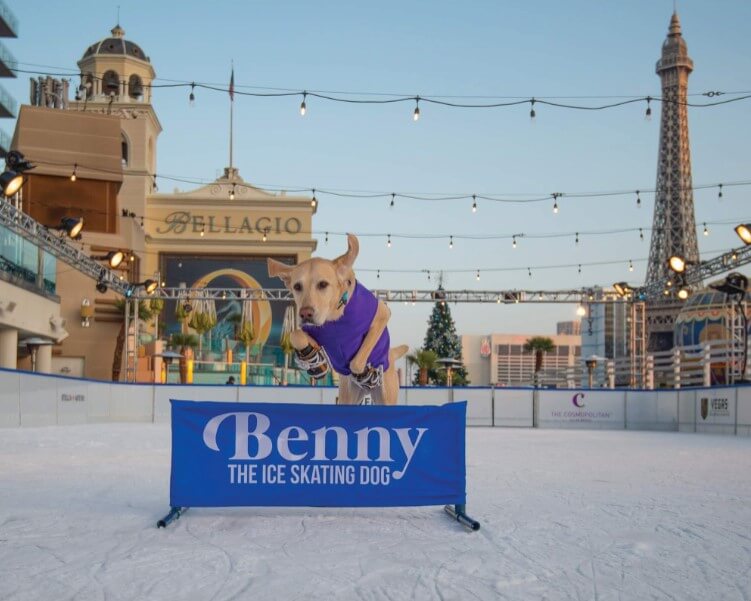 An ice-skating dog. It's kind of hard to wrap your head around such a feat. But when Las Vegas welcomed an NHL hockey team to the desert a few years ago it suddenly seemed as though just about anything was possible. Enter Benny the ice-skating pooch.
Having most recently skated at the U.S. Figure Championships in January, the seven-year-old yellow Labrador rescue has become a sensation in the world of ice skating with his ability to perform multiple jumps in a row, do forward crossovers, and undercrosses—all while wearing ice skates that were custom made for him.
Benny's rise to fame started two years ago when the Vegas Golden Knights were playing in the Stanley Cup Finals. Benny's "mom" Cheryl Del Sangro was approached by photographer Rick Vierkandt of Bark Gallery to have Benny appear in a Golden Knights cheer video. Vierkandt knew Benny could do lots of tricks and so thought he would be a natural on the ice carrying a hockey stick in his mouth and standing in front of a hockey net. Del Sangro agreed and while filming the video she discovered Benny loved the ice.
"He loved it when I would skate around and he would chase after me. So, the cheer video kind of went nuts. It was just posted on my Facebook and Bark Gallery's Facebook page and it got 40,000 views during the first two weeks," says Del Sangro, who was a competitive ice skater for 16 years and has also coached.
Del Sangro decided she could probably teach Benny to ice skate. "I taught kids from three years old all the way up," she explains, thinking at the time, "he's much more coordinated than a three-year-old. I bet I could actually get him to skate."
Her instincts were right. "The first day that I took him, and he tried it he could skate. It was incredible. We were screaming and yelling, it was just unbelievable. He could skateboard already, so I thought he would just put his front feet like they are on a skateboard and push his front feet around. That's what I thought he would do. But, no, he actually moves his legs and skates with his front feet. He just doesn't glide around, he skates with his front feet. Since then he has just gotten better and better."
But Del Sangro shouldn't have been completely surprised by Benny's athletic prowess. "From the day we got him I could see he was different from the other dogs we had at the time. We had three other dogs and he was the fourth one I had. He started doing unusual things that seemed more like he was a person than a dog and I have had dogs all of my life and he just did not act like the other dogs," says Del Sangro.
"So, I started taking him to dog training and he was exceptional. He learned everything you could possibly think of. He excelled at everything. He did the rally, he did the obstacles, he did the agility. He just had this innate smartness where you didn't have to tell him stuff, he just knew what to do."
After adopting Benny from a shelter in Salt Lake City in May 2014 Del Sangro realized the coordinated canine was not only singular in his physical abilities, but he also had a unique medical issue. "He had a recurring chronic rash on his neck and chest area. It was raw and he was losing his fur. It flared up all the time. We went round and round with the rash for years with him. His vet said it could have been an allergy to something," recalls Del Sangro. "He would wear an ascot, which was a pull-over-your-head scarf to keep his toenails off his neck because you can't keep one of those cones on him constantly. So, to keep him from clawing at his neck we would put this ascot on him. He wore it all the time for the first couple years we had him because he constantly had this rash."
Del Sangro tried a lot of topicals and nothing worked. "And, of course, the vet wanted to give him an allergy pill, but I try not to give him anything like that. I am really careful what I give him medication wise. I try to stay away from that stuff, so we just tried keeping it clean and keeping his feet off of it with his ascot."
Last August Del Sangro and Benny attended SuperZoo, a national convention for pet retailers, where they visited Source CBD's booth. Del Sangro shared Benny's skin problem with Source CBD founder Ian Pedersen and he suggested trying Source CBD's 200 mg Canine Topical Salve specifically formulated for dry skin, rashes, cracked paws, and dry noses.
"We tried it, and in a few days all the red and bumps were gone. And I could see new hair growth starting. It only took a week to work. It cleared up really quickly. Since we have started with the salve, he hasn't had any problems."
To keep Benny in tip-top condition, Del Sangro has started putting five drops of CBD tincture in his food every day. "I also give him CBD oil in his food now, and that might be keeping it away. He's perfectly clear now."
Proving you can teach an old dog new tricks, Las Vegas' favorite ice-skating pooch should be dubbed Benny the Wonder Dog.